Revo IKON DAB, internet radio & iPod dock with 3.5-inch touchscreen & WiFi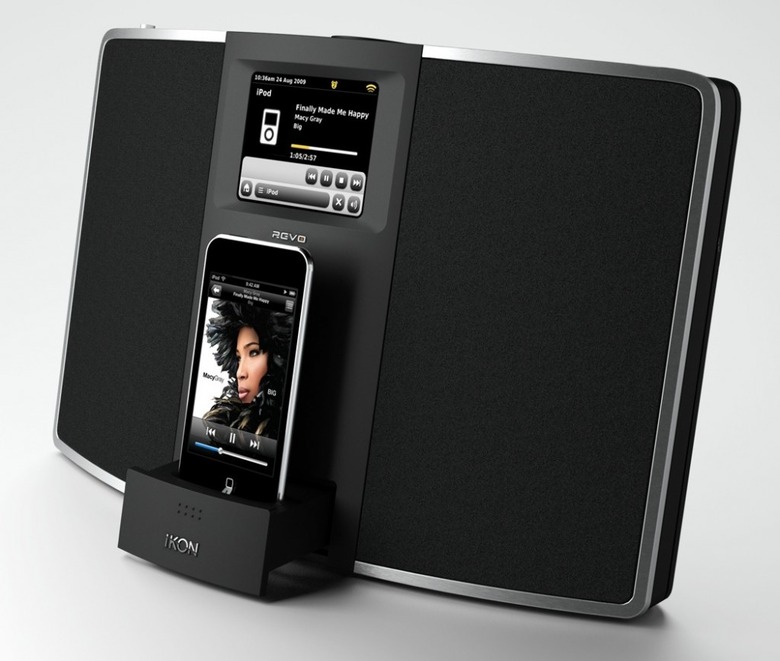 We're sure some of you couldn't sleep all weekend what with the promise of Revo's teaser campaign reaching its climax this morning, and sure enough the UK company has another radio for your delectation.  To be fair, the Revo IKON isn't any old radio: in fact, it's the world's first color touchscreen, multi-format digital radio, complete with a 3.5-inch display, iPod/iPhone dock and Last.fm integration.
The IKON is capable of tuning into not only FM radio (with RDS support) but DAB, DAB+ and internet radio stations.  It'll also work as a media streamer, playing content from networked computers or storage.  In addition to Last.fm there's also Sirius, Rhapsody and Pandora support, and the IKON will show color station names, album art, track details and more.
As for the IKON's audio prowess, the radio/dock has a class D amp with two 15W channels and NXT flat-panel speakers.  Connectivity includes WiFi, a 3.5mm headphone socket, stereo RCA line-out and optical digital output.  There's also a compact remote and various dock adapters to suit your iPod/iPhone, together with an aux-in for non-Apple PMPs.  Priced at £279.95 ($461), the Revo IKON is available to preorder now, with deliveries expected to begin from October 21st.
Press Release:
Revo announces IKON, the world's first colour touch-screen, multi-format digital radio

Lanark, Scotland, 24th August 2009: Digital radio takes a generational leap forward with the introduction of IKON, a multi-format digital radio that combines the benefits of a full colour 3.5" touch-screen, icon-driven user interface, multi-standard radio capabilities and iPod and iPhone docking.

IKON is capable of receiving the full roster of digital radio standards including DAB, DAB+ and internet radio – as well as conventional FM radio with RDS. Where available from the broadcaster – colour station logos, station descriptions, track and artist information, news headlines etc. will be displayed on IKON's colour screen.

IKON will also wirelessly stream digital music files from any 'connected' PC or Apple Mac, displaying full colour album artwork and track information where available.

Completing the hardware picture, IKON is one of only a handful of digital radios that is Apple certified for use with iPod or iPhone, allowing IKON to double as a high quality iPod/iPhone sound system.

Revo Technologies CEO, David Baxter, said "We believe that IKON is the first product to truly deliver on the promise of digital radio, delivering a next generation radio experience complete with icon driven colour touch-screen interface, coverage of multiple radio formats, iPod and iPhone docking and access to premium online music services such as Last.fm*, Sirius**, Rhapsody** and Pandora**."

In addition to its terrestrial and internet radio capabilities, IKON will also provide access to online music service Last.fm*. Simply choose an artist or genre and let Last.fm build the perfect playlist from its library of 5 million tracks – unique to the user, and fresh every time. Alternatively, an existing Last.fm profile can be used.

IKON includes a free 30 day Last.fm trial subscription, thereafter a £3.00 per month subscription charge applies.

Owen Parry, Last.fm Product Manager said "We're delighted that Revo has taken the decision to include Last.fm functionality as a standard feature on their new IKON 'touch-radio'. The combination of high quality audio, large colour display, and a free 30 day trial subscription, makes it easy to explore and enjoy music through Last.fm, right out of the box."

IKON is the result of a long and fruitful collaboration between Revo Technologies and Frontier Silicon, the industry leader in connected audio technology. At the heart of REVO's IKON radio is Frontier Silicon's new multi-standard Venice 8 module.

Anthony Sethill, CEO of Frontier Silicon, commented, "Touch-screen user interfaces on handheld devices have proven to be immensely popular with consumers. The introduction of our advanced Venice 8 platform, as used in Revo's IKON radio, marks the beginning of an exciting new chapter in the development of digital radio, leading to a world of feature-rich audio visual content and greatly enhanced usability."

IKON's superb audio performance is thanks to the inclusion of NXT's patented 'Balanced-Radiator' (BR) loudspeaker technology. BR drive units combine the performance attributes of an NXT flat panel speaker with the pistonic movement of a conventional loudspeaker, resulting in a high performance compact drive unit that can cover a wider range of frequencies while providing even room-filling sound.

The result of this collaboration is 30 watts of high resolution digital audio from IKON's Class D amplifier, a smooth frequency response, expansive sound stage and deep satisfying bass.

IKON has an SRP of £279.95, and will go on sale worldwide in October 2009.

A pre-order service is available from HYPERLINK "http://www.revo.co.uk" www.revo.co.uk, HYPERLINK "http://www.hughesdirect.co.uk" www.hughesdirect.co.uk, HYPERLINK "http://www.advancedmp3players.co.uk/"www.advancedmp3players.co.uk, HYPERLINK "http://www.petertyson.co.uk" www.petertyson.co.uk and HYPERLINK "http://www.superfi.co.uk" www.superfi.co.uk

REVO will be exhibiting at the IFA Consumer Electronics Fair in Berlin from the 4th until the 9 th of September 2009. REVO is located in hall 1.2, stand number 137.