Revo AXiS iPhone DAB/WiFi radio packs touchscreen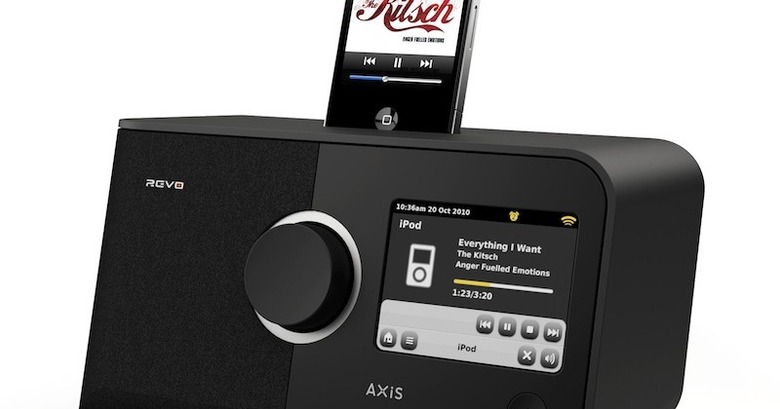 Revo are known for their distinctive digital radio and iPod docks, offering either curiously retro or decidedly futuristic models, and their latest, the Revo AXiS, falls into the second camp.  Packing DAB, DAB+, internet and FM radio support, together with network audio streaming, the AXiS also has an iPhone/iPod dock and a color touchscreen for control.
That display measures in at 3.5-inches, and shares fascia space with an NXT loudspeaker powered by an 8W class D amp.  There's also stereo RCA, AUX-IN, 3.5mm headphone and iPod/iPhone video out connectors, together with Last.fm support.
The REVO AXiS will go on sale in the UK from September 1st 2010, priced at £199.95 ($314).
Press Release:REVO announces first sub £200 colour touchscreen digital radio with multi-format reception and iPod/iPhone connectivity
Lanark, Scotland, 17th August 2010: AXiS represents the next generation of 'connected' digital radio devices that combine advanced multi-format radio reception, iPod and iPhone docking, wireless audio streaming and access to premium online music services such as Last.fm.
AXiS is capable of receiving a full range of digital radio standards including DAB, DAB+ and internet radio (over 13,000 stations from around the world) – as well as conventional FM radio with RDS. AXiS will also stream digital music files from any 'connected' PC or Apple Mac.
This compact radio features a 3.5" colour TFT touchscreen display, and is controlled via an icon-driven user interface, enabling quick and easy navigation around the radio's many advanced features.
AXiS boasts impressive audio clarity and bass response, courtesy of its 8W class D amplifier and NXT's patented Balanced Radiator (BR) loudspeaker technology. BR drive units combine the performance attributes of an NXT flat panel speaker, with the pistonic movement of a conventional loudspeaker, the effect is a high performance compact drive unit that can cover a wider range of frequencies. The result is a smooth frequency response, expansive sound stage and satisfying bass.
Completing the hardware picture, AXiS provides advanced connectivity for all generations of iPod and iPhone, and is equipped with stereo RCA, AUX-IN, 3.5mm headphone and iPod/iPhone video out connectors as standard.
Revo Technologies CEO, David Baxter, said "With AXiS we have taken the unique multi- platform feature set and icon driven interface of our groundbreaking IKON 'touch' radio, and re-housed it in a beautifully compact minimalist design, perfect for desktop or bedside use – all for the breakthrough price of £199.95."
In addition to its terrestrial and internet radio capabilities, AXiS will also provide access to online music service Last.fm. Simply choose an artist or genre and let Last.fm build the perfect playlist from its library of 5 million tracks – unique to the user, and fresh every time. Alternatively, an existing Last.fm profile can be used.
AXiS includes a free 31 day Last.fm trial subscription, thereafter a £3.00 per month subscription charge applies.
AXiS is the result of a long and fruitful collaboration between Revo Technologies and Frontier Silicon, the industry leader in connected audio technology. At the heart of REVO's AXiS radio is Frontier Silicon's new multi-standard Venice 8 module.
AXiS has an SRP of £199.95 and will be available from the 1st of October 2010 from John Lewis, Marks and Spencer, Apple Store, Comet, Selfridges, Harrods and Next Directory.
AXiS can be pre-ordered online by visiting www.revo.co.uk, www.hughesdirect.co.uk, www.advancedmp3players.co.uk, www.petertyson.co.uk, www.superfi.co.uk or www.firebox.co.uk.