Revo HERITAGE packs retro styling with DAB, WiFi streaming, iPod dock, more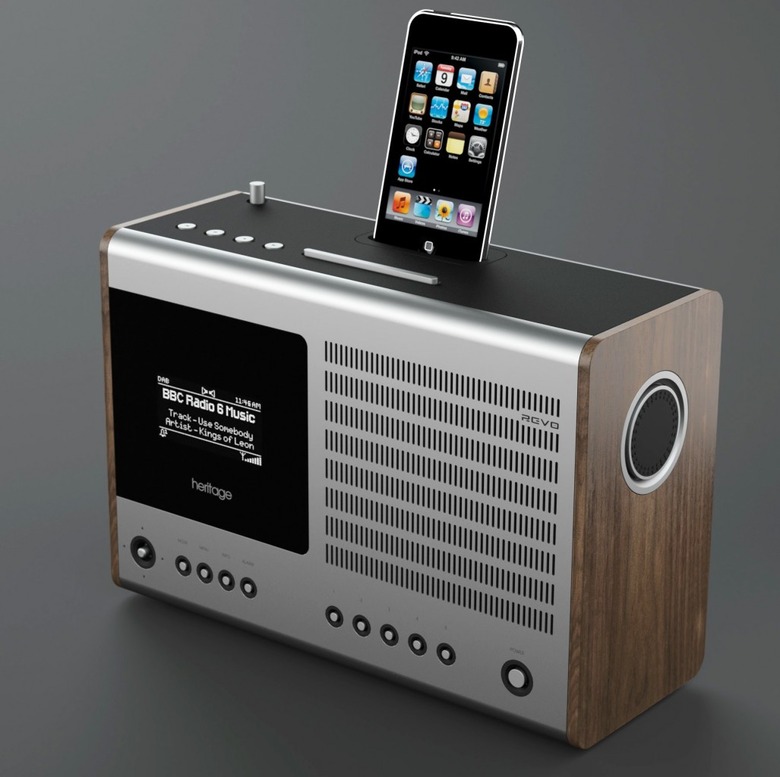 We've a soft-spot for Scottish radio and iPod dock manufacturer
; their tech at least attempts to look interesting, whether it's through retro styling (but up to date functionality) or something more modern but no less distinctive.  The company's latest model is the
, a "contemporary reinterpretation of classic European table radio designs from the 50's and 60's" that packages DAB, DAB+, FM and WiFi internet radio, DLNA UPnP streaming and an iPod/iPhone dock.
Inside the aluminum, rubberised plastic and walnut veneer casing there's a 3-inch neodymium speaker driver and 7W amplifier, while control is via a four-way joystick.  The monochrome display uses an OLED panel, and if you haven't enough tunes of your own to enjoy, the HERITAGE is Last.fm compatible too.
A USB port allows you to plug in other MP3 players or USB thumbsticks full of MP3s, and there's an optical output, RCA outputs and a line-in port too.  iPod video content can be output to a display via the video-out socket, and a remote control is included.  UK buyers can pick up the Revo HERITAGE from November, when it'll carry an MRSP of around £229.95 ($375).  No word on whether US buyers will get to enjoy the retro style themselves, however.
Press Release:
Revo goes back to the future with HERITAGE multi-format radio with iPod docking and Last.fm

Lanark, Scotland, 26th October 2009: Revo Technologies is delighted to announce the release of HERITAGE, the firm's latest multi-format digital radio.

HERITAGE is a contemporary reinterpretation of classic European table radio designs from the 50's and 60's. The nostalgia however, runs only skin deep, since HERITAGE is actually one of the most sophisticated digital radios ever produced. Underneath its traditional wood and metal exterior, beats the very latest multi- platform digital radio technology.

This deluxe radio is capable of providing coverage of a variety of radio broadcast types including DAB, DAB+, FM and Wi-Fi internet radio – as well as offering wireless audio streaming and docking for all current iPod models.

HERITAGE is crafted using the finest quality materials and components. Its cabinet is constructed using a combination of aluminium, soft rubberised plastics and real walnut veneer. Audio performance is delivered by a custom designed 3" neodymium speaker driver, driven by a superb high fidelity 7W amplifier. Lastly, HERITAGE benefits from a large 'secret-until-lit' graphical OLED display and innovative joystick control system for maximum ease of operation.

In addition to its extensive terrestrial and internet radio capabilities, HERITAGE will also provide access to online music service Last.fm*. Simply choose an artist or genre and let Last.fm build the perfect playlist from its library of 5 million tracks – unique to the user, and fresh every time. Alternatively, an existing Last.fm profile can be used. HERITAGE includes a free 30 day Last.fm trial subscription, thereafter a £3.00 per month subscription charge applies.

HERITAGE has an SRP of £229.95 and will be available in the UK from early November, exclusively from branches of John Lewis, or online from www.johnlewis.com and www.revo.co.uk