Dell has introduced its new Chromebook 13, a laptop that runs Google's Chrome OS and that, in nearly every way, demands attention and is wholly deserving of it. This laptop has many bragging points, leaving most Chromebooks in the dust and doing so without an uncomfortable increase in price. It starts with a Carbon Fiber display lid and goes from there, tossing in a thin body, beautiful LCD and more. We recently took the machine for a spin; read our full review to find out more!
1. Hardware
I've reviewed many Chromebooks over the past couple years, and none of them have made as great of a first impression as the Dell Chromebook 13. Often a Chromebook will have some flashy aspect, a visual hook to catch your attention; upon further investigation, though, they end up being a let down in some way…a let down that you let slide, because hey, you didn't spend much. But I've never been in a possession of a Chromebook that, operating system aside, I viewed as a serious contender for the position of everyday laptop.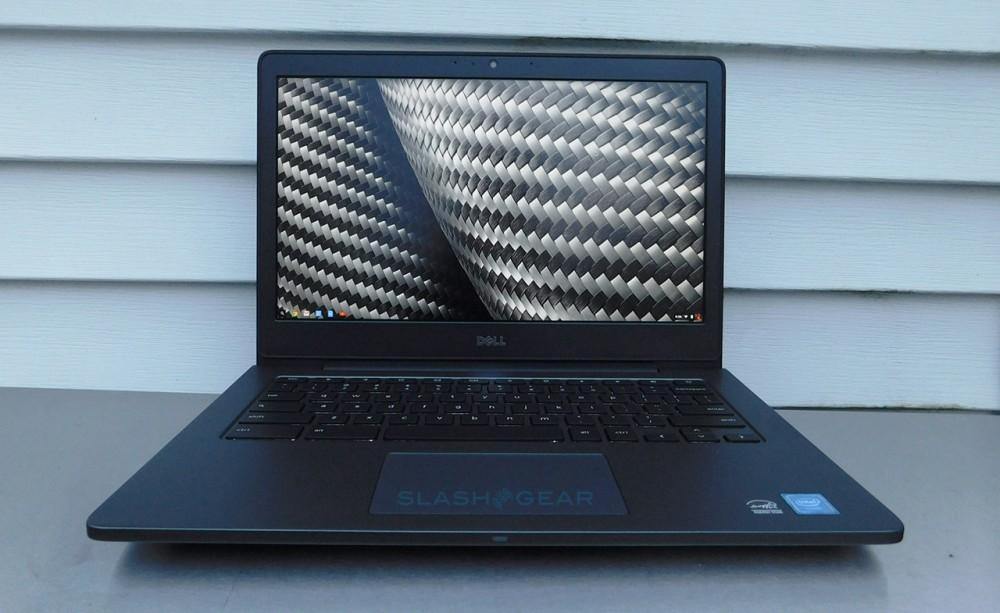 Then Dell sent me a Chromebook 13, and it was love at first sight. It's hard to focus on any one aspect as the laptop's strong point, but one can start at the soft lid and underlying woven carbon fiber. This looks, from a distance, like a gun metal color, but the woven pattern becomes apparent when you're up close. The laptop's base, meanwhile, has a lighter (though still fairly dark) gray magnesium alloy construction.
The overall laptop design is very similar to the MacBook Air's design — the base has nearly the same design, as you can see in the comparison images above, though the front of the Dell machine doesn't taper so drastically as the MacBook. The other notable design difference between the two is the Dell's lid thickness — it is considerably thicker than the MacBook's ultra-slim LCD. The overall Chromebook 13's size, however, is still within the ultrabook range.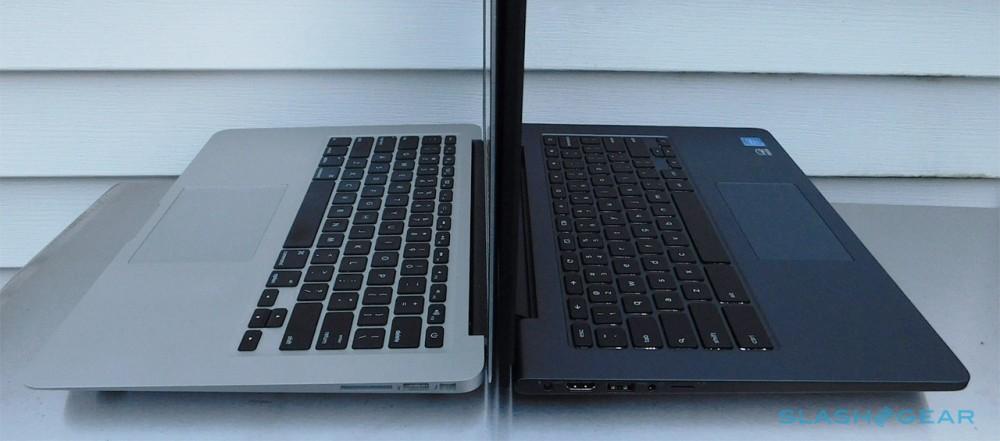 Dell says this is its first professional Chromebook, and the "professional" designation is certainly earned. If you're looking for a high-end Chromebook, you've largely been left with Google's Pixel. The Chromebook 13 changes that, and is arguably the best choice currently available for those needing a mixture of higher-end features and performance without the Pixel's obscene price tag. That's not to say that it's at the Pixel's level, because it's not.
A few different hardware configurations are available. Our Chromebook 13 features an Intel Celeron 3205U 1.5GHz processor, though there are some fifth-gen Core i processors also available. Our unit features a 13.3 inch Full HD LCD, a backlit keyboard, 16GB SSD drive, Intel dual band 802.11ac WiFi, Bluetooth 4.0, and 4GB of RAM. Up to 8GB of RAM is an option, as well as up to an Intel Core i5-5300U 2.9GHz processor and a 32GB SSD.
Other features include dual-array microphones, a 720p webcam, a pair of stereo speakers, combo audio jack, Noble lock slot, a microSD card slot, HDMI, a single USB 2.0 port, a single USB 3.0 port, and a glass-covered precision trackpad.
2. Software & Performance
The integrated 6-cell 67Whr battery offers more than 12 hours of run time on a charge, depending on how you're using the machine — if you're cranking away at the hardware, have the screen fully bright, and more, you'll manage to run it down faster, but if you're conservative with your use, you can stretch the battery life out to cover a full working day, plus some.
As is typical with Chromebooks, the machine fully boots up in just a handful of seconds, and after that it simply blinks back to life when you open the display. That's one of the upsides to Chromebooks in general; you'll find the same sort of performance on competing models.
Usage is smooth and without hiccup…something that isn't guaranteed when it comes to Chromebooks, making this another positive point for Dell. We've seen some Chrome OS laptops that have serious performance troubles; the HP Chromebook 11, for example, would stutter terribly if you played music and opened a browser tab at the same time. Fortunately, the Chromebook 13 has no such troubles.
Benchmarks are a little tricky when it comes to a Chromebooks — we can't run Geekbench on it, which is how we usually benchmark laptops. Rather, we've found that Peacekeeper's Web browser test is a fair way to get an idea of how well a Chrome OS laptop functions — the Web browser is a Chromebook's main focus, after all. The Chromebook 13 results are as follows: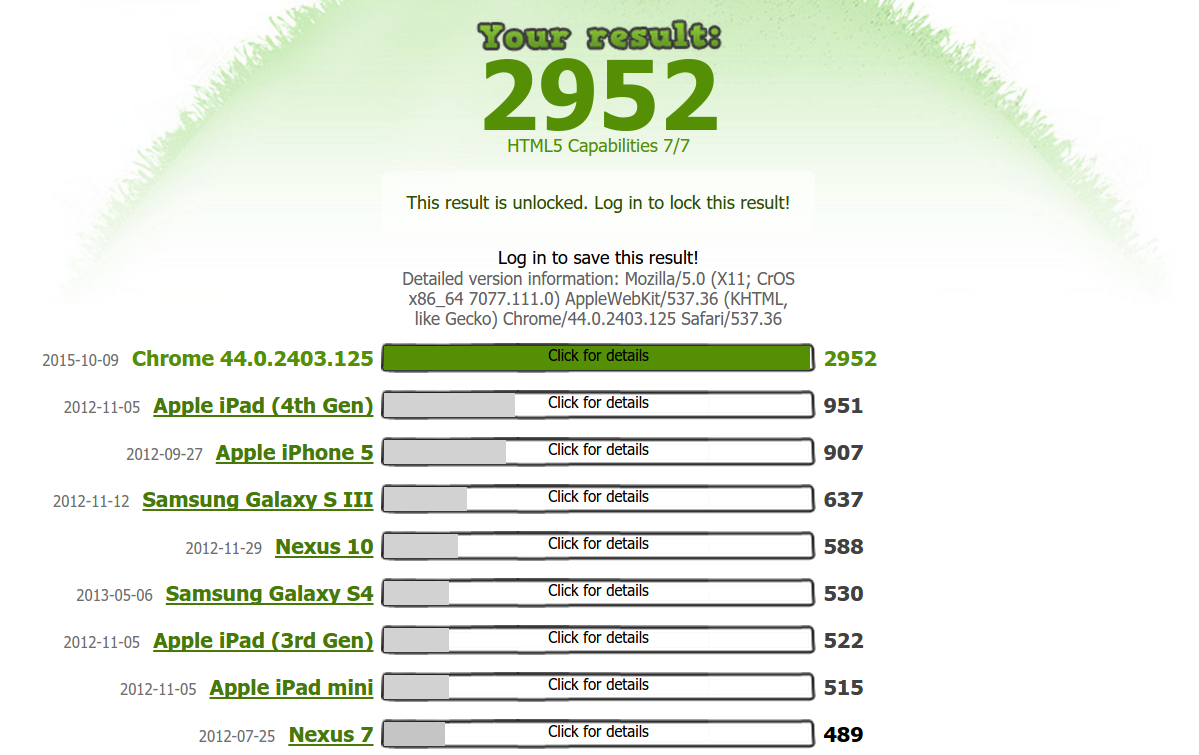 3. Conclusion
The Chromebook 13 is pricier than some of the other Chromebooks on the market, but it is still toward the lower end of the pricing spectrum when it comes to laptops in general. If Chrome OS is adequate enough for your needs, this particular model sits toward the top of Chromebooks you should consider. The crisp, bright screen, backlit keyboard, carbon fiber lid, and slim design all strike the perfect balance between form and function.
Price starts at $399 USD on Dell's website.