Retina MacBook Pro 4-monitor setup revealed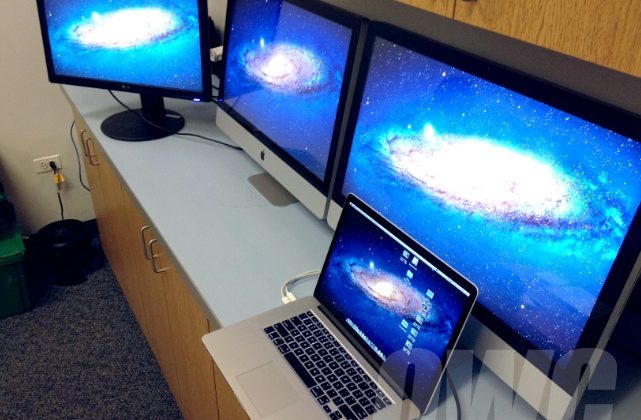 It appears that the Retina MacBook Pro has shown itself to be the first Mac notebook to exist with the power to work with four displays natively. The Mac Pro tower has an ability to power this many monitors, of course, but in that the Retina MacBook Pro has been proven this week to be able to run three monitors outside of its own this week via HDMI and Thunderbolt, it is a bit of a milestone for the manufacturer at least. And look at how awesome this setup looks!
The creator of this lovely setup, OWC Mike, has connected his Retina MacBook Pro to two Apple Thunderbolt displays (in the form of iMacs, as it were), as well as a third display hooked up via an HDMI converter. In all it is said that this suddenly legendary setup works with 15,680,000 pixels without much of a problem at all. Hear what Mike has to say:
"Moving images and media didn't create any lag and we were able to play video on all four displays simultaneously." – Mike
Touching words, Mike! His setup is as follows, as he lists it:
• Retina on laptop @ "best for Retina"
• iMac used as a display @ 2560 x 1440 via Thunderbolt
• iMac used as a display @ 2560 x 1440 via Thunderbolt/DisplayPort
• LG monitor @ 1920 x 1200 via HDMI
Apple does indeed include a note about the possibility for this setup in their official knowledge base for the device, saying, "MacBook Pro (Retina, Mid 2012) can support an HDMI-compatible device on its HDMI port while also using two Thunderbolt displays." And that's the reason why Christmas can't come fast enough.
Have a peek at our full review of the Retina MacBook Pro as well as our timeline of said notebook below to get up to date on this next-generation beast.
[via Mac Rumors]