Retina MacBook Pro 13-inch appears in Geekbench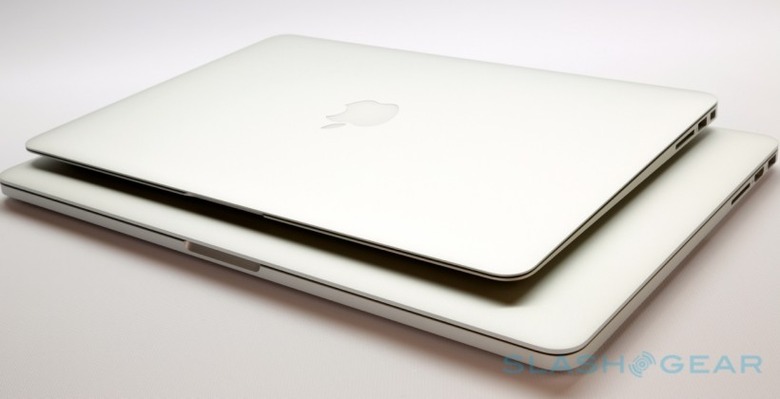 This afternoon several benchmarks have appeared in the greater archives of Geekbench (a system we also use for computer reviews) which show a brand new Apple MacBook Pro with 13-inch Retina display. This is different from the current model 15-inch MacBook Pro with Retina display we've already reviewed in that, one, of course it has a different size display, and two, that it has a significantly lower score in Geekbench than we got – a total of 7806 compared to our 15-incher's 12970. Of course it's all relative, and the important part is the fact that this device may well exist.
This device is being displayed at MacBookPro10,2 in the benchmark. The new non-Retina 13-inch MacBook Pro (also released in the last few weeks) goes by MacBookPro9,2 while the 15-inch non-Retina model goes by MacBookPro9,1. The Retina model with a 15-inch screen is called MacBookPro10,1 – making this device, of course, a 13-inch Retina MacBook Pro.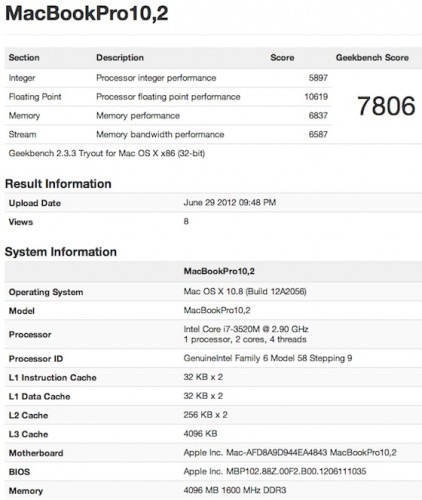 This device appears to be running a 3rd Generation Intel Core i7 processor at 2.90 GHz and is working with 4GB of RAM. That's a bit strange. The 2.9 GHz Core i7 processor should by all means be paired up with no less than 8GB of RAM, and certainly is on all other Macs on the market today – this is why the score is so low in Geekbench, too. Two possibilities exist (or more, of course), one being that this simply isn't a real device, that it's faked. The second is that this will be a low-cost model with a strange new configuration we've not yet seen.
Stay tuned for more info as this next model Retina MacBook Pro gets nearer and nearer reality – we'll see if it ever reaches the public!
[via Mac Rumors]