Retail Apple Watches discovered to still have diagnostic port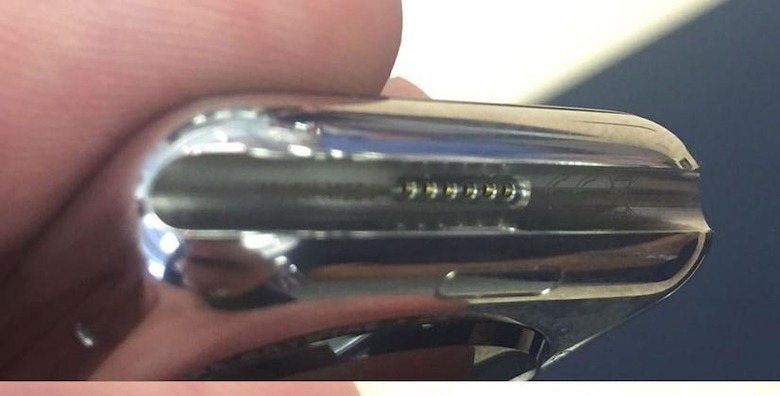 Remember back in early March when it was discovered that the then-in development Apple Watch had a hidden diagnostic port inside the bottom groove where the band connects? The 6-dot brass contact array was assumed to be used, well, for diagnostic tasks, but speculation began to rise that the wearable may one day accept "smart straps." Several sources then said that the port was only for internal use, and would not be found on the Watch when it begins shipping to customers. Well, guess what some users have found when trying on the new device in Apple Stores on Friday?MacRumors received a pair of pictures from one user who attended their Apple Watch try-on appointment and was able to try slipping the band out of the connection grooves. Sure enough, on the bottom slot, there was the diagnostic port. Shortly after this revelation, Apple pundit John Gruber posted an image to Twitter of the Watch he received as a review unit. His also has the mystery port, but it's completely covered.
@jpurnell It's there, but covered: pic.twitter.com/buKcoo0HiZ

— John Gruber (@gruber) April 9, 2015
Now, if it's true that this port was something solely used during internal development, it's most likely that it's just appearing on the Watches in Apple Stores, as they had to be shipped and ready for display before Friday's pre-order launch. The user who took the photos during their try-on appointment told MacRumors that the Apple Store staff hadn't received any training on the port and didn't know what it was for.
We'll have to wait until the end of the month when the first Apple Watches start getting delivered to customers to see if the port is still on the final models. Even after the first discovery of the port in March, Apple has made no official acknowledge of the port in either comments or documentation, and there's been no announcement of bands or accessories to connect with it. Of course, the port could just turn out to be something used during maintenance or repairs by Apple Store Geniuses. But then why wouldn't Apple have said so by now? The mystery continues...
SOURCE MacRumors