Renault-Nissan modular car chunks could see 40% savings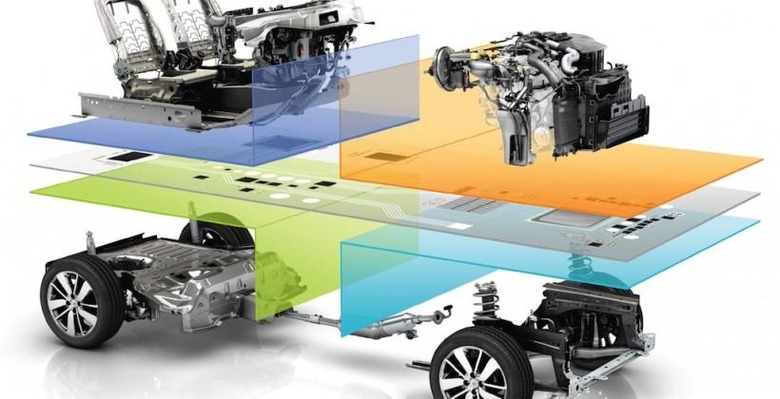 Renault and Nissan have shown off the common car concept which the two companies expect to save up to 40-percent of new model developments, by reusing key chunks of engine, underbody, and electronic tech. The Renault-Nissan Common Module Family (CMF) consists of five key segments which, once initially developed, can be adopted across anything from compact cars to big luxury sedans, with new modules planed for SUVs, minivans, and more.
The first car to arrive using the CMF will be from Nissan, later this year, with the modular segments showing up in the new Rogue, Qashqai, and X-Trail. After that, come 2014 the first Renault models to use the CSF will debut, including the new Espace, Scénic, and Laguna.
In total, 14 different models – 11 with the Renault badge, and 3 with the Nissan badge – are expected to use the CMF for the compact and large car segments. The system includes five modular areas: the engine bay, the cockpit, the front underbody, the rear underbody, and the electrical/electronic architecture. Different models will use one or more of those segments.
For Renault-Nissan, it's an opportunity to expand their ranges and remain competitive without having to work up new models from scratch each time. It should lead to an estimated 20- to 30-percent cut in component purchasing costs, by standardizing which parts are needed, as well as a 30- to 40-percent cost reduction in one-time product and process engineering for each model.
Paring development costs and the timescales involved in developing new cars has become a hot topic within the industry, given the increasing number of sub-categories of models drivers have come to expect. Meanwhile, cars are also expected to get smarter; earlier this year, Renault-Nissan opened up an R&D center in Silicon Valley where, among other things, the allied firms plan to experiment with autonomous driving technologies.
Other goals include inter-car connectivity, which would allow vehicles to communicate between themselves and their environment to highlight potential risks and hazards such as broken down vehicles or inclement weather. Mercedes has already announced plans to put a similar system, Car-to-X, in its models before the end of the year.