RedEye Universal Remote Update Adds Universal Browser Support, New iPad App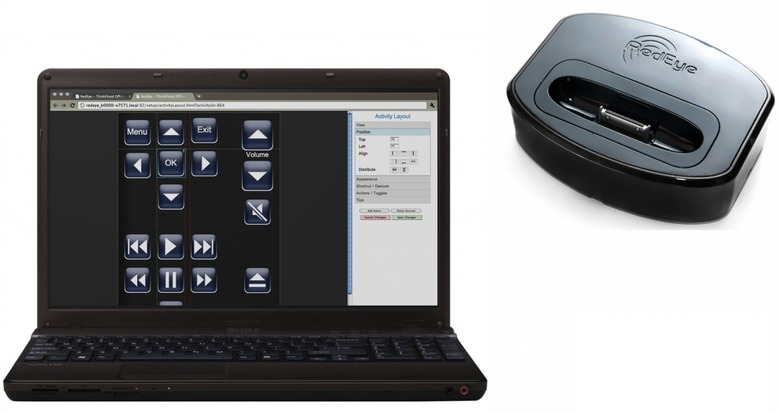 ThinkFlood's RedEye universal remote is getting a whole lot more useful, with the release of a new software update – RedEye app v2.0 – which adds browser control. Rather than demanding owners control the RedEye with an iOS device such as an iPhone or iPod touch, with the new software any browser – whether on a PC or Mac, or indeed on an Android or BlackBerry smartphone – will be able to operate the device.
Meanwhile there's also an updated iOS app, v2.0 [iTunes link], which has native iPad support to take advantage of the tablet's larger screen. The web version can be used to rearrange the button layout, too, and you can assign keyboard shortcuts to the various functions.
The RedEye itself is priced at $188 and is a WiFi to infrared bridge, capable of controlling multiple home cinema or other devices simultaneously. More information here.
[via Engadget]
Press Release:
ThinkFlood's RedEye Universal Remote Control Now Compatible With Your Web Browser

ThinkFlood's RedEye Application Gets Major Updates That Expand the Compatibility of RedEye Units to Include Access From PC and Mobile Browsers

WALTHAM, MA–(Marketwire – December 2, 2010) – ThinkFlood (http://thinkflood.com/), maker of RedEye universal remote controls, announced that (Wi-Fi) RedEye owners will soon be able to setup and manage their RedEye systems using any Web browser connected to their home network.

"The networked power of RedEye Wi-Fi systems becomes more apparent in this new version," said ThinkFlood founder, Matt Eagar. "No longer are our Wi-Fi customers limited to iOS, as they can configure and control RedEye from both PCs and other mobile platforms."

The RedEye browser app gives (Wi-Fi) RedEye customers the ability to use any PC browser to control their RedEye systems and edit activity layouts. With RedEye app version 2.0, custom layouts are even easier to configure with the ability to select and move multiple buttons at once, align edges automatically and more.

RedEye customers may also run the application from a variety of mobile Web browsers — such as those included with Android and BlackBerry operating systems. ThinkFlood developers say that while the RedEye browser app performs well in tests using non-iOS mobile browsers, version 2.0 is not specifically optimized for them.

ThinkFlood (Wi-Fi) RedEye customers may choose from nearly 70 different keyboard shortcuts to easily control their home entertainment devices when accessing their universal remote control system from a PC.

"Our goal from the start has been to make the RedEye a truly 'universal' universal remote control system," said Eagar. "Our customers should be able to use RedEye from whatever device they have at hand, whether it's an iPhone or a laptop."

The updated RedEye application for RedEye universal remote control systems will be available during the first week of December 2010 as a free download from iTunes (http://itunes.apple.com/app/redeye/id315598320?mt=8).

About ThinkFlood:

ThinkFlood designs and develops remote control hardware and software. Its RedEye line (http://thinkflood.com/products) of universal remote control products for mobile phones, MP3 players and tablets offers features and functionality previously available only in remotes priced several times as much. ThinkFlood is a privately held company headquartered in Waltham, Massachusetts.