Red Dead Redemption 2 PS4 Pro Bundle Announced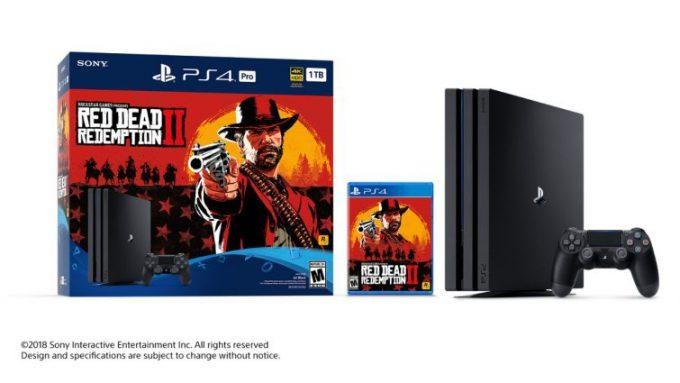 We may receive a commission on purchases made from links.
We've seen a lot of big-name games get a PS4 bundle of some sort, and as of today, we can add Red Dead Redemption 2 to that list. Even though Red Dead Redemption 2 isn't going to be a PlayStation 4 exclusive, the decision makers at Sony have deemed it be a big enough release to receive its own console bundle. Unfortunately, there isn't much to this bundle aside from the fact that it puts the game and a PS4 Pro together in one package.
Yes, that means no limited edition console to go along with the game, which is a shame when you think about how cool a Red Dead Redemption-themed PS4 Pro could look. Instead, you'll just be getting the standard jet black PS4 Pro with 1TB of storage and a matching controller. The bundle also comes with a physical copy of Red Dead Redemption 2, which of course is a given.
Even if there's no special console in this bundle, it still might be a good buy if you've been in the market for a PS4 Pro and you're looking forward to Red Dead Redemption 2. Sony is launching it at the PS4 Pro's standard price point of $399.99, which means that you essentially get the game for free by picking this package up.
Red Dead Redemption 2 is shaping up to be one of the most anticipated games of the year. Rockstar has been providing a fairly consistent trickle of information about the game in the lead up to its release, detailing aspects like its core gameplay mechanics and even announcing a dedicated online mode that will launch in open beta shortly after the main game releases.
We'll likely find out more about Red Dead Redemption 2 between now and when it launches, so we'll be keeping an eye out for those details. The RDR 2 PS4 Pro bundle is up for pre-order from retailers like Amazon today, and it launches alongside the game on October 26.
SlashGear uses Amazon affiliate links, and if you buy something we may get a small share of the sale.