Red Bull Training Grounds tournament ramps up with Falcon Northwest Tiki, GeForce GTX TITAN

This week is a the 2013 edition of the Red Bull Training Grounds tournament with a battle between some of the best StarCraft II gamers from around the world aiming at eachother's hordes. What we've done is to take a peek at what's under the hood of the gaming rigs that'll be powering this tournament: Falcon Northwest Tiki, NVIDIA GeForce GTX TITAN, and customizations everywhere in-between.
What you've got here is a collection of customized Falcon Northwest machines – the Tiki model to be precise, this time working with a combination of "Absolute Black" granite base and Hematite outer. Hematite, is a combination of what the Falcon Northwest team describes as "part paint color, part painting technique." This is applied in combination with some rather massive NVIDIA GeForce logos down each side of the mini-tower and the Falcon Northwest logo cut up the front.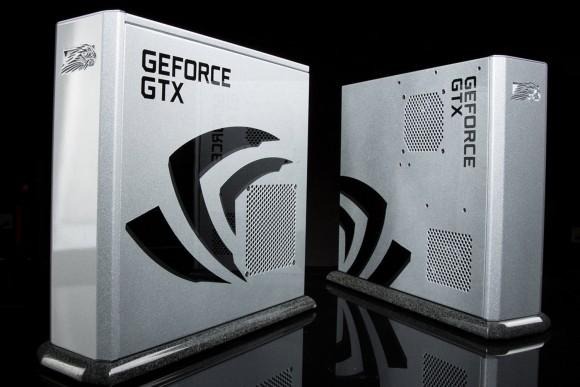 In SlashGear's Falcon Northwest Tiki review from earlier this year, we had a look at the interior of this machine as well as its combination with the high-powered graphics card this Red Bull build is rolling out with. As you'll see in this hands-on video, this device is extremely compact and made to be heavy duty – it's "spared no expense" as a man in a movie about an amusement park once said.
NVIDIA is aiming to show the world what they're made of with a crew like Falcon Northwest, making it clear that they're not aiming for the budget-minded gamer out there in the wild.
You'll be able to catch the Red Bull Training Grounds Santa Monica collection of head-on battles several times over the coming days with livestream video via Red Bull's own event center.
• Friday, June 21st 2PM – 9PM (Pacific Time)
• Saturday, June 22nd 2PM – 9PM (Pacific Time)
• Sunday, June 23rd 2PM – 7PM (Pacific Time)
Below you'll also see a collection of inner bits and pieces of the gaming rigs they're using – not exact replicas, of course, as this build is what SlashGear reviewed earlier this year with 3rd generation Intel Core processors, but close enough!