Recoil 4: Why BJ Baldwin Took This 850HP Trophy Truck To Cuba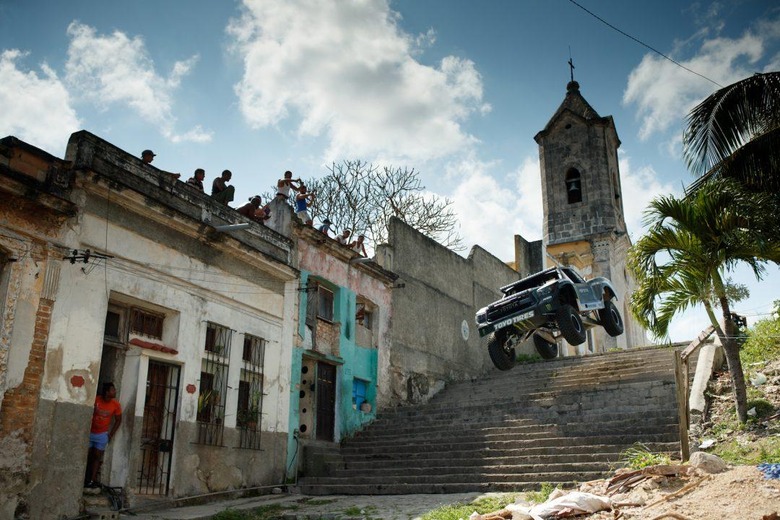 Cuba probably isn't the first place you'd expect to find a million-dollar monster truck, but that only served as encouragement for professional racer BJ Baldwin. For "Recoil 4", the latest in the off-road driver's stunt videos, he took his 6,000 pound truck on a high-speed run around the country, thundering through tight city streets and achieving a record-setting 191 foot residential jump, among other stunts. With "Recoil 4" now released online, I caught up with Baldwin to find out why Cuba, what went wrong, and whether he broke anything other than records along the way.
If you're not a fan of Trophy Truck racing then you might not be familiar with BJ Baldwin or the 850 horsepower monster truck that bears his name. Intended for desert racing, like the Baja 1000, the extreme off-roaders have huge quantities of suspension travel – as much as three feet for the rear wheels – and similarly vast, 39-inch tires. They're also very, very fast.
The fourth installment in Baldwin's "Recoil" series of videos, fans knew what sort of thing to expect from "Recoil 4". Even so, it's arguably the most ambitious yet, taking place in a location only recently opened up to American filmmakers. That, Baldwin explained to me, led to some tricky situations and no small amount of paperwork.
"Masses, masses of paperwork," the race driver explained. "Even with all that red tape, for months of planning back and forth, there was no guarantee that we'd be able to get a location. I think we had a problem at every location we tried to shoot at. We either got it worked out quickly, or got it worked out after a couple of hours, or were told we couldn't shoot at all."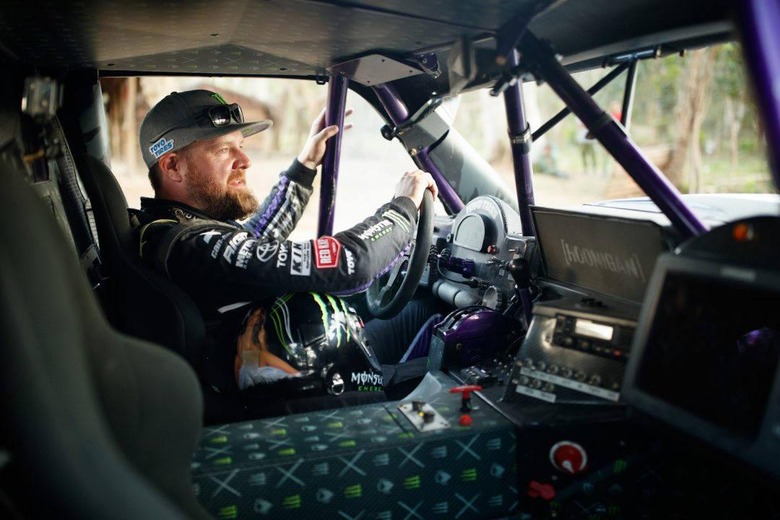 Even more frustrating, sometimes that permission was yanked after filming had wrapped. "We actually had to delete our last day of filming because police pulled all their support for the film, which was unexpected," Baldwin said, with some deadpan understatement. "Because the locals were getting too entertained. I love Cuba, I love the people, but it's a kinda sketchy place to shoot in."
Given the challenges, you'd be forgiven for asking why Baldwin, the Recoil production team, and a sizable list of sponsors – including Toyo Tires, Monster Energy, Rigid Industries, and King Shocks – would pick the country. That, he explained, was actually a no-brainer.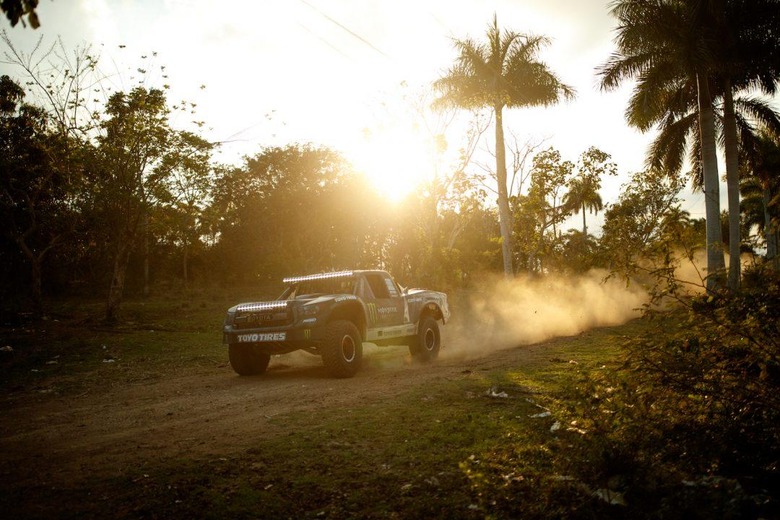 "The first reason was because Cuba has not been done before," Baldwin pointed out. "There have been no American-filmed projects since before the Cuban missile crisis in 1953. That was really important to us as relations between Cuba and the US have opened up."
"Secondly, Cuba has a lot more texture than other parts of the world: the buildings are all broken down, they have all these staircases and assets that we can harvest, so to say, for stuntwork. Stuff you'd never be able to see [like] a vehicle drive over a flyover and recover from, which our race truck is able to do. It still drives fine, nothing is bent broken or damaged."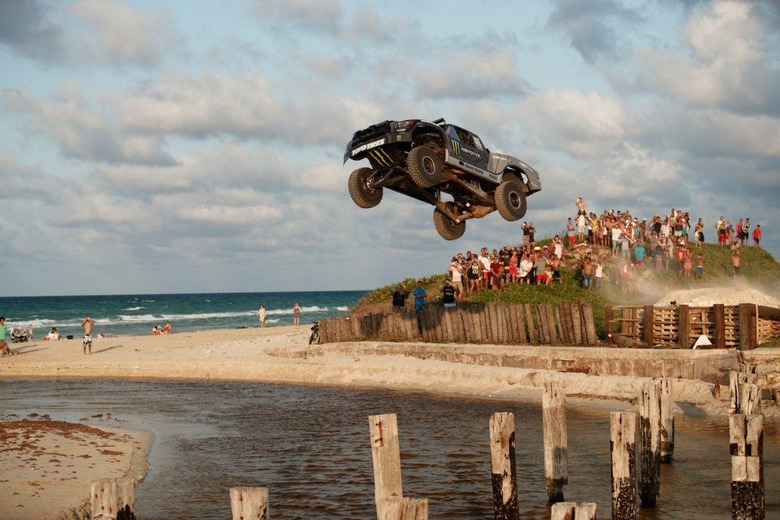 In fact, though the production team took an entire trailer full of spare parts, including transmissions, shocks, and a full replacement engine, nothing on the million-dollar truck broke down. "There were no parts that got broken or had to be replaced," Baldwin said with some pride. "In fact, I think only one of the Recoil films we've done to-date, a cylinder head cracked. My truck's designed to drive for over twenty hours at 100-percent of its capability, over the surface of Baja, very difficult terrain ... It's so overbuilt for this."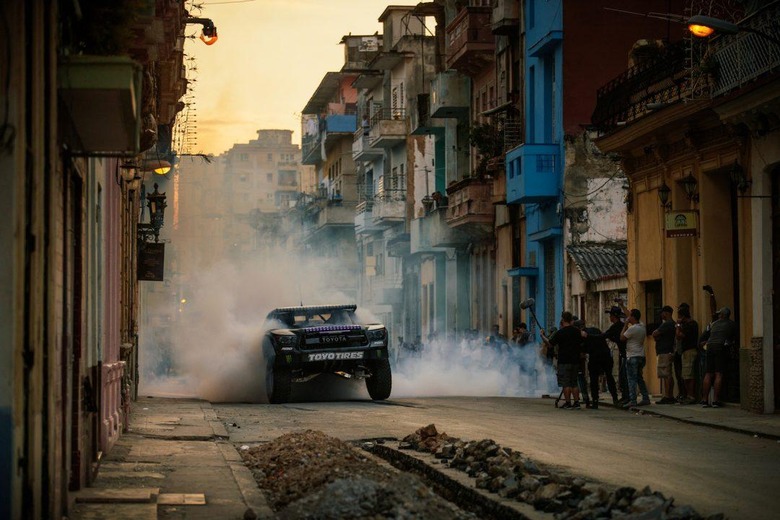 That's probably for the best, since even with a full supply of parts for any repairs that might be needed, the crew was down its usual complement. "They wouldn't let us bring any of our chase trucks in," Baldwin explained, and the shoot was forced to use local equipment.
"It's funny, you get to the airport, get off the plane, and load three million dollars of production equipment into a dump truck that looks like it cost maybe $300. That burns more oil than it does gas. We had a race truck being towed around by a tow-truck that was sixty years old. It didn't even fully fit: the inside of the tire tread was the only thing that was touching the tow-truck bed."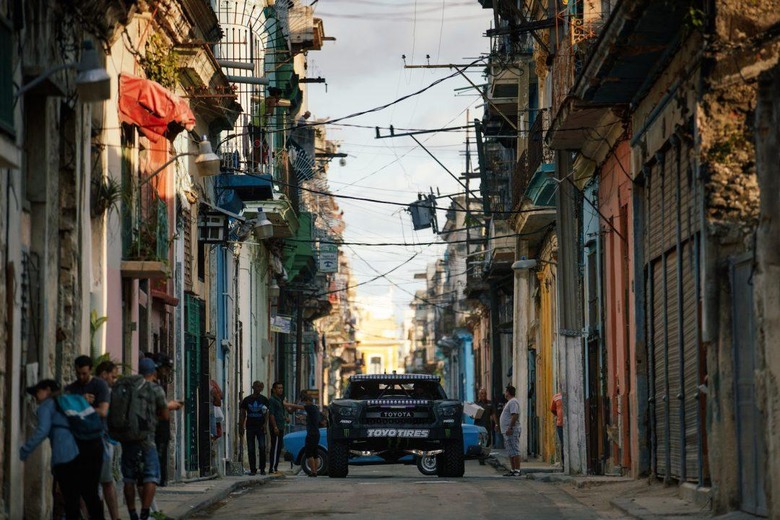 NOW READ: Taking trucks airborne at the 2017 Mint 400
Honestly, with Cuba's legendary reputation for classic cars, I was expecting Baldwin to say that he'd seen plenty of collectables that he might've wanted to bring back. Turns out, he's pretty faithful to his Trophy Truck, telling me it was the only thing he was concerned about getting back to the US. Well, that and five days of high-octane, long-jumping, suspension-testing footage, of course. Don't try this at home.