Razer webcam "Stargazer" release to take on streaming industry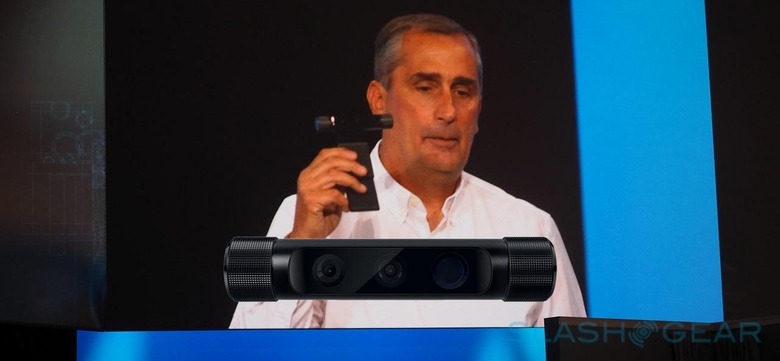 Razer Stargazer revealed at CES 2016 to take the video game streaming industry out a whole new door. Much in the same way Razer aimed to provide the game streaming environment with a hero microphone with the Seiren and the Razer Seiren Pro, the Razer Stargazer is what the company calls "the world's most advanced webcam." As such, this camera is able to capture and stream video at 720p at 60 frames per second. This camera is tops – if only because it has basically no competition whatsoever.
You may remember seeing a mention of this camera back in 2015 when it appeared at IDF 2015. Back then, very little was revealed about this device, other than its look and its possible functionality. Have a peek at our first "RealSense Camera" article to see what it was all about.
Now we're getting the full low-down, complete with how Intel will be playing a role.
The Razer Stargazer has full Intel RealSense SR300 camera technology inside, enabled with dynamic background removal and depth-sensing. At launch, this technology will work with broadcasting software such as XSplit, OBS, and Razer Cortex: Gamecaster.
Razer Stargazer details:
• 720p60 HD video capture optimized for streaming
• 1080p30 HD video capture for video conferencing
• Automatic noise cancelling dual array mic
• Dynamic Background Removal
• 3D scanning
• Facial/gesture recognition
• Flexible clip for laptops and desktop monitors
• Intel 6th Generation Core processor
• USB 3.0 connectivity
• Windows 10 only

Also enabled is support for FaceRig, QQ Video, and ooVoo, as well as face and 3D object scanning. Users will be able to scan their faces and make use of Windows Hello's face security system to log in to their PC.
"There are exponentially more people streaming and video conferencing than ever before and their needs are constantly evolving," said Razer CEO and co-founder Min-Liang Tan.
"The Razer Stargazer can revolutionize work done by game streamers, YouTube personalities, 3D designers and game developers with additional benefits to the average computer user. Simply stated, this is the webcam of the future."
The Razer Stargazer will be available in the Razer Store and worldwide in the second quarter of the year 2016 (this year). It'll cost users a cool U.S. $199.99 / EU €239.99. Stick around as we get more details and a hands-on look soon in our Razer tag portal.