Razer Seiren Pro Review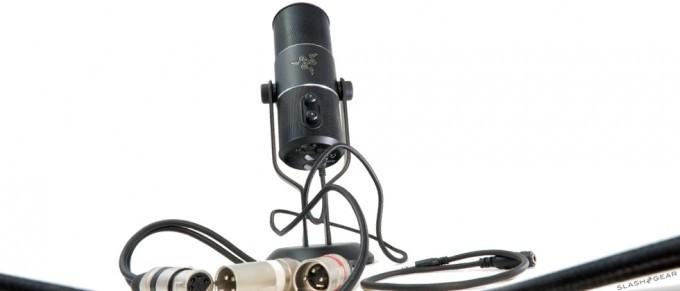 The Razer Seiren Pro is a high-end microphone made for gamers – more specifically aimed at those that stream their gaming live for the masses. What you're going to see here is a microphone that looks and feels like a studio-level piece of equipment. But can it deliver in sound where it delivers in looks? This monster of a microphone is the sort of thing you buy when you get really serious about your online recording art – or when you just feel like tossing a piece of your paycheck at a piece of equipment that'll last you forever. Either way, fine audio, here we come.
With the Razer Seirēn Pro you're going to get one beastly accessory. If you're in need of an instantly-impressive quality boost in audio over whatever basic system you have right this minute – like you laptop mic, for example – this is it. The first thing you're going to want to hear here is our extremely brief and to-the-point recording of two sound bites.
The first of two recordings was done on the built-in mic from a MacBook Pro, while the second is done with the USB line on the Razer Seirēn Pro – into that same laptop.
Here you should notice several things. The first – the face that the MacBook Pro's built-in mic system is pretty decent in and of itself. If you want only the most basic of recording systems – if you're just starting out in the game stream recording business, for example – you might just want to stick with whatever system your computer already offers.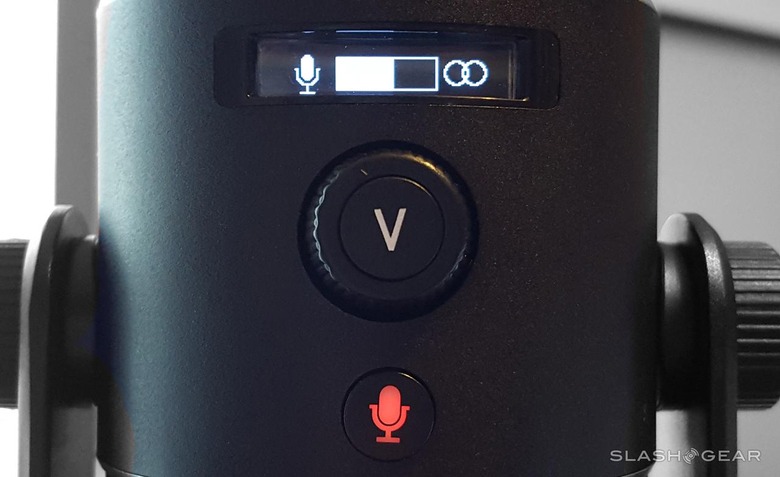 Above you'll see the super-simple display that shows your sound level and directional audio settings.
If however you're getting serious about what you do, and you want your audio to sound like you mean business, the Razer Seirēn Pro is all about it.
This recording was transferred directly to a standard audio track in Final Cut Pro – no editing done. That means you're going to get the same quality – live – when your streaming.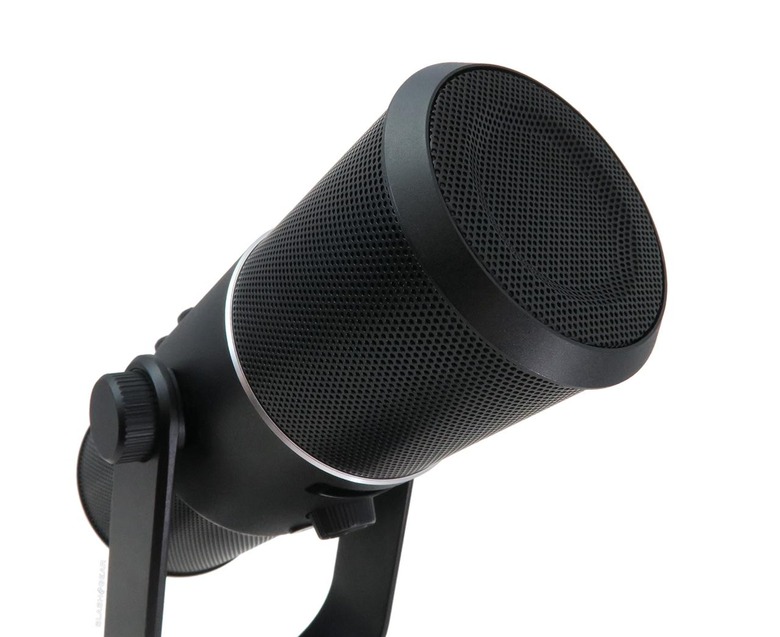 This system can connect to your computer with a mini USB cable – included in the box, mind you, with an excellent quality material-wrapped cable between plugs.
This system can connect with XLR – you get a 5-pin XLR cable (splitter) in the box, as well.
You'll be able to hear yourself chat outside your gaming system with a standard headphone jack – in the box you'll get a 3.5mm audio extension cable just in case you need one.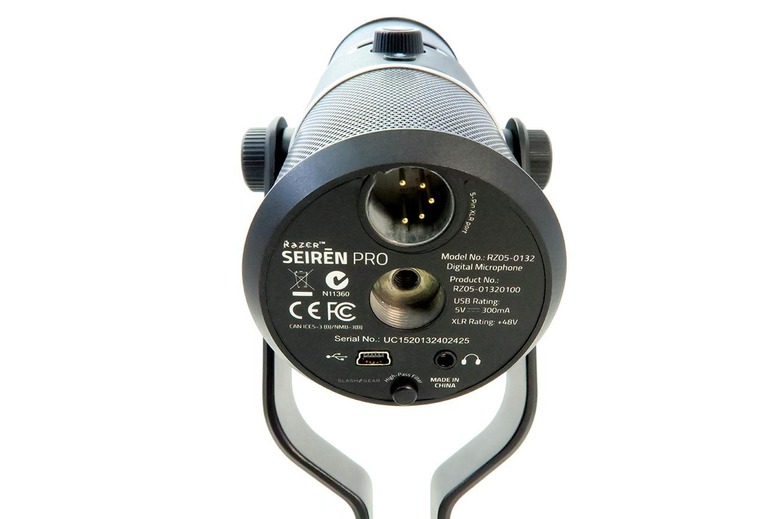 Microphone specifications
• Power required / consumption: 5V 500mA (USB)
• Sample rate: 192kHz
• Bit rate: 24bit
• Capsules: Three 14mm condenser capsules
• Polar patterns: Stereo, cardioid, omnidirectional, bidirectional
• Frequency response: 20Hz – 20kHz
• Sensitivity: 4.5mV/Pa (1kHz)
• Max SPL: 120dB
• Headphone amplifier
• Impedance: > 16ohms
• Power output (RMS): 130mW
• Frequency response: 15Hz – 22kHz
• Signal-to-noise ratio: 114dB
Here you'll also want to take note of the Razer Seiren – the version that doesn't have the word "Pro" attached to it. While we've not actually tested that version of this device, so we can't attest to its quality (but can pretty safely assume its decent), that version of this device just works with USB, not XLR.
The one other difference is the lack of a "high-pass filter toggle" button, which doesn't do just one whole HECK of a lot here on the Pro version – that version costs $179 instead of $249, so you might want to give it a gander.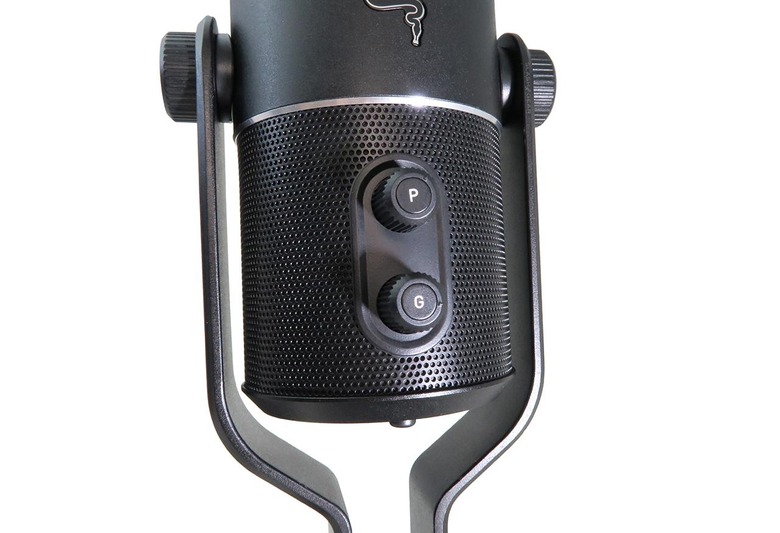 At $249.00, this piece of equipment isn't something you're going to be considering lightly. If you don't need a mic, you don't need a mic. But if you DO want a mic – this one's pretty amazing.
An earlier version of this mic came with both a Shock Mount and a Pop Filter, which made it a whole lot more expensive – now Razer has gotten smart and separated the two accessories out as their own, separate buys. If you want to go the full mile, you can buy a "Bundle" with the two accessories for this accessory for a cool $100 more.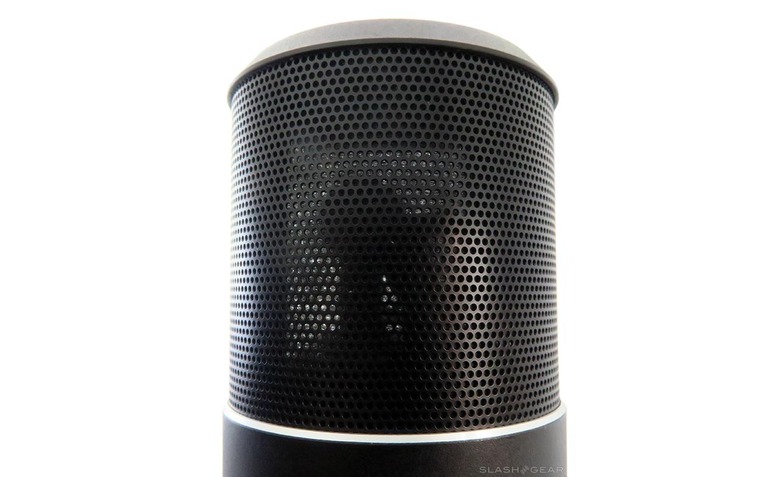 The Razer Seirēn Pro is not cheap – but it's not something you're going to regret buying, either. With an intense build quality and an undeniably great quality in its output, this is most certainly one of the finest gaming-aimed pieces of game streaming equipment on the market today.
If you've got a friend, relative, or colleague who's a game streamer and is in need of a gift this holiday season – this might be your best bet.