Razer Turret Review and my living room keyboard dreams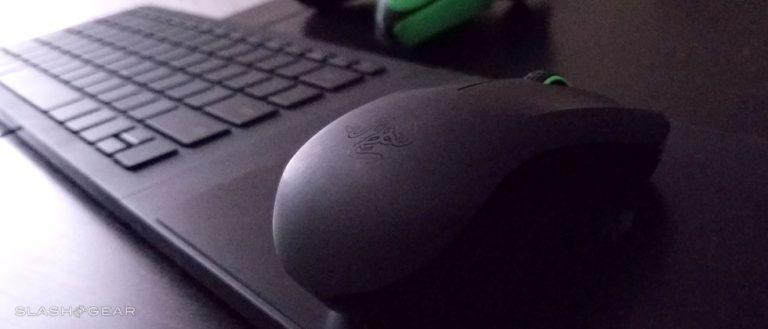 I'd been waiting a long time for this keyboard to be released. This, the Razer Turret, a keyboard, mouse, and mousepad made for the living room. I first saw it back at CES 2015. Back then, it went hand-in-hand with the Razer Forge TV, a device that was revealed just before its biggest competitor, the NVIDIA SHIELD Android TV. I was more excited about having a handy keyboard and mouse for my couch than I was for the Android TV platform, no matter the manufacturer. Razer had made the ideal set of controllers for lounging and gaming. It'd be months before I got the opportunity to use this device duo at home.
Fast forward to this summer – the summer of 2016, and finally it was time to give the Razer Turret a go! As you'll see in the video below, I was so excited to use this keyboard and mouse set that I did a hands-on demo in virtual reality.
It's not the most useful hands-on experience for a device set that's meant to be used in a living room, not in a virtual realm, but there it is.
The keyboard connects extremely quickly to every device I've tested it with, be it an Android TV device, Windows 10, or OS X VIA a MacBook Pro. Using this device in the living room is an entirely reasonable experience.
I didn't expect to have my life changed by this keyboard in the living room, especially since I wanted as much convenience in everyday storage as I did in usability. Tradeoffs exist – in this case that means the mousepad is a little small for what I'd normally want to be doing with a mouse.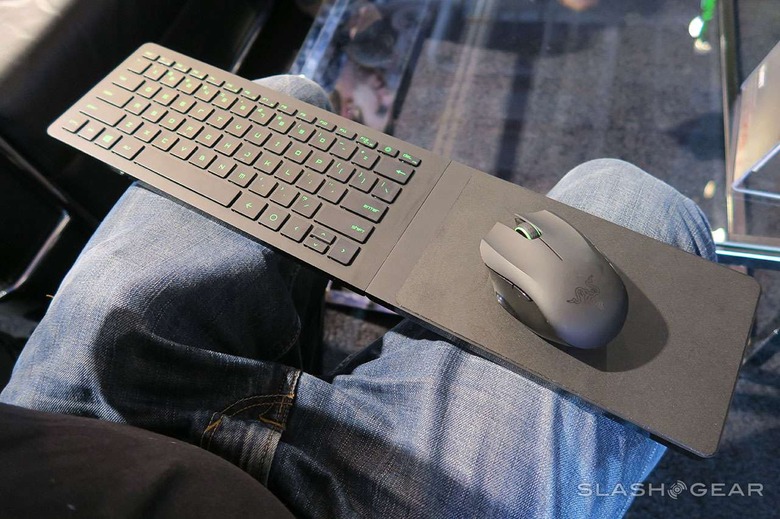 The keyboard itself is excellent in all arenas. It's almost identical to the Razer Blade Stealth notebook's keyboard, which in turn has a keyboard that's very, very similar in size, shape, and bounce as Apple's most modern MacBook Pro.
The mouse is a bit small – it's shaped well, certainly, and it has the ability to move swift, but I'm so used to either a trackpad or a high-end gaming mouse that anything in-between feels awkward.
There's also a tiny bit of an issue with the mouse when it's used with OS X in that it makes the mouse pointer fly wildly across the screen. I'll let you know here if this gets resolved in a future hardware update.
The mouse works great with Windows – tracking is fine, movement is fine, handling is fine. Again, it's still a bit small for my hand, and the trackpad is a tradeoff for the maneuverability of the whole unit in the living room.
Both the keyboard and the mouse fit soundly into a dock which, in turn, plugs in to a standard power socket. This solution is ideal for me, as it helps me remember to put both devices away in the same spot every night. I've also never run out of power, so I'm not entirely certain how long these devices will last without a charge.
Specifications for Razer Turret from Razer:
Lapboard
• Anti-ghosting capability for up to 10 simultaneous key presses
• Chiclet styled keycaps
• Dedicated Android buttons
• Battery life of up to 4 months – The life expectancy of this battery depends upon its usage
• Battery type: Li-Po (1500 mAh)
Mouse
• 3500 DPI laser sensor
• Ambidextrous form factor*
• 40 hours battery life for continuous use – The life expectancy of this battery depends upon its usage
• Battery type: Li-Po (1000 mAh)
* NOTE here that while the mouse itself is ambidextrous-capable, the mousepad on this setup remains connected to the right side, making using the mouse on the left a bit of an issue.
Package contents
• Razer Turret mouse and lapboard
• Wireless 2.4ghz adaptor
• Charging dock
• Wall adaptor
• Important product information guide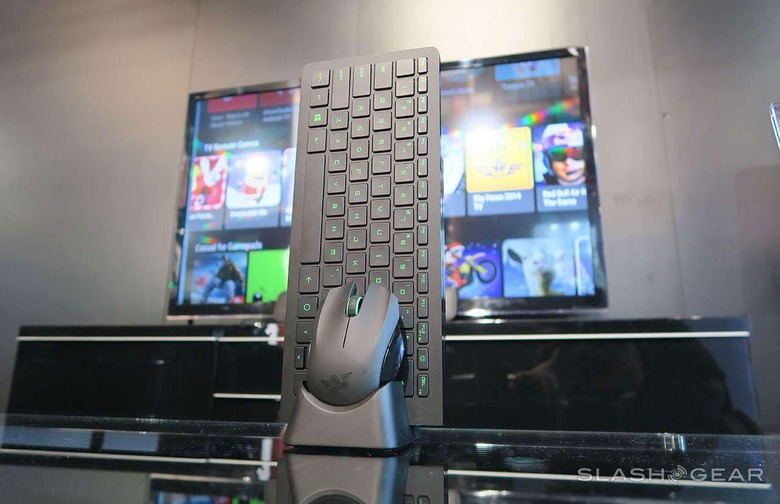 Wrap-up
Is the Razer Turret worth the $160 USD it costs straight from Razer? Absolutely. It might surprise you that this keyboard costs more than the Razer Forge TV – that I can't properly explain, as I've not had the opportunity to review that Android TV product since I first tested it at CES 2015.
What I can tell you is that this keyboard is truly up to snuff, no matter what your need for a wireless keyboard may be.