Razer Project Ariana hands-on at CES 2017: gaming room lighting gets wacky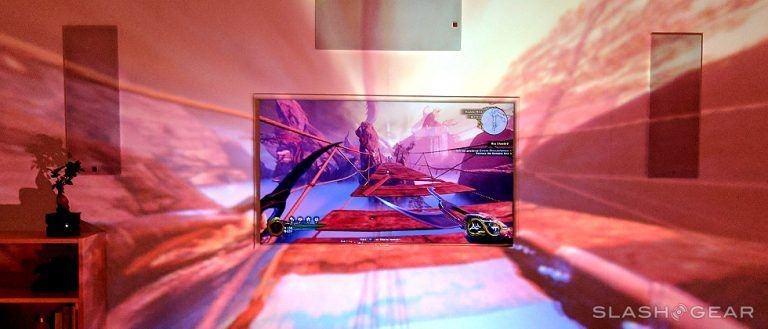 Razer's Project Ariana was used this week at CES 2017 to show the potential of Razer Chroma lighting in full-room immersion. The company announced earlier today that they'd be making Razer Chroma open to 3rd-party partners, meaning more companies could bring millions of colors of light to their devices. Project Ariana is a device that lights up a whole room – and it's not just a concept for Chroma Lighting. This is a real-deal product that Razer says will be a production device – available for purchase – by the end of the year 2017.
Razer suggests that Project Ariana is the "world's first video projection system designed for total immersion gaming." While Razer calls this project a "concept design", they've confirmed with SlashGear that they do, indeed, have a final product coming for consumers. What we've seen this week is an early iteration brought to CES 2017 to "get feedback from the community and make sure that, with the features it has, it'll be the best product out there."
In the past (and in this demo, incidentally) we saw Philips Hue light up rooms live, with different colors and reactive brightness according to games being played. With Project Ariana (made by Razer, not Philips), Razer has made a slightly more versatile single product. Project Ariana is, at its heart, a video projector – in fact it can be used as a standard projector if the user wishes.
What Project Ariana does is to light up a room with graphics, making the room part of the game. With virtual reality, the peripheral view creates the illusion that we're transported to a real environment. With Project Ariana, we're not quite in the virtual space – but we're also benefitting from the ability to continue gaming on a single, non-moving screen.
In the gallery below you'll find two Philips Hue lamps (set near the walls in the demo room). Also in the gallery is an image of the Project Ariana projector device attached to the ceiling. Also here is a close-up of the second projector in the room – the one actually doing the heavy lifting.*
*Of note is the fact that the demonstration we're viewing here is not projected from a finalized Project Ariana device. It's set up to look the part, but a separate projector (in a different casing) is making this demonstration a reality. Razer was up front about this, suggesting that they're simply not yet at a stage where they've put their tech in the industrial design we see above.
In the image of the projector's lens (in the gallery above) you'll see a small black rectangle. This area is blocked out by Project Ariana so that the projector isn't projecting on top of the user's standard display. The area you see in the center of the presentation – the normal game screen – is still being shown traditionally, with a display.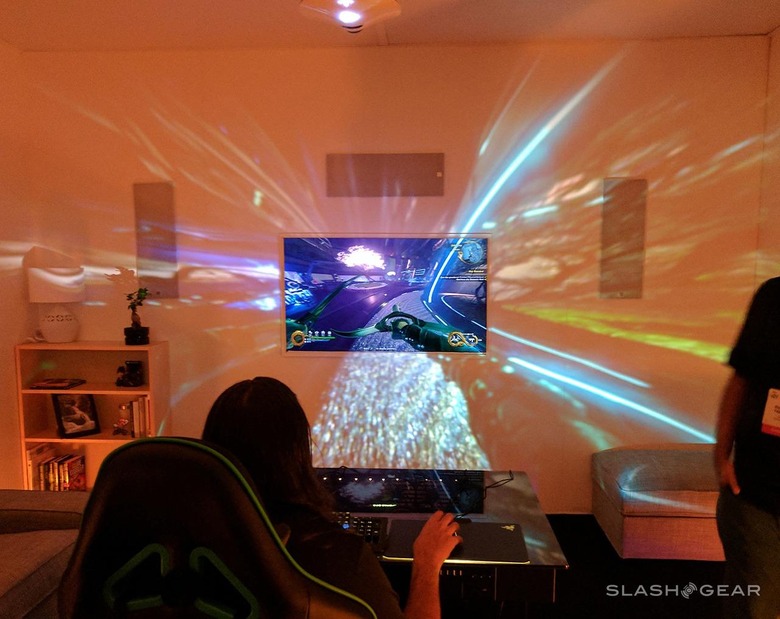 Ariana projects a stream of peripheral graphics. Using research on how the human eye sees light surrounding our primary view, Project Ariana makes this experience as natural-feeling as possible. This is different from [Razer's Project Valerie] with its two extra displays and an added amount of field of view. Ariana is more about an enhanced entertainment experience than it is about giving the gamer a competitive edge.
At this time we do not know what the price of Project Ariana will be, nor do we have an exact release date. We do know that Razer is targeting some time before the end of the year 2017. We also know that this device was made – at least in part – to drive interest for 3rd-party manufactures in Razer Chroma licensing.
Razer's release of Chroma for 3rd-party devices includes the Razer Chroma Module. This module is a single hardware and software API available to 3rd-party partners for Chroma lighting. Razer also announced that a number of partners were already onboard with Chroma for their own devices. Lenovo is onboard along with NZXT, Antec, Lian Li, Wicked Lasers and Nanoleaf. Some devices with Razer Chroma lighting inside have been announced, while others have yet to be revealed.