Razer Project Valerie hands-on at CES 2017: 3-screen laptop gaming is here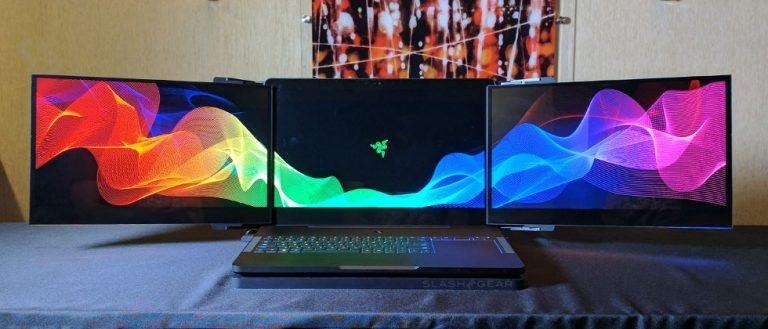 The Razer Project Valerie laptop has three displays – and all three are really, truly dedicated to gaming. Each of these displays is connected to the base computer, creating a laptop that's thicker than the company's standard Razer Blade, but all the more versatile as a result. While this notebook isn't the sort we'll be trusting around clumsy miscreants while engaged, the hardware used to make this project a reality is well worth the gander.
This notebook can be used with a single display, but three displays at once is what it's really all about. Once the notebook's standard display is open, an automatic deployment mechanism can be pressed to extend the other two. Both extra displays mechanically slide out from behind the primary display, then inward toward the user. The result is a half-moon shape made to work with "180 degree NVIDIA Surround View gaming" technology.
Generally this type of computing and gaming is reserved for those with notebooks capable of multi-monitor output or desktops with multiple displays. This is the first notebook that incorporates three displays, each of them a 17.3-inch 4K IGZO panel. To deliver the graphics power necessary to make a setup like this feel sensible, Project Valerie is built starting with the newest 17-inch Razer Blade Pro. From there, things get weird real quick.
Specifications:
• Display: 3x 17.3-inch 4K IGZO display with NVIDIA G-SYNC
• Outer Casing: CNC-milled aluminum (same as Razer Blade)
• Thickness: 1.5-inches
• Weight: "less than 12 pounds"
• Heat dissipation: Custom-designed fan, "dynamic heat exchangers", vapor chamber
• Keyboard: Razer-made Ultra-Low-Profile Mechanical switches with Razer Chroma lighting
• GPU: NVIDIA GeForce GTX 1080*
• Other Features: Ambient Lighting with light strip below left and right monitor
*With the GTX 1080 onboard, this notebook exceeds minimum hardware requirements needed for both the Oculus Rift and the HTC Vive. We have not yet tested this system with either VR headset. Not that we'd want to, anyway – this notebook is all about gaming in a slightly more flat surround environment.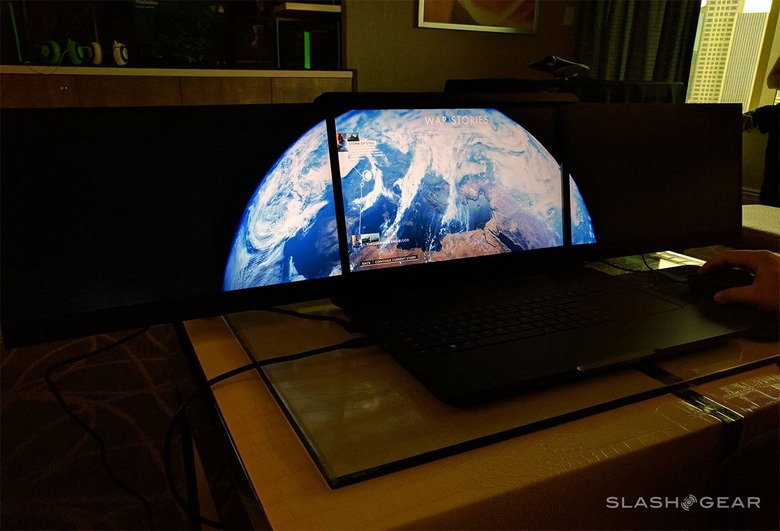 As you'll see above, we had a brief test of the gaming prowess of this amalgamation of graphics and lights. It feels very much like playing games on a 3-display desktop setup. It feels this way especially now that NVIDIA's GPUs are well and above the power they need to be to deliver desktop-grade gaming.
The thickness of this notebook is roughly 2x that of the mid-2016 most recent Razer Blade Pro. Two Razer Blade Pro units stacked up will be around as tall as this one Project Valerie notebook. NOTE: There is a black notebook stand below the unit we're photographing up close here – it's just about as thick as the notebook, but is only there to lift the notebook off the table for photos.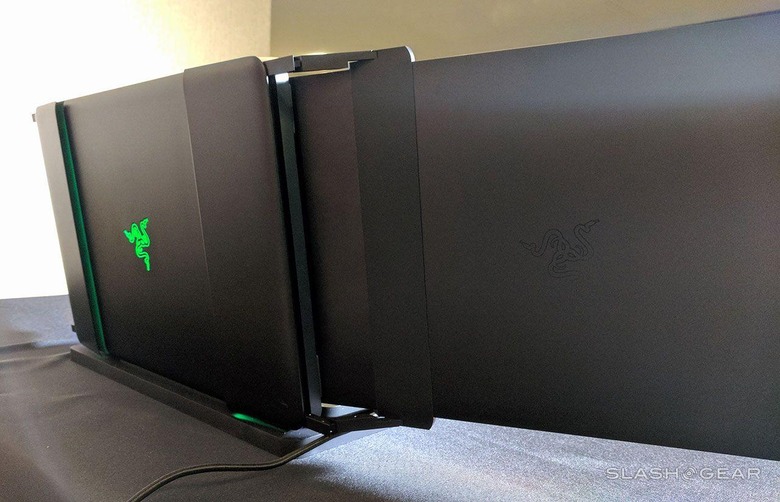 The photos shown above and below depict two separate units. One (with the rainbow color background) is a display unit – it functions, but it's made just to show the hinges in place, mostly. The mechanical movement of display deployment was not available for the likes of us to see. We're crossing our fingers for more in the near future.
If this notebook ever ends up seeing production, it'll look a whole lot like the unit with the hinges. The other unit (the one in the video) doesn't have the hinges as such, and is here to show the power of the notebook with three screens powered by the NVIDIA GPU within.
Razer has not yet set a production date for this notebook, and no release or pricing information is yet available. They suggests that the notebook was shown at CES 2017 to assess what Razer fans want to see in a notebook with three screens. Razer would not promise that a production model would be made (this year, at least) – but between the two models we've seen and prodded this week, there might be a final unit in here somewhere.