Razer Blade Stealth and Core hands-on
Since the launch of the original Blade, Razer has been working hard to change the way that we look at portable PC gaming. While the previous versions have made strides in that department, this year at CES, the company has finally bridged the gap between laptop and desktop.
So how exactly does one bridge the gap between laptop and desktop? Razer's approach is twofold. The first piece of that puzzle is their latest addition to the Blade line. The all-new Blade Stealth is an Ultrabook in every sense of the word. Despite measuring just a hair over half an inch thick and weighing in at 2.75 pounds, no corners appear to be cut. Razer opted for a CNC-milled chassis made from aircraft grade aluminum, which gives it a solid, yet light feel.
The Blade Stealth comes in two main flavors. Both feature a 12.5-inch touch display, with one providing a 4K experience, while the other uses a QuadHD (2560 x 1440) resolution. The only other difference you'll find is in the storage department. You'll be able to choose from SSD sizes between 128GB and 512 GB. Regardless of the display or SSD size, every Blade Stealth packs a 6th generation Intel Core i7 CPU, and 8GB of dual-channel memory.
In terms of connectivity, Razer didn't skimp out on the ports. The biggest news in that department is the inclusion of a Thunderbolt 3 port, which is used for powering the laptop, and for some other functions that we'll get to in a little bit. You'll also find a full-size HDMI port, 2 USB 3.0 ports, and a headphone/microphone combo port.
The final feature may not be the one that sells it for you, but the Stealth's keyboard comes equipped with individually backlit RGB keys. This is the first laptop in the world to pack such a feature. You'll be able to control the colors and how they're displayed, much like Razer's other Chroma products.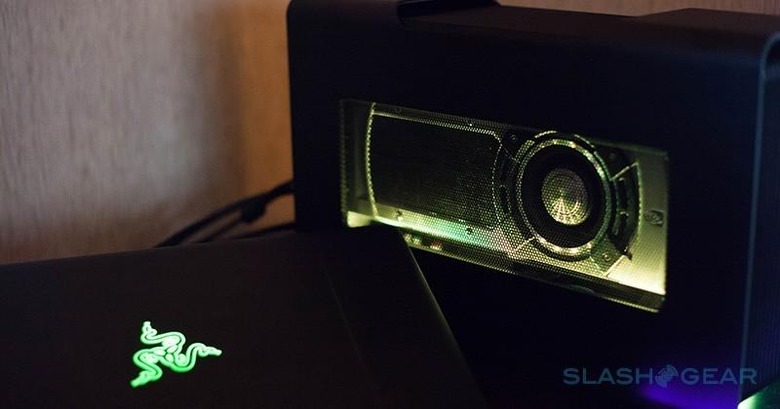 So back to bridging the gap between laptop and desktop.
Razer Blade Stealth aims to battle MacBook head-on
Sure, having a light, portable ultrabook is great, but at the end of the day, its performance will pale in comparison to what your desktop can do. The reason for that is that no laptop out there can house a top-of-the-line desktop GPU. At least not until today.
The second piece of the puzzle is the Razer Core. Using a single Thunderbolt 3 connection, this box is able to deliver the power of a desktop GPU to the Razer Stealth. The box is smaller than most ITX cases out there, and can hold one two-slot desktop graphics cards. With the 500W power supply, it will be able to power any GPU that you want to throw in it. During my hands-on testing, Razer had an NVIDIA GTX 980Ti in it.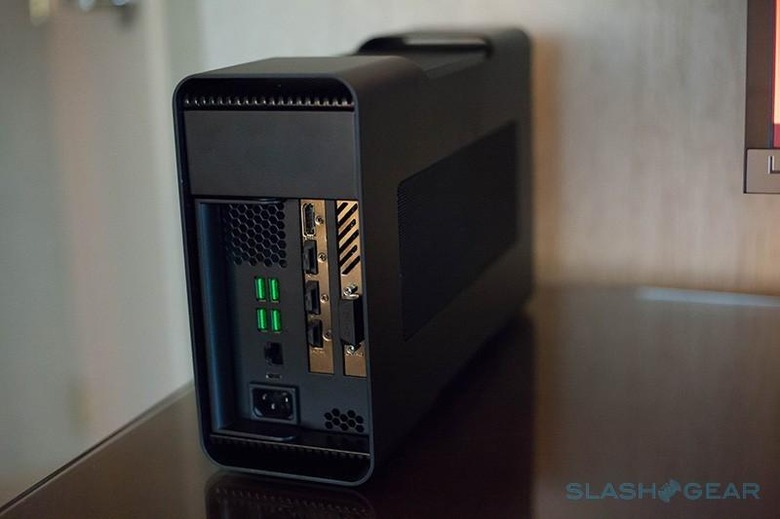 What's more, the Core also acts as a USB 3.0 hub, and features a gigabit ethernet port. By utilizing these features, you're able to have all of the components for a desktop plugged in and ready to roll. All you need to do is simply plug in the Thunderbolt cable, and you're ready to game, just as if you were sitting at a desktop gaming PC.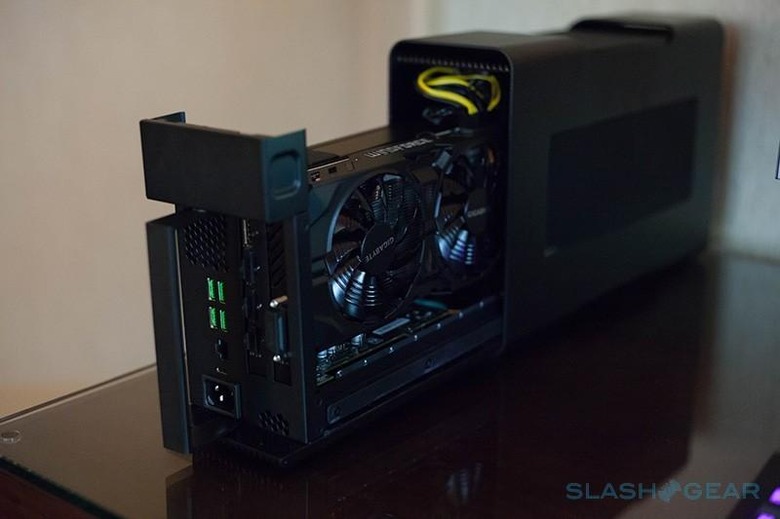 I was able to experience the transition from portable laptop to desktop powerhouse firsthand, and it was amazingly simple. By just plugging in the one cable, the Blade Stealth was not only receiving power, but had a desktop GPU, monitor, keyboard and mouse ready to roll.
Razer Core powers up your gaming notebook
I fired up Fallout 4 and roamed around the Commonwealth for a short time, and it played far better than I'd expect a regular Ultrabook to do. This is truly the future of gaming, for those that want a portable, yet powerful solution.
The Blade Stealth is available to order starting today, with units shipping out later this month. The Stealth starts out at a price of just $999, which will get you the same i7 and 8GB of RAM that pricer models will include. The starting price will get you a 2560 x 1440 screen and a 128GB SSD.
As for the Razer Core, it is due out in the second half of 2016. No pricing information was announced, just yet.
[gallerybanner p="421644"]