Razer BlackWidow Chroma Review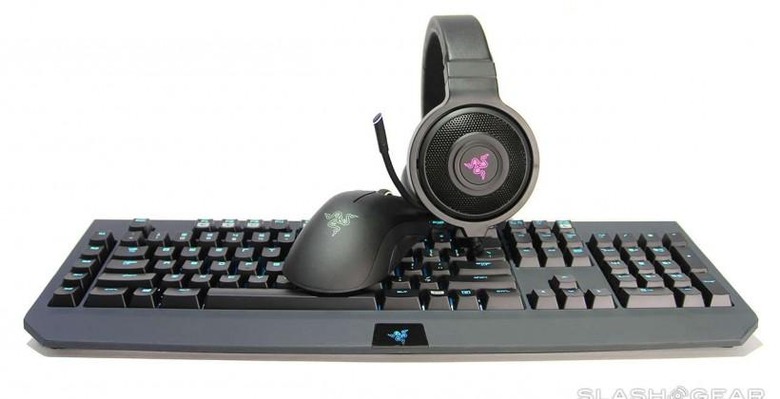 Of the three Razer Chroma devices we've reviewed this week, the BlackWidow gaming keyboard is by far the most complex. In color, anyway – instead of just a couple of different ways to display color, this keyboard works with a wide variety of color blasts. It's one of the finest gaming keyboards on the market, too, of course. Since it first launched in 2010, the Razer BlackWidow has been one of the most popular gaming keyboards on the circuit – the pro eSports gaming circuit, that is – this is one of the keyboards the top gamers in the world use when they're competing for millions of dollars in cash prizes.
Of course it'd be absurd to let any product we're reviewing go without actual judgement by us – even if it IS extremely popular before we even get our hands on it. Just because you've got the most popular shoes in the world or the most popular headphones doesn't mean they're the best, or even necessarily any good compared to the best.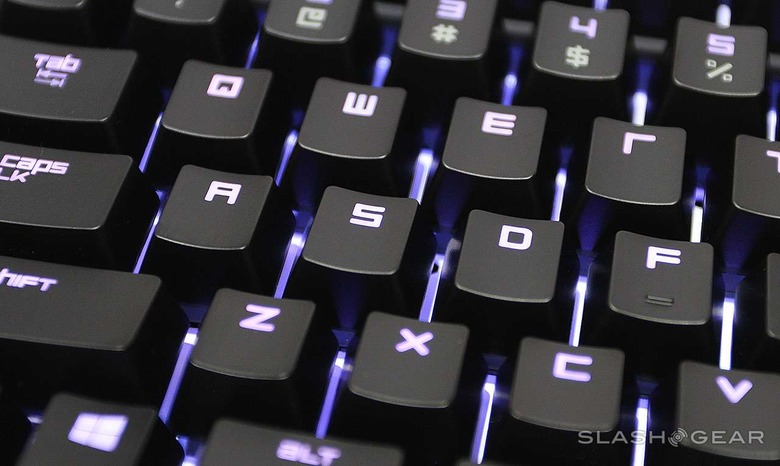 In this case, though, this keyboard really is effectively unmatched for gaming purposes. The only keyboard we've seen that can hold a candle to Razer's BlackWidow is the Corsair K70 – in its RGB edition, this keyboard is also a direct competitor for Razer's Chroma lineup. Corsair is coming up in the world of gaming accessories – if the Razer team didn't have any real competitors before this year, they certainly do now.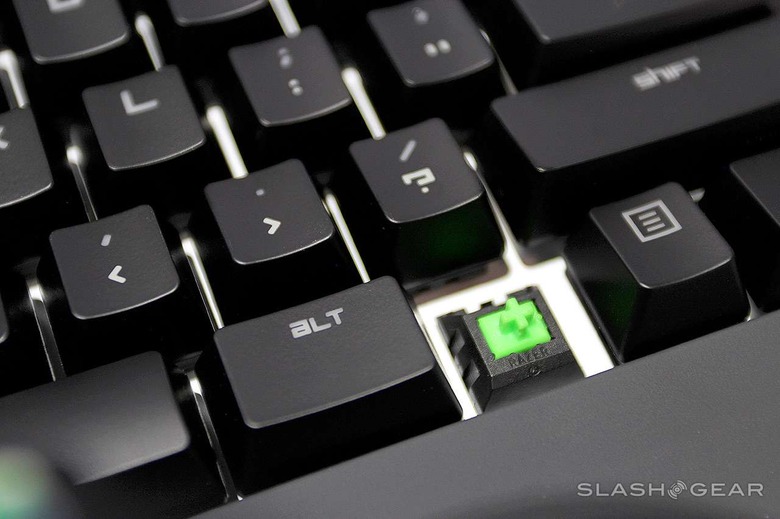 This keyboard works with Razer Mechanical Switches, each of which are individually branded with the Razer name.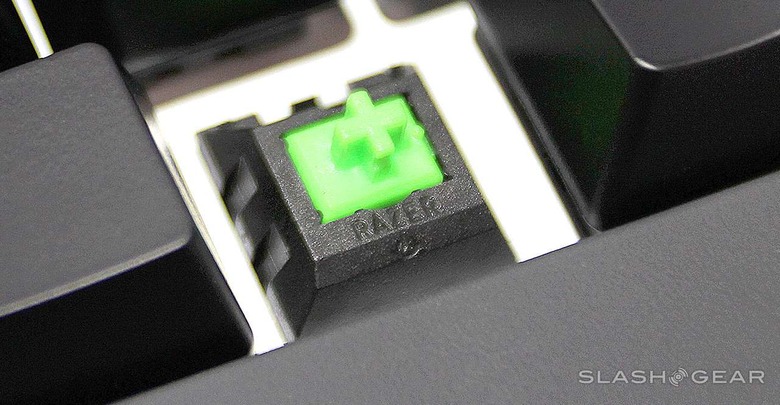 Each switch has several levels, starting with the Omm at the top, directly above Reset. You've got a level at which the Razer Mechanical Switch activates below that – and extremely smooth movement from top to bottom.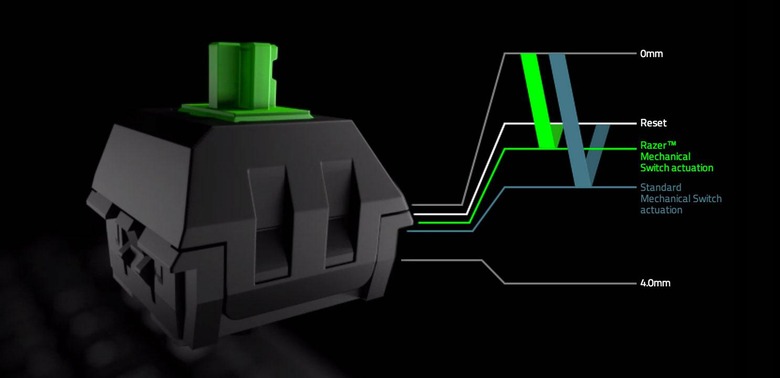 NOTE: This keyboard is extremely comparable to the BlackWidow Ultimate in that it's got backlit keys, but that bit only lights up with Razer Green while this does whatever you want. The original Razer BlackWidow, the Ultimate, and the Chroma all work with the same actuation force in their keys – they're effectively identical. The Tournament Edition also has the same actuation force in its keys, but has no lighting and no number pad – it's all about business.
• 60 million keystroke life span
• Razer Synapse enabled
• 10 key roll-over anti-ghosting
• Fully programmable keys with on-the-fly macro recording
• 5 additional dedicated macro keys
• Gaming mode option
• Audio-out/mic-in jacks
• USB pass-through
• 1000Hz Ultrapolling
• Braided fiber cable
• Approximate size: 475mm/18.72" x 171mm/6.74" x 39mm/1.54"
• Approximate weight: 1500g/3.31lbs
This unit's cable is not the sort that's going to get tangled up and bent in a way that's going to stick. It connects to two USB ports and both Audio In and Audio Out ports on your computer so that you'll have one extra USB port on the keyboard for an accessory and both Audio In and Out.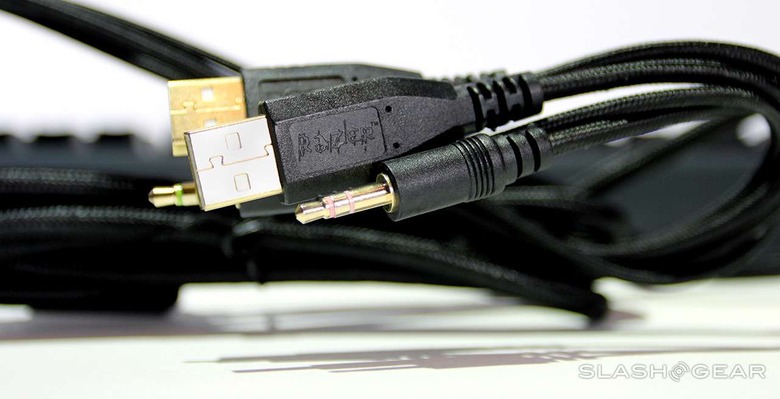 The one surprising thing I find here is that Razer didn't add a third USB connection since their headphones work with standard USB as well.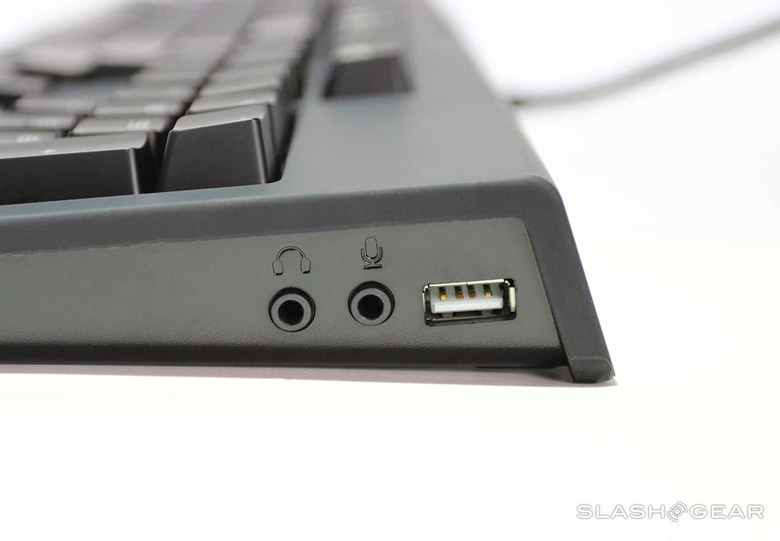 If you get the whole Chroma set, for example, you'll need to plug either the headphones or your mouse in to the PC while the other connects to your keyboard.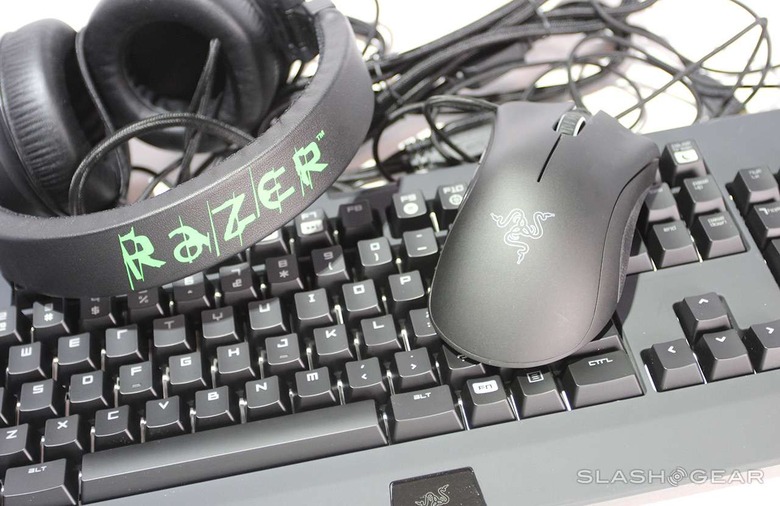 Which, of course, is not a major deal. It's a minor deal.
Audio through this connection is fantastic with standard jack headphones – I couldn't tell the difference between connecting through the keyboard and connecting straight through the PC. The same is true of the mouse – while I'm sure there's a TINY difference between connecting through the PC compared to through the keyboard, I couldn't tell with the naked eye.
The Razer BlackWidow Chroma is able to roll with a wide variety of colored-light abilities. Multi-color backlighting works with 16.8-million variations of colors from across the rainbow, just like the rest of the Chroma peripherals collection.
You'll find Static mode for one-color, Spectrum Cycling for rolling through the whole rainbow, and "Breathing" mode for a living keyboard sort of situation. Below you'll see several Chroma devices in Spectrum Cycling mode – you can also have them sync their cycles together if you do so please.
This keyboard can have each individual key colored differently. You'll get access to Templates for a wide variety of gaming situations – watch the WASD – and you'll be able to work with "Reactive" mode, as well. In Reactive mode, colors change based on when they're tapped.
Wrap-up
In the end, this is clearly the keyboard to have if you're serious about gaming. Whether or not you find the colors appealing or necessary is up to you entirely – if you're a professional, the colors aren't going to make a big enough difference on your game that you'll need them.
If you want your keyboard to have an orange backlit glow and sends out tiny waves of pink whenever you tap a key, however, you're going to want to go with Chroma.
This keyboard will cost you a cool $169.99 USD and it'll be going on sale on the 15th of December, 2014. Again this is one of three Razer Chroma gaming peripheral reviews we've published this week – have a peek at the whole lot!