Qualcomm Snapdragon 820: 600Mbps Cat12 LTE, Quick Charge 3.0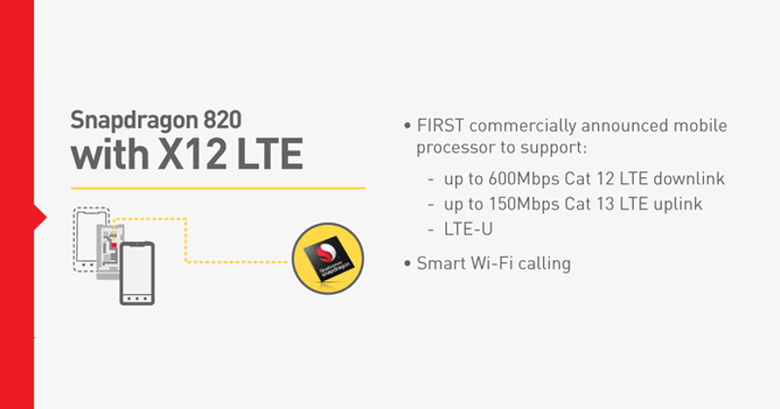 Qualcomm is definitely piling up the hype for its upcoming Snapdragon 820 system-on-chip. And hopefully this time, it will be able to deliver without a hitch. After regaling the tech world with the abilities of the 820's three main processors, the Hexagon 680 DSP, the Adreno 530 GPU, and the new Kryo CPU cores, Qualcomm is revealing the last piece of the puzzle that will make any mobile device complete: A new X12 LTE modem capable of supporting the latest advancements and speeds in networking technology.
600 Mbps on the downlink and 150 Mbps on uplink. That a little past the half Gigabyte mark, which should be quite an achievement when you're considering that this is cellular data we're talking about. Qualcomm achieve this feat through an improvement to the Carrier Aggregation technology, which lumps together multiple LTE connections, three for download and two for upload, as if they were one single connection. And it isn't only LTE that's promised to be improved in the Snapdragon 820. The latest standards and technologies in Wi-Fi, like 802.11ad and 802.11ac 2x2 MU-MIMO, are also supported.
Qualcomm is also taking time to advertise one of the newer technologies it has been working on for the past two years: LTE Unlicensed or LTE-U. As the name implies, LTE-U combines bandwidth from licensed LTE spectrum as well as unlicensed ones, the very same spectrum that Wi-Fi uses. The chip maker assures, however, that it's technology is smart enough not to interfere with your Wi-Fi quality. This harmonious relationship between LTE and Wi-Fi is also demonstrated in the modem's ability to intelligently switch between the two as the need arises, like when doing HD Voice calls over LTE or even HD Video calls.
That might be all fine and dandy, but greater data speeds almost always equates to greater power consumption. To help remedy that, Qualcomm has announced its new Quick Charge, now at version 3.0. Four times faster than traditional charging, twice as fast as Quick Charge 1.0, and 38 percent more efficient than the current 2.0 version, Quick Charge 3.0 can quickly breathe life into your dying battery. This is made possible by intelligently determining just the right amount of voltage the device needs in order to charge as fast as it can and then trickling down to regular charging speeds once a threshold is reached. The latest version of the technology can adjust voltages at 200 mV increments, from 3.6 to 20 volts, finer than the previous versions.
The new Quick Charge 3.0 is backwards compatible with devices of previous versions and can be implemented in any number of USB types and even proprietary connectors. Of course, the technology will be present in the Snapdragon 820, but it will also be there in the new 620, 618, 617, and 430 chips.