Qualcomm FLO TV PTV shows up in wild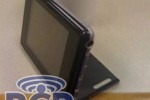 It's not the biggest photo, nor the clearest, but since it shows Qualcomm's FLO TV personal TV mediaplayer in the wild we'll make do.  Initially tipped back in August, the FLO TV PTV handheld is Qualcomm's attempt to push their terrestrial digital TV service which is streamed over a separate chunk of the spectrum in the US.
As well as receiving digital TV, the PTV also works as a standalone PMP with 4GB of onboard storage.  Control is via a capacitive touchscreen with a custom UI, and there are also stereo speakers squeezed in there too.
Previously we've only seen artists' sketches of the PTV, together with vague mutterings of a battery good for 300hrs of standby, 15hrs of music or 5hrs of FLO TV.  No word on when this might hit shelves, but if they're out playing with prototypes then hopefully it won't be too far off.