Qualcomm FLO TV PTV packaging spotted: full release likely imminent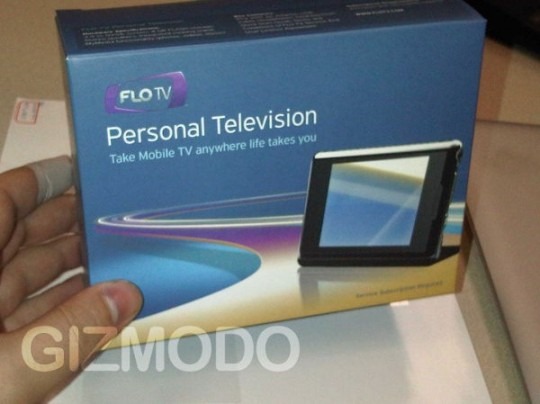 Yes, it's just a box, and yes, we realise someone – some very dull, poorly-occupied person – could have knocked it up themselves and be laughing at us from behind their camera, but we'll take the simple route and say this is the first sighting of Qualcomm's FLO TV Personal TV packaging.  The upcoming device is tipped to be Qualcomm's attempt to drive adoption of their terrestrial digital TV service, a compact touchscreen slate with integrated speakers.
Full specifications of the device are unclear, but it's said to have a capacitive touchscreen, a nifty UI of Qualcomm's own making, and 4GB of onboard storage.  That indicates that it will play your own, prerecorded media as well as live TV, but we'd not argue if the company decided to put PVR-style recording capabilities in there too.
With CTIA fast approaching, it seems entirely possible that Qualcomm could use the mobile-obsessed show to officially launch the FLO TV PTV.  SlashGear will be there, so if it turns up in the wild then expect us to catch it on video.