Qualcomm Sense ID Tech Adopted By NTT DoCoMo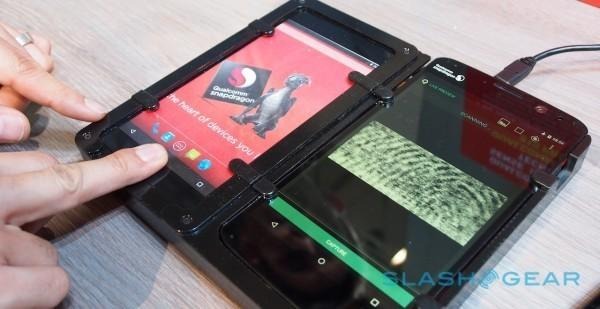 Qualcomm and its Snapdragon 810 may have just gotten a new ally, however indirect it may be. It has just announced that Japan's largest operator, NTT DoCoMo, will be adopting its security technology which is offers under the Sense ID brand. The platform forms the basis for, among other things, Qualcomm's advanced fingerprint sensing technology, which will allow manufacturers to optionally fit biometric sensors that can see through dirt and even certain metals. DoCoMo will use Sense ID as part of its own mobile authentication service that it will be launching on Wednesday.
Qualcomm showed off its own biometric security platform at MWC 2015 in March, focusing on augmenting the already popular fingerprint scanning practice. What makes Qualcomm's Sense ID fingerprint scanning different from, say, Touch ID is that it doesn't need a capacitive sensor or button to work. The ultrasonic technology employed by the system allows it to "see" through dirt, oil, sweat, water, glass, plastic, and in some cases even metal. This can theoretically turn any touchscreen into a fingerprint sensor of its own.
Whether or not DoCoMo smartphones will actually include such a sensor will be up to the manufacturers themselves, building on Sense ID's implementation of the FIDO (Fast IDentity Online) Alliance's Universal Authentication Framework protocol. FIDO has become the industry standard in implementing biometric security features and is used by the likes of Microsoft's upcoming Windows 10 feature, Google's U2F USB Key authentication, and Synaptics' SecurePad touchpad.
DoCoMo is the first major carrier in the industry to wholeheartedly adopt Qualcomm Sense ID as a part of its own new authentication, system where Sense ID will be utilized together with other third party biometric sensors. The first smartphones to utilize this combined technology and service will be devices from Sharp and Fujitsu, while it is expected that newer Android smartphones from the carrier will also follow suit.
Update: An earlier version of this story reported that DoCoMo would use Qualcomm's fingerprint sensing; however, that will be left to individual handset OEMs to decide.