Qualcomm AllJoyn proximity-based peer-to-peer technology hands-on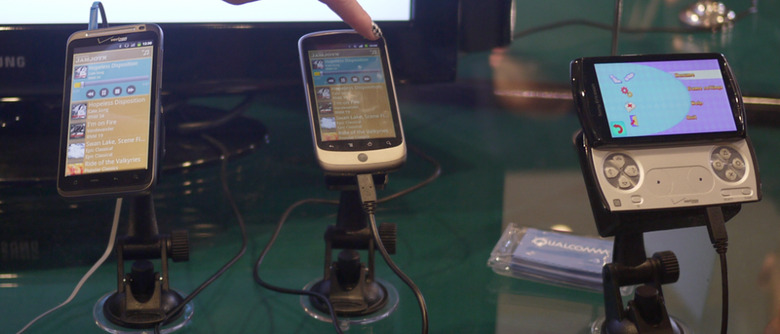 This month we got the opportunity to speak with Qualcomm on a technology of theirs by the name of AllJoyn, made to allow proximity-based device-to-device communication possible without the use of an intermediary server. We've got hands-on looks with smartphone games, tablet games, music and document applications, and some tablet-to-television action as well all lined up for you here. Discover what makes Qualcomm's all-inclusive framework surrounding this powerful technology so great!
With AllJoyn, most of the work is done by developers before you, the user, ever gets it in your hands – this is part of what makes AllJoyn so excellent – you barely even need to know it's there! The next thing that makes AllJoyn so enticing is its ability to connect devices together without a middle-man – you'll see several different examples of ways this is happening in the videos below. Then there's the support developers get from Qualcomm when developing with AllJoyn – there's nothing like having an ultra-pro group of technical specialists there to help you when you're working with a new technology, especially when you're a developer on the rise.
Namco's Pacman Kart
First peek at a presentation of Pacman Kart from Namco working on a pair of Sony Ericsson Xperia Play smartphones. Here you'll hear how when both devices are connected to one another directly with AllJoyn – pay special attention to the end of the video where we speak on how these devices could be connected with their Wi-fi radios or their built-in bluetooth, AllJoyn not needing you to choose between them – it just works!
[vms 935234b174e62a07e53c]
Phunware on a tablet connected to smart TV
Next take a look at a set of apps created by Phunware to work on a Qualcomm-powered tablet (an HTC Jetstream for those of you wondering) communicating with a Qualcomm-powered smart tv (powered by an S3 chip). You'll find that the connection between the tablet and the television is in-sync because AllJoyn is communicating between the two devices with the radios built-in to either. The first example has an interactive trivia game controlled by the tablet. The next example has video playing on the television while related links and images appear on the tablet. The final example has a karaoke game that uses the tablet as a microphone, able then to play the song back with the voice you recorded the song in on the television immediately after you sang it.
[vms 6eab6de9215ae5b3d54d]
JamJoyn music
JamJoyn is shown next, this an application custom-made for AllJoyn in which music is able to be controlled by several different devices all working with the same stereo. The devices used here are the HTC Thunderbolt and the HTC Nexus One (both running Snapdragon processors, of course) working with a Jawbone JAMBOX, each of them able to control the music by switching tracks, adding to a single playlist, and more. In this use case you'll find the list of songs sitting below a control panel on both devices – the JAMBOX is connected to the Thunderbolt with an audio output cord, but both devices can control the jams.
[vms 736d88afc30c9212ccdd]
Whiteboard
AllJoyn shows its power again with an app by the name of Whiteboard in which regardless of how many devices you've got open with the same canvas, anyone can draw and the canvas will be modified accordingly. Imagine the use of such a tool in an educational setting – especially in an art class! You could have a set of tablets all showing off the same piece of artwork with each one able to modify the rest – brilliant!
[vms e5b08fcaafb50d03763c]
Fight Game: Heroes
We also got the chance to play the brand new mobile game Fight Game Heroes connected with AllJoyn on Qualcomm MSM8960 developer platform tablets. It was your humble narrator versus Cory Gunther and, believe it or not, I get knocked out in no time flat. Have a peek and see how versatile this system is on a couple of tablets made for developers only!
[vms d5e5848d6ec70e584e62]
We'll certainly continue to keep you updated on Qualcomm's work with AllJoyn and will continue to bring you use-case scenarios as they appear on the mass market. Exciting stuff coming from a group that brings you not just the processor, but a network of finely tuned hardware in every device they work with. Developers get your thinking caps out!