Jawbone JAMBOX Review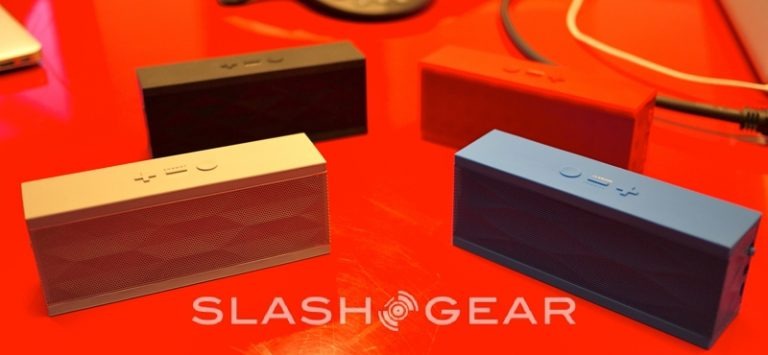 Jawbone is no stranger to Bluetooth and personal audio, after all their headsets have consistently impressed reviewers – ourselves included – but according to the company the new Jawbone JAMBOX is paving the way for a new category of mobile audio. Rival wireless stereo speaker manufacturers might argue with that, however, so is the new JAMBOX a case of PR hype above all else? Check out the full SlashGear review after the cut.
Hardware
The JAMBOX manages to be both reasonably minimalistic and distinctive in its design, a sturdy, blunt-edged block available in blue, black, red or grey. The top and bottom sections are molded rubber, which stops the speaker from sliding around a desk but does tend to pick up dust and fluff quite readily, while the remaining four sides are clad in a single, folded sheet of mesh with a pressed diamond pattern. Jawbone says their push for using single components rather than multiple sections means there are fewer parts to vibrate and a more durable device; we certainly couldn't hear any buzzing from the JAMBOX's chassis, and we feel pretty confident it could survive a fair few journeys dropped into a rucksack.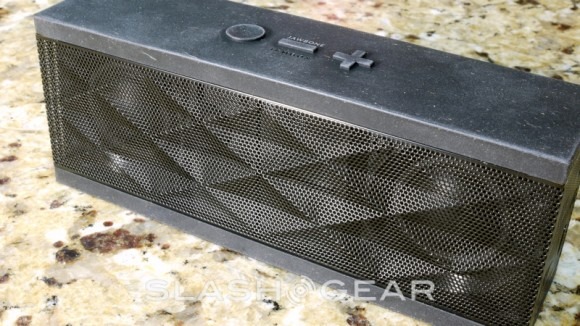 Controls are split between the top and the side panel. On top are the multifunction button, and volume up and down controls, while on the side there's the power control, a 3.5mm stereo input for using non-Bluetooth sources, and a microUSB port for recharging. Behind the grill there are two speakers and a microphone for hands-free use. In the box Jawbone include a protective case, the AC adapter, two lengths of USB to microUSB cable and a 3.5mm audio cable.
Jawbone JAMBOX unboxing & demo:
[vms 877bd3df94bc9360b9c5]
Inside there's a Bluetooth chip supporting A2DP stereo, and pairing is as straightforward as other Bluetooth headsets and speakers we've seen. When initially turned on the JAMBOX automatically goes into pairing mode – the default passcode is 0000 – and we had no problems hooking up our iPhone and other Bluetooth devices. Jawbone are particularly proud of their acoustic layout; for instance the battery is housed inside the passive radiator, so that its weight adds to the power of the bass.
Software
A software section for a Bluetooth speaker might seem unnecessary, but Jawbone is using the same MyTALK platform as with their ICON headset to bring new functionality and apps to the JAMBOX. MyTALK is an online portal through which Jawbone offer firmware updates and other functionality – on the ICON, for instance, there are different quick-dial apps, voice prompt accents, and optional directory enquiry shortcuts – and while it's early days for add-ons to the JAMBOX it does mean there's more to the speaker than what it does out of the box.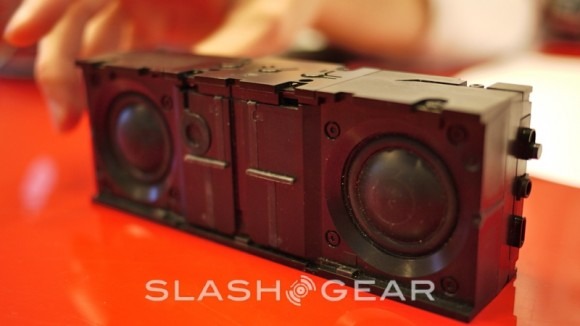 Everything on the speaker is communicated via voice prompts, since there's no display, from pairing status when you first power-on, through battery warnings, caller ID of incoming calls, call functions available during conversations, and other prompts. Personalization is possible via MyTALK, including alternative language support. It all works well, though we'd like to see Jawbone offer a companion app for smartphones running iOS or Android, as rivals Sound ID do.
Performance
Small speakers usually mean small sound, so the JAMBOX is a pleasant surprise. Despite its relatively compact chassis, the audio is similar to what we'd expect from a bigger setup. It's not just power with no refinement, either: the top end has some decent shimmer going on, while the mids are nicely spaced and lack the muddiness you can sometimes find from smaller cones.
Jawbone JAMBOX explained:
[vms 55c435ef4fe9965a3f2a]
It's the bass that's the real surprise, and whether it's Jawbone's battery-vibrating system, their DSP or some other magic, the end result is real heft to the low-end that you can actually feel shaking the table and the air around the JAMBOX. It obviously depends to some extent on the quality of your source recording – insipid, low-bitrate MP3s are always going to sound lackluster – but there's little of the squeakiness or tinniness we've come to associate with most portable speakers.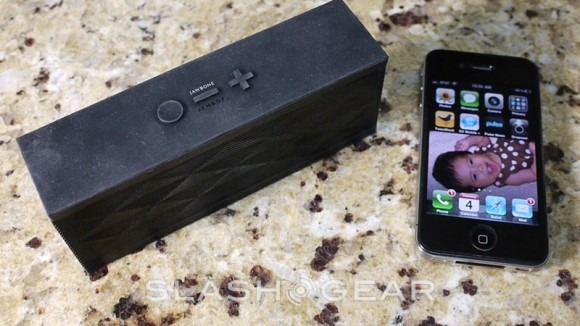 Hands-free as a speakerphone, meanwhile – with calls automatically pausing the music playback, if your cellphone supports it – and the JAMBOX makes for a decent impromptu conference call setup. There's no multi-microphone noise cancellation, and its positioning behind the front grill rather than on the top means it can be somewhat directional in its pick-up, but it still managed to handle several people sat around a table.
Wrap-Up
Bluetooth speakers – like headsets – can be pretty inexpensive these days, and so manufacturers need to offer something significantly more interesting if they want to charge a premium. The Jawbone JAMBOX's RRP of $199 is no small amount, but the payoff is audio performance that belies its size and portability. While we'd like to see a companion app for modifying settings, the MyTALK companion site does mean Jawbone have room in future to introduce something like that, lending the JAMBOX greater longevity than its cheaper rivals. If you're serious about speakerphone and mobile music, the combination of flexibility and above-average sound quality makes it tough to beat.
The Jawbone JAMBOX goes up for pre-order at the company's site from today, with Apple and Best Buy store availability from November 16 2010.