Qualcomm 1.3GHz 45nm Snapdragon detailed: 3G, GPS & power-frugal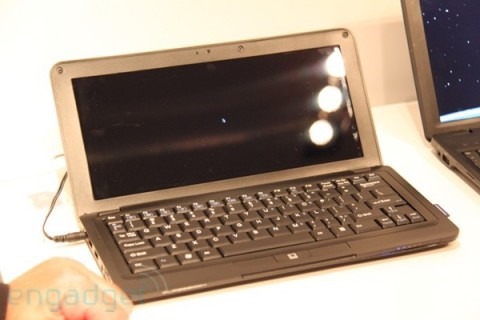 Hot on the heels of the first official Qualcomm Smartbook prototypes comes more information on the latest Snapdragon chipsets.  Compared to the existing 1GHz Snapdragon chips – as used in the Toshiba TG01 smartphone - the new QSD8650A chipset uses 45nm manufacturing processes and has a faster 1.3GHz clock speed but up to 30-percent lower power requirements.
In fact the Snapdragon QSD8650A requires just 10 miliwatts of standby power, which Qualcomm are obviously expecting to add up to three to five day off-grid standby times.  It also brings with it multimode UMTS and CDMA 3G mobile broadband, a standalone 3D graphics accelerator and en chanced 3D graphics core that's been specially fettled for improved Adobe Flash performance.
GPS and Bluetooth 2.1 are integrated, plus support for WiFi, high-resolution WXGA displays and mobile TV such as DVB-H, ISDB-T and MediaFLO.  The Snapdragon QSD8650A slots in-between the 1GHz QSD8x50 chipsets and the faster 45nm QSD8672 dual-CPU 1.5GHz chipset, and should appear in Smartbooks by the end of the year. 
Press Release:
Qualcomm Expands Snapdragon Platform with 45nm Chipset for Smarter Smartphones and Smartbooks

New QSD8650A Chipset Offers Faster Processing, Longer Battery Life and Enhanced 2D/3D Graphics

TAIPEI, Taiwan – June 01, 2009 – Qualcomm Incorporated (Nasdaq: QCOM), a leading developer and innovator of advanced wireless technologies, products and services, today announced it is expanding the Snapdragon™ platform with a next-generation chipset that uses 45 nanometer (nm) process technology to provide faster processing, significant battery life improvements and other enhancements for the user experience on Snapdragon-powered smartphones and smartbooks. The new Snapdragon QSD8650A™ chipset – scheduled for sampling before the end of 2009 – offers significant performance improvements including a 1.3 GHz processor for 30 percent higher performance as well as enhanced multimedia and 2D/3D graphics. Utilizing 45nm technology also allows power consumption improvements such as up to 30 percent lower dynamic power than previous-generation Snapdragon products and an unmatched standby power of less than 10 millwatts.

"This latest addition to the growing family of Snapdragon chipsets will help our customers to develop faster, more power-efficient smartphones and smartbooks," said Luis Pineda, senior vice president of marketing and product management at Qualcomm CDMA Technologies. "This new 45 nm device shows our continued commitment to extending the capabilities of the Snapdragon platform with leading-edge process technology and an expanded list of integrated features."

The QSD8650A chipset offers an exceptionally high level of integration. In addition to its faster processor and faster bus speed, the new QSD8650A chipset also offers multi-mode UMTS and CDMA 3G mobile broadband connectivity in the same 15x15mm package as current Snapdragon chipsets. A standalone, power-efficient 2D graphics accelerator and enhanced 3D graphics core deliver a powerful multimedia experience with better performance of Adobe® Flash® software. It also features integrated GPS and high-definition video recording and playback, the latest Bluetooth® 2.1 technology and support for Wi-Fi , high-resolution WXGA displays and mobile TV technologies such as MediaFLO™, DVB-H and ISDB-T.

In addition to the new QSD8650A chipset, Qualcomm's Snapdragon family includes the original 1 GHz QSD8x50™ chipsets and the 45 nm QSD8672™ chipset with dual CPUs capable of up to 1.5 GHz for even faster response and processing. More than 15 manufacturers are now developing more than 30 Snapdragon-based products, the first of which is the Toshiba TG01 Smartphone, introduced in February 2009.

Qualcomm Incorporated (Nasdaq: QCOM) is a leader in developing and delivering innovative digital wireless communications products and services based on CDMA and other advanced technologies. Headquartered in San Diego, Calif., Qualcomm is included in the S&P 100 Index, the S&P 500 Index and is a 2009 FORTUNE 500® company. For more information, please visit www.qualcomm.com.