Pure Sensia touchscreen WiFi radio hands-on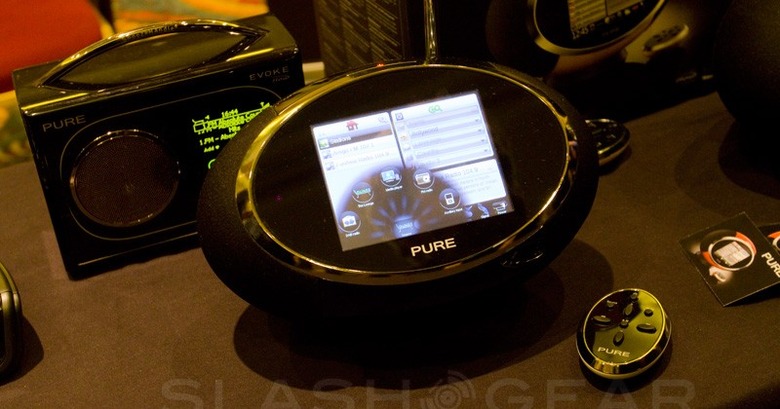 Pure's radio range has been taunting would-be US buyers for a while now, so it's good to see that the company is finally bringing some models over to North America.  We grabbed some playtime with the Pure Sensia at CES 2010, first announced in Europe back in September 2009 and now delivering its 5.7-inch touchscreen, WiFi b/g and FM radio, web-widgets and more to the US market.
Egg-shaped, the Sensia is reminiscent of a grown-up Chumby, with two 15W RMS 3-inch speakers flanging the full-color LCD touchscreen.  The display runs at 640 x 480 resolution and uses a capacitive touch-layer; in practise it's responsive, bright and easy to use.  Pure also include an RF remote control in the box, which doesn't require line-of-sight in order to work.
30W couldn't do much to dominate the CES Unveiled show floor, given the background noise, so we'll wait until we get a review unit in to judge audio quality.  Where the Euro version gets DAB digital radio, the US Sensia doesn't get the rough equivalent – HD Radio – though you do still get FM RDS support along with room for 40 FM presets and unlimited internet radio presets.
It's bigger in the plastic than the press shots might suggest, measuring a full 11-inches across (almost as much as a rugby ball, in fact) and is pretty distinctive with its high-gloss finish; Pure offer black, white, red or yellow variants.  Access to websites like Facebook and Twitter is handy, but we're not entirely convinced that they're more usable in this form – despite the larger display – than a similar interface you'd see on a cellphone or smartphone.
The Pure Sensia will arrive in the US later in 2010, priced at $349.