PURE Sensia WiFi and DAB radio packs Facebook, Twitter & more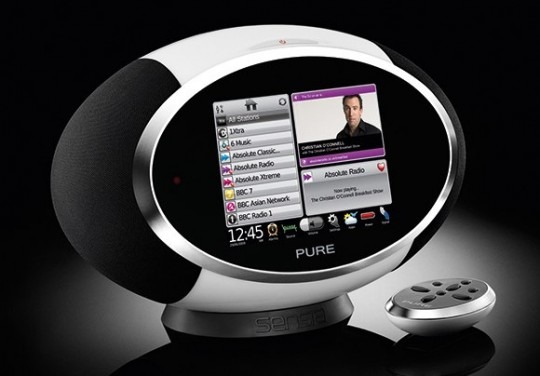 PURE have already been pushing their WiFi and DAB radios for some time now, but their latest Sensia model really deserves to tip them over into prime-time.  The PURE Sensia couples both a DAB/DAB+ digital radio and WiFi streaming into a single model, complete with a 5.7-inch 640 x 480 capacitive touchscreen and social networking plug-in apps including Twitter, Facebook and Picasa.
The radio itself has integrated stereo speakers each with 15W RMS, a 3.5mm headphone socket and an RF remote control.  Connectivity includes WiFi b/g, DAB and DAB+ support, as well as FM radio, a 3.5mm input for hooking up an external audio source, and a USB port for firmware updates (though PURE will also distribute them for wireless installation over WiFi).  While it's natively AC powered, the Sensia also has an optional internal battery pack good for up to ten hours of use.
As you'd expect from any radio there are favorites – 30 DAB, 10 FM and unlimited internet radio – and podcast support, however the Sensia can also show slide-shows from radio stations, album art from locally-streamed media, and more.  An online portal allows you to easily find new stations, manage favorites, and view recommended content, all of which is wirelessly synchronized with the Sensia.
Meanwhile the widgets allow for news feeds, weather updates and more to be delivered to the Sensia's touchscreen, together with access to Facebook, Picasa and Twitter.  There's even an on-screen keyboard for searching and adding comments.  The PURE Sensia radio will be on sale by Christmas in Europe, priced at £249.99 (including VAT; $406).
Press Release:
PURE brings radio to the Facebook generation

PURE Sensia: A new way of looking at radio

The world's first visual radio with large colour touchscreen and advanced user-interface

London, UK 17th September 2009: PURE, the world's leading radio maker presents Sensia, the world's first high resolution DAB digital and internet-connected radio with a unique, large colour touchscreen which delivers a state-of-the-art and intuitive user-interface. Incorporating PURE's award-winning 'Flow' technology, Sensia is a revolutionary radio with a large 5.7" 640 x 480 high resolution colour touchscreen. Sensia gives users a unique way of interacting with internet and radio content including: podcasts and listen again services; DAB/DAB+* and FM; a growing set of custom PURE 'Apps' such as weather, news, Picasa, Facebook or Twitter; and new broadcast material such as station slideshows**. Sensia is also a media streamer enabling users to listen to music stored on a home computer or network storage device via Wi-Fi technology.

Paul Smith, PURE's general manager says: "PURE made its name as the company behind the success of DAB. We've since created a market leading and multi award-winning, internet-connected product range with our Flow series. Sensia is the next major innovation from PURE, which I am confident will bring radio to a whole new 'Facebook' generation while still inspiring our traditional customer base. Radio will never be the same again."

Sensia has an extremely sophisticated touchscreen interface which allows users to view and interact with the radio like never before: scrolling and spinning lists, tapping to select, sliding controls and swiping to change views. Users can choose between a multi-panel and a full screen view. The screen consists of a visual panel for viewing Apps, station slideshows or album artwork; a list panel for scrolling through lists of radio stations or music stored on a PC; a now playing panel and a control bar for operating Sensia.

Sensia is destined to be the centre piece of any room with a distinctive, elliptical shape and four striking colour choices: Bright red, vivid yellow, sleek black and cool white. A moulded stand is supplied, which allows the user to angle the radio to an optimum viewing position and a matching remote control completes the look.

A bespoke microsite has been created for Sensia at www.touchmyradio.com which includes a 3D interactive overview of Sensia as well as a virtual guide with a voiceover by Christian O'Connell, Absolute Radio's breakfast DJ.

As with the award-winning Flow range, Sensia connects to The PURE Lounge, our own radio and media portal (www.thelounge.com) which acts as the index to the best of internet audio content and where users can register their radio as well as save and organise favourites. Also available from The Lounge and via Sensia is a unique selection of PURE Sounds to relax you to sleep or wake you in a positive frame of mind.

Sensia also features PURE Clearsound technology for 30W RMS of impressive stereo sound; an input for an iPod/MP3 player; an alarm; countdown timer; sleep timer and a headphone socket. Add the optional rechargeable PURE ChargePAK to listen to internet content anywhere within range of the Wi-Fi network or to DAB and FM radio when further afield. Sensia also comes with a clever RF remote control which allows users to control the device from up to 10m away without direct line-of-sight.

Sensia will be available in time for Christmas at just £249.99 (SRP inc. VAT) from all good stockists. For more information, please visit www.touchmyradio.com, www.pure.com, www.thelounge.com or call 0845 1489001.

Editor's Notes: *DAB+ is a new and enhanced version of DAB and is now being adopted by many countries as their platform choice for digital radio. It's likely that it will be a few years before UK broadcasters take up DAB+, but the majority of PURE products are already 'DAB+ ready'. **Where supplied by the broadcaster

About PURE PURE is the world's leading maker of broadcast and Internet-connected digital radios, the number one supplier of digital radios in Europe and the creator of the world's most popular and iconic digital radios.

PURE radios increasingly support all the broadcast standards in the DAB family used across Europe and beyond. PURE leads the way in Internet-connected radios with its Flow technology and the PURE Lounge portal (www.thelounge.com). Designed and engineered in the UK, all of PURE's products are manufactured with the environment in mind and at ethically audited facilities. PURE is a division of Imagination Technologies Group plc. See www.pure.com.