Pure Jongo T6 and T2 expand Sonos-rival range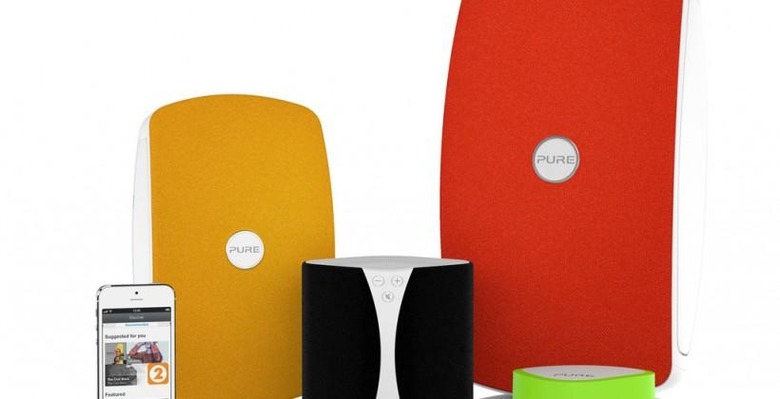 Streaming speaker company Pure has revealed the latest models in its assault on Sonos, with the Jongo T2 and Jongo T6 arriving ahead of the renamed Pure Connect Spotify rival due to hit the US in September. Slotting in as Pure's cheapest all-in-one streaming speaker, the $149 Jongo T2 has 3-inch drivers and a 20W Class D amp, while the $349 Jongo T6 sits at the top of the range with 100W split between two 5.25-inch drivers.
Unlike Sonos, which uses a proprietary wireless mesh networking system, Pure has opted for regular WiFi on its Jongo line-up. The T2 and T6 have both WiFi b/g and Bluetooth A2DP support, in fact, meaning they can be part of a whole-house streaming network or alternatively connect directly to a phone, tablet, laptop, or other device for private audio.
An aux-in port on the back of both models gives those still using wired sources a place to plug in, and there's a USB port for an optional ethernet adapter.

Launching alongside the T2 and T6 is the ability to pair two of the same speakers together, turning them into a stereo pair. Multiple pairs can be created around a whole-home setup, and the same functionality will be added to the existing Jongo S3 via a firmware update.
Also new is Pure Connect, the freshly rebranded Pure Music streaming audio service that the company debuted back in late 2011 in Europe to challenge Spotify. Finally hitting the US next month, Pure Connect will be offered in two subscription-based packages: Pure Connect Blue, at $4.99 per month, for access to an on-demand catalog of 15m tracks, and Pure Connect Violet, which for $9.99 a month throws in offline playback support.
A free tier, Pure Connect Green, will offer streaming radio and on-demand programs and podcasts, but not full access to the music library.
Jongo T6 and T2 will arrive in Walmart and Best Buy come October, in a choice of black or white/black finishes. Meanwhile, Pure will also offer replaceable covers – in a choice of burnt orange, lime green, and mango – from $19.99.