Think multi-room audio and your first thought is probably Sonos, but Pure is hoping to change all that. Initially started to demonstrate the wireless chips of parent company Imagination Technologies, Pure has since taken on a life of its own, not only with a line of speakers but a Spotify rivaling on-demand media service too. Still, not for nothing is Sonos known for spanning the worlds of audiophiles, streaming geeks, and mainstream users, so can Pure compete across all three? We've had the Pure Jongo S3, a Sonos PLAY:1 alternative, and the even more affordable Jongo T2 on the SlashGear test bench; read on for our full review.
Pure Jongo S3
In many ways, you could think of the $199.99 Jongo S3 as the streamer we hoped the PLAY:1 would be (though the Pure actually launched first, in Europe at least). It's smaller than the Sonos, at 5.16 x 5.47 x 5.31 inches, but manages to accommodate a battery for standalone use; Pure rates it as good for up to ten hours of playback, and we got around eight from it depending on the distance from our router.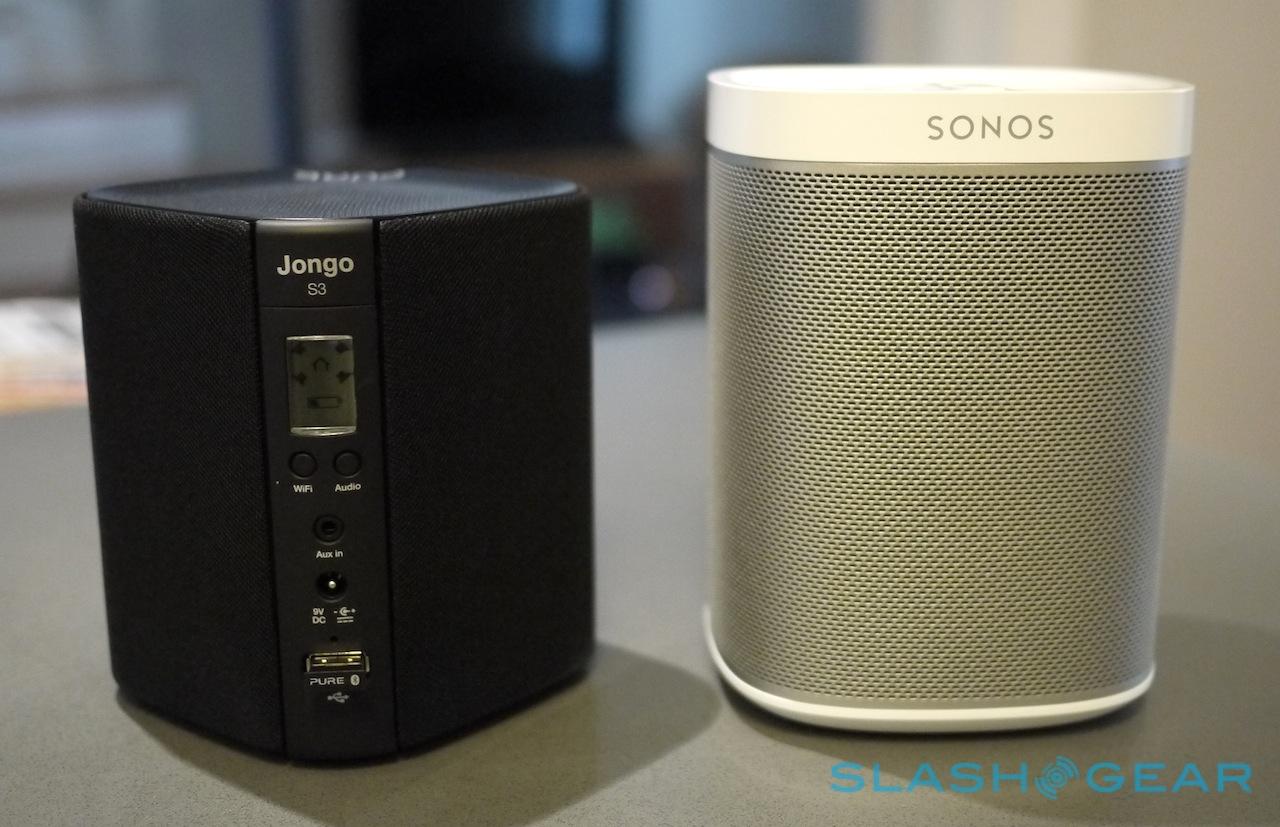 There are also a fair number of buttons and controls to be found: power, volume, and mute on the front, while WiFi and Audio mode keys are on the back, under a small LCD display that shows battery status and speaker mode. The WiFi button actually helps link up multiple Jongo speakers to the same network: once you've installed the first, by connecting your iOS or Android device running the free Pure Connect app to the wireless network the speaker creates when first turned on and punching in your router details, subsequent speakers can be connected by placing them near each other and holding down the WiFi key.
Where Sonos uses a proprietary wireless mesh network based on – but not compatible with – regular WiFi, Pure's streamers hop onto your existing WiFi b/g network. That's not the only option, however: there's also a 3.5mm stereo input on the back, and a Bluetooth dongle in the box that plugs into the S3's USB port. We'd rather see Bluetooth built in directly, though the USB port can be used with an ethernet dongle if you'd rather go wired.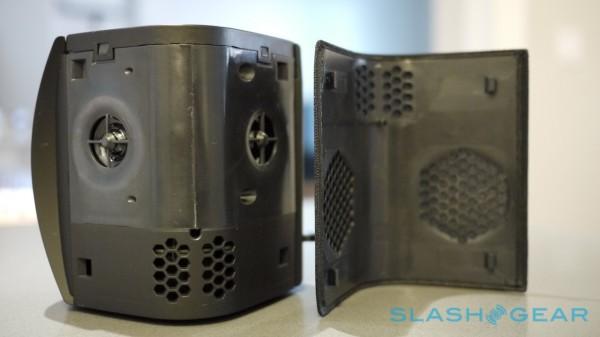 As for the Audio button, that switches the S3 between four different sound modes. In Mono 360, the four Mylar 3/4-inch tweeters spread around the four sides and single Neodymium mid/bass driver on the top all push out the same mono signal; in Stereo 360, the tweeters are split into two pairs for left and right channel duties. Stereo Forward Facing shuts off two of the tweeters, for when you have the Jongo S3 on a bookshelf, while Outdoor Boost cranks the mid-range up for improved clarity when outdoors.
Generally, the S3 errs on the side of the high-end, tailing off in power when it comes to the mid-range, and lacking the thump of bass we were impressed by from the Sonos PLAY:1. At low volumes it's more balanced, while when in Outdoor Boost mode you noticeably trade clarity for audibility. It's possible to pair together two S3 speakers and have them act as left and right channels in a stereo pair, but unlike Sonos there's no standalone subwoofer option.
The slightly larger Sonos generally sounded better, with a more balanced sound, but the Pure gives more customization and connection options. The speaker grill pulls off and can be replaced with different colors, while in addition to WiFi there's also ad-hoc Bluetooth streaming from a nearby phone or tablet – though we found the signal dropped relatively quickly when device and speaker were moved apart. Pure's use of an existing WiFi network can also leave it susceptible to congestion, and on a couple of occasions we had sluggish responses to the remote app and even some hiccups in the audio stream while other devices were also using WiFi.
Pure Jongo T2
If the S3 resembles the PLAY:1, then the Jongo T2 could be interpreted as Pure's take on the PLAY:3. In actual fact, though, at $149 the T2 is even cheaper than the S3 and half the price of the Sonos speaker. As before there's WiFi and Bluetooth, but despite the larger body – 4.6 x 9.8 x 5.9 inches and 2.4 pounds – there's no internal battery for wireless use.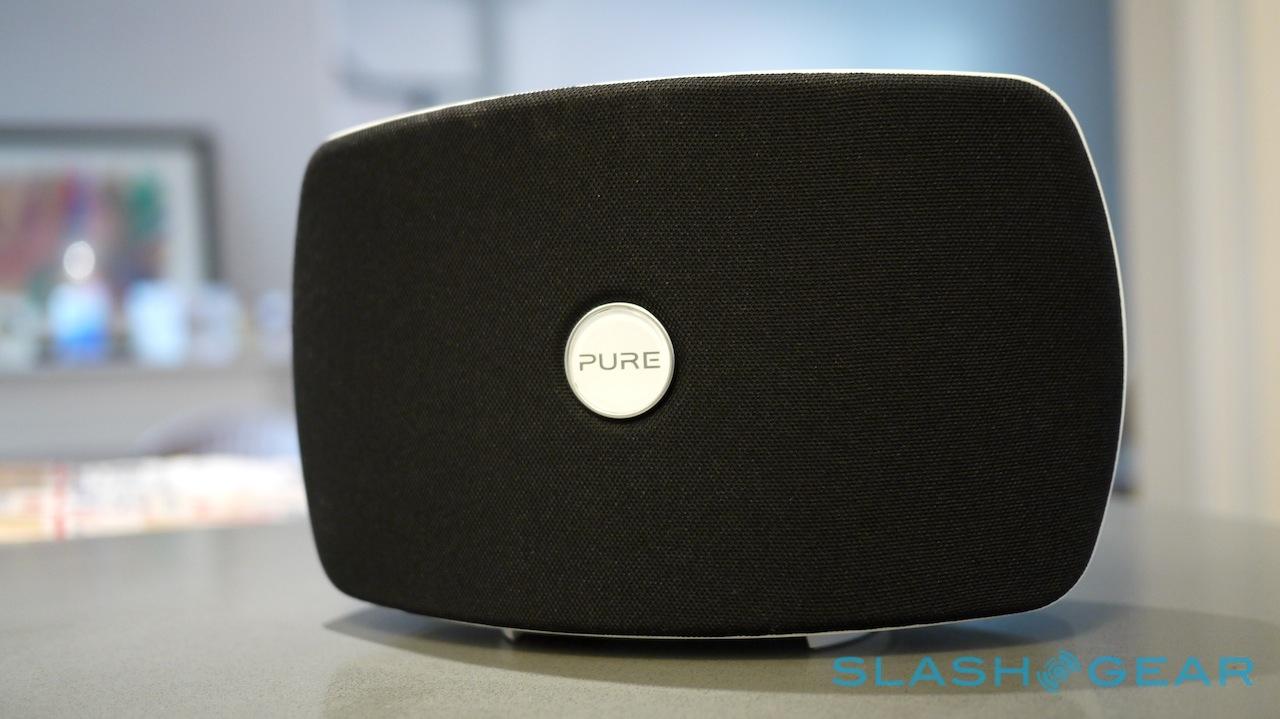 Where the S3 is solid and feels high-quality, the Jongo T2 feels a little cheaper in the hand; the white plastic is noticeably less premium than the slightly more expensive speaker. It's designed to sit horizontally, though can be fitted with a stand for vertical positioning, and has a threaded socket on the back for wall or stand mounting; meanwhile, the grill pulls off and can be replaced with different colors if you prefer.
On the left side there are volume, mute, and power keys, though you don't get the LCD or the sound modes of the S3. Instead there's a 3.5mm aux-in, USB port for an optional ethernet dongle, and the WiFi button for using Pure's quick-setup system. As before, you can stream direct from a Bluetooth device or treat the T2 as a single node in a multi-room setup; two can be paired together for stereo duties.
If we were hoping for PLAY:3 equalling performance on a budget, however, we were disappointed. The 20W amp and two 3-inch cones can be driven loud but lack both bass and treble, with the mids solid but lacking the depth of the S3. For radio duties it's certainly sufficient, but music is delivered without sparkle.
Pure Connect and Pure Music
Pure's mobile app, Pure Connect, is used to remotely control the S3 and T2 speakers from your iOS or Android device, as well as navigate through the company's Spotify rival, Pure Music. It's a serviceable app, but it has a few glaring omissions that some might find deal-breakers.
Overall design is solid, with an algorithm that picks through what you've listened to recently and suggests music, podcast, and radio stations it thinks you might like, and combines the content available on the device itself with whatever level of Pure Music subscription you have. That ranges from free (Pure Connect Green) for radio and podcast play, through $4.99 per month to add in access to a 15m-strong catalog of tracks (Pure Connect Blue), and finally to $9.99 for the addition of offline playback (Pure Connect Violet).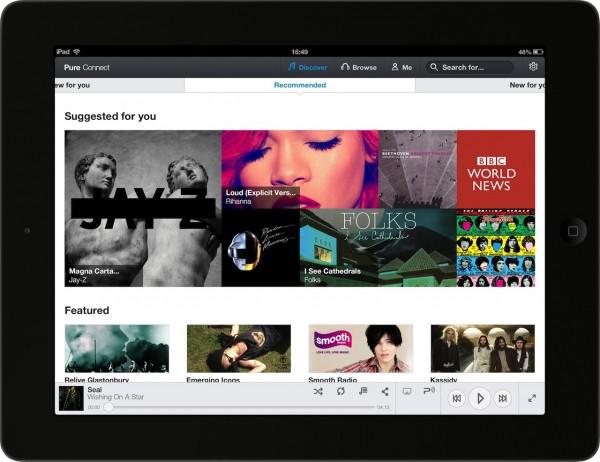 It's cheaper than adding Spotify to Sonos, and the track selection is strong, though quality is limited to 128kbps and having to stump up for a separate service to stream to the S3 and T2 is frustrating. Sadly, the only way to get Spotify or Pandora on the speakers is to use a direct Bluetooth connection, which can only be made to one speaker, not spread around a multi-room setup.
Alternatively, as of a firmware update earlier this month, you can use Pure Connect to access content stored on a PC, Mac, or NAS on the same WiFi network. Again, aside from a few WiFi glitches, we had no problem doing so, though the system can't handle tracks with iTunes DRM or encoded in Apple Lossless format.
Wrap-Up
Pure's Jongo system is certainly ambitious, and the company has progressively been adding to the services side, with Pure Music and NAS support, in addition to new speaker models. The Jongo T2 is competitively priced, too, though anyone concerned about audio quality should probably step up to the Jongo S3, which sounds considerably better.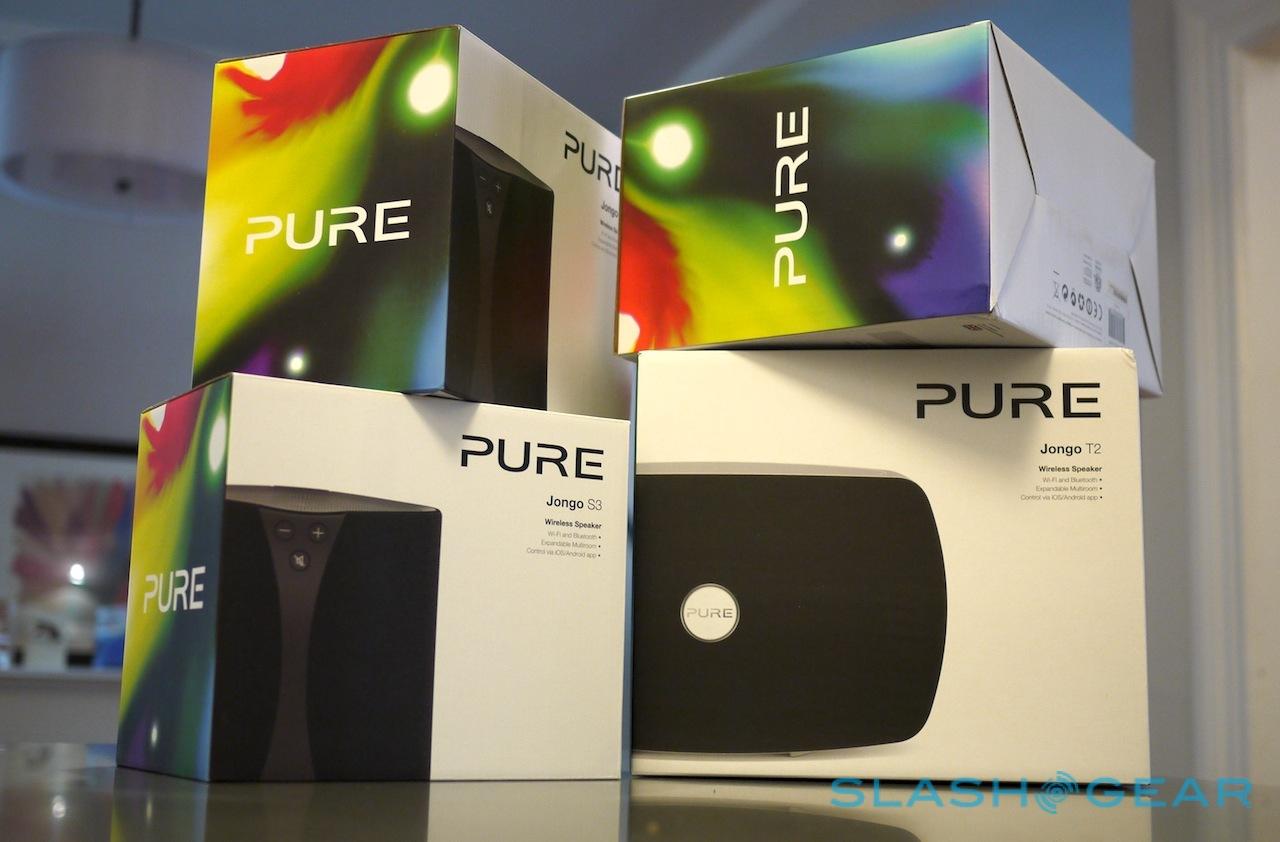 There you have a tough decision. The S3 and Sonos' PLAY:1 are priced the same: Pure's has Bluetooth and analog inputs, as well as the useful battery, but the Sonos sounds better, is steam-resistant for use in the bathroom, and has proved more stable and predictable in its WiFi streaming in our testing.
If you're looking for multi-room on a budget, the Jongo system could fit the bill, particularly if you don't mind sacrificing some audio fidelity and perhaps working out some networking tangles along the way. Still, with Sonos' latest offering the Jongo range has lost some of its budget appeal, though those looking to take a speaker into the garden or to reposition between the kitchen and the kids' rooms will find the S3's battery particularly useful.