Psystar recover from bankruptcy; launch Xeon-based Open(7)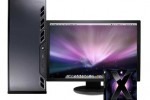 Last we heard, Psystar were filing for Chapter 11 bankruptcy, Apple were rubbing their hands together at the prospect of finding out who had been financially backing the Mac-clone company, and everyone else was saying "yep, saw that coming."  Color us surprised, then, to hear that Psystar have emerged from the bankruptcy and even announced a new, Intel Xeon-based product.
"As you may already be aware in late May, Psystar filed for Chapter 11 protection. Although this was critical to our continued daily operations, we now are ready to emerge and again battle Goliath. More information will become available in the coming days when we will be formally discharged by the Bankruptcy court. When life gives you apples, make applesauce" Psystar statement
The news of the recovery came in Psystar's customer mail-out, and included a rather loaded snub at Apple themselves.  Full details of the recovery are unclear – Psystar describe it as "critical to our continued daily operations" – but considering Chapter 11 protection is generally used to give a company time to reorganize or source alternative funding, while putting off repaying creditors, it seems obvious that Psystar have had a new injection of cash from somewhere.
As for the new product, the Psystar Open(7) pairs Intel's Xeon processor with OS X, complete with support for up to 24GB of RAM.  Both rackmount and desktop versions are on offer, priced from $1,499.99.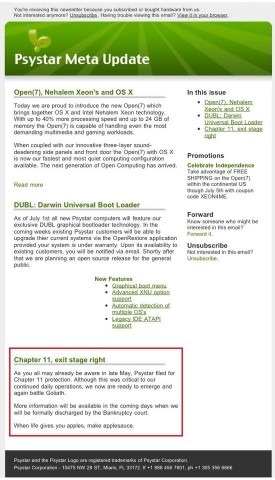 [via Neowin]