PSA: Nexus 7 refresh "teased" by Google is actually made by ZTE
A suspected glimpse of what was at first believed to be a brand new version of the Nexus 7 has instead been revealed to be a tablet made by ZTE. Inside a Google-made promotion for Google Maps exploring Central Park appeared a little-known 7-inch tablet that could very well have been Google's next-generation handheld tablet. Just this morning, though, the truth has come out.
While the possibility of a new Nexus 7 – probably with a new name, mind you – is still in the mix for this summer season, the tablet in this video is actually a ZTE machine. The ZTE Optik is a black and grey 7-inch display-toting tablet working with Android 3.2 Honeycomb. It's got a relatively large bezel, as you can see, and comes in at 7.63 inches tall by 4.72 inches wide, with a depth of 0.45 inches.
You'll find this tablet appearing at right around 0:53 into the video.
In short – this device looked interesting enough to be used for this Google video spot, but it's certainly a step down – or at least to the side – when compared to the current-generation ASUS-made Nexus 7. The Nexus 7 works with NVIDIA's quad-core Tegra 3 processor while the ZTE Optik works with a single-core 1.2GHz processor, but the ZTE has a couple of cameras where the ASUS does not.
But here's the good news, for those of you looking to find yourself a new Nexus tablet in the near future: rumor has it a reboot is on the way.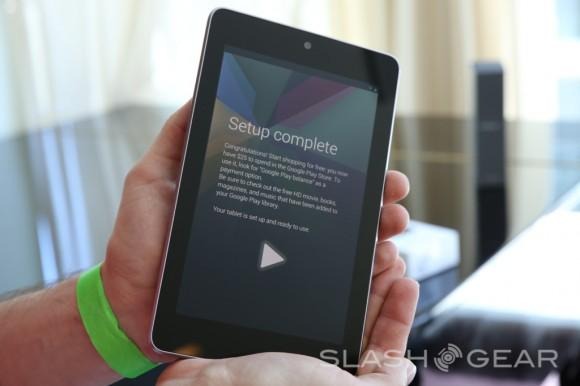 According to a report released earlier this month, a new iteration of the Nexus 7 is coming with a 1920 x 1200 display, the same NVIDIA processor as it has today, and – what else – Android 4.3, the newest iteration of Jelly Bean. Still no cameras though – you'll have to rely on your smartphone for that.
BONUS: LG has mentioned that they are also making a mystery tablet as well – you never know!