PSA: Acer's Android all-in-one won't roll with Haswell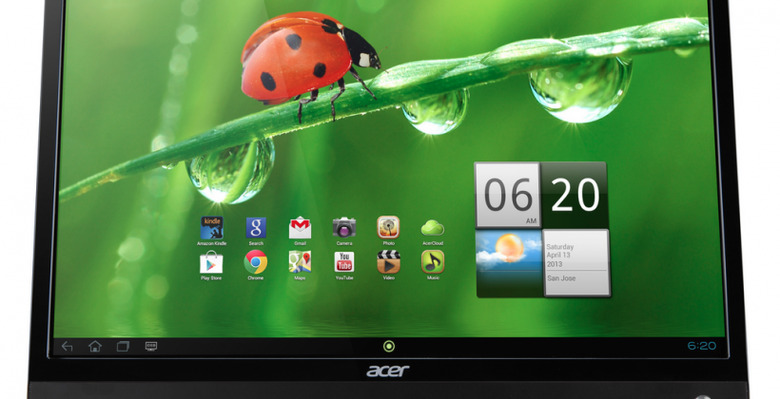 Earlier this year a device code-named DA220HQL was introduced to the world – silently – this being the same device appearing along technology newslines being reported as brand new, and coming soon with Haswell inside. What's actually happened here is a bit of a mistaken identity – the device in question is, indeed, already on the market – and it comes with a dual-core Texas Instruments processor inside.
This machine is what Acer calls a "Smart Display", working with a kickstand in the back, a full touch display, and Android 4.0 Ice Cream Sandwich inside. This machine works with the dual-core TI OMAP 4430 inside and is available in Europe right now for right around $450 USD, depending on where you're picking it up from. Resellers, according to CNET, had as recently as earlier today been listing the device as coming with a next-generation Intel Haswell processor under the hood.

While the device won't be busting up the next-generation charts with that particular bit of Intel technology, it will be continuing its odd placement in the market with a 21.5-inch multi-touch display at 1920 x 1080 pixel resolution – across that much display space, it's not exactly as sharp as some of the top smartphones on the market, but is more than enough to get you through the day as a media center.
Inside is 1GB of RAM, 8GB internal storage, microHDMI out, microUSB (one of them), and included in the box you'll get both a wireless keyboard and a wireless mouse. This system is very similar to what appeared at the ViewSonic stand earlier this year at CES 2013. ViewSonic showed off their own "Smart Display" by the name of VSD240 – basically the same concept, but ringing in at a slightly more hefty $675 USD (MSRP). While that system did boast an NVIDIA Tegra processor, the style sticks with Acer.
These systems show the continued experimentation being done with Android as its versatility expands. Android notebooks like the HP SlateBook X2 have popped up alongside cross-breeds like this – and Android is inside Google Glass, too, mind you. Expect this trend to keep tapping.