PS4 DRIVECLUB delayed until 2014 Sony confirms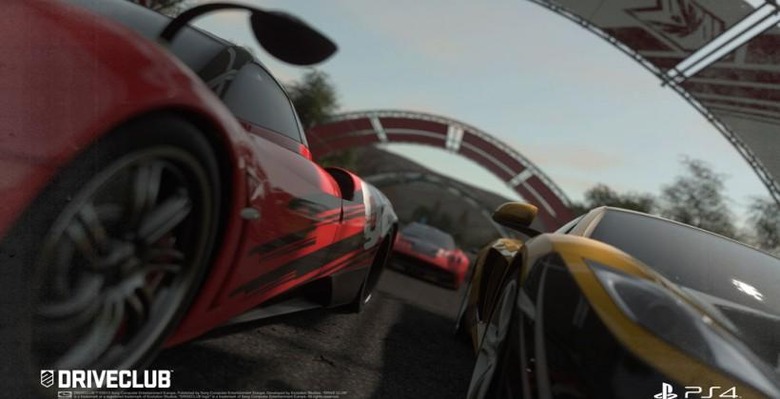 Sony has confirmed that hotly-anticipated PlayStation 4 title DRIVECLUB has been delayed, with the racing title now not expected to launch until early 2014. The hold-up – which also affects the DRIVECLUB PlayStation Plus Edition, Sony says – means the PS4 will be without one of its launch day titles on November 29, and follows news earlier this week that next-gen titles Watch Dogs and The Crew would also be held back.
"DRIVECLUB will be a truly innovative, socially connected racing game, but the team requires more time in order to deliver on their vision" Shuhei Yoshida, president of Sony worldwide studios, said today. "I'm fully confident the game will surpass your expectations" he insisted, however.
To make up for the delay, Contrast from Compulsion Games will be offered to PlayStation Plus members free, as part of the Instant Game Collection. Those members had been expecting a version of DRIVECLUB at the PS4's launch, of course, and Sony says that, though now not expected for a few more months, the title will indeed be part of that collection.
DRIVECLUB, produced by Evolution Studios, promises to not only recreate the experience of racing cars, but of the culture around owning them. In addition to individual races, players will be able to join online teams, form clubs, and complete group challenges.
It's that social aspect which Sony and Evolution Studios claims sets DRIVECLUB apart from other car titles, and it also seems to be that – in part at least – which is presenting unforeseen development issues.
Those PlayStation Plus members left waiting for DRIVECLUB will get access to an exclusive "Open Weekend" Killzone: Shadow Fall multiplayer trial, which Sony says will take place on December 28-29.