PS Vita ad funds Anonymous as Atari Teenage Riot donates fee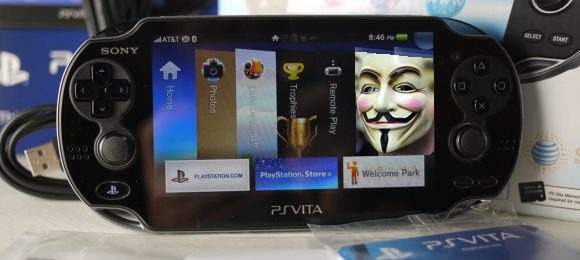 Sony has inadvertently found itself funding FreeAnons, after band Atari Teenage Riot agreed to one of its tracks being used in a PS Vita commercial but donated the fee to the Anonymous legal support group. Alex Empire of Atari Teenage Riot has some history with Sony – the company used a track of his without permission back in 1999 in a Handycam commercial – and so couldn't resist suggesting track Black Flags when the Japanese company came looking for music for its new Vita advertising campaign. The song contains multiple references to Anonymous and has been used in several Occupy Wall Street (OWS) promotional videos.
The end result is likely to be embarrassing to Sony, who would far have preferred attention on its advertising being focused on the PS Vita itself rather than hacktovist donations. Exactly how much Sony paid in licensing to Atari Teenage Riot is unclear.
Sony PS Vita advert:
"I cross checked they can't stop the track from appearing in the OWS online clips of ATR/Anonymous etc" Empire wrote on the band's blog, "which makes it even more fun." As for criticism that having the music feature in the advert will also boost CD sales, he points out that Black Flags is already available for free download online.
Atari Teenage Riot Black Flags video:
Sony hasn't spared the dollars when it comes to promoting the PS Vita. The company has wielded a $50m launch budget in the hope of convincing gamers that a dedicated handheld still has a place in the portable ecosystem. Check out our full PS Vita review here to see if the company succeeded.
[via Twitter]