Prometheus 2 won't be written by Damon Lindelof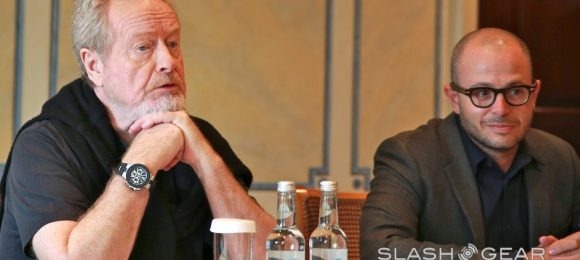 Screenwriter Damon Lindelof will not write Prometheus 2, he has confirmed, suggesting that "much to the delight of all the fanboys" he won't have time to work with Ridley Scott on the sequel. The follow-up to the Alien prequel was confirmed as in the pipeline over the summer, with a 2014 release expected; however, despite speculation of his return, Lindelof told Collider that he is too focused on other projects to devote himself to Prometheus 2.
"The thing about Prometheus was it was a rewrite. Jon Spaihts wrote a script and I rewrote it. And still it was a year of my life that I spent on Prometheus, kind of all in. The idea of building a sequel to it—from the ground up this time—with Ridley is tremendously exciting. But at the same time, I was like, "Well that's probably going to be two years of my life."  I can't do what J.J. [Abrams] does. I don't have the capability. I'm usually very single-minded creatively. I can only be working on one thing at a time" Damon Lindelof
Lindelof – whose credits include hit TV show Lost – was a controversial inclusion on the Prometheus team. He joined the original project in mid-2010, in the process guiding the screenplay away from being a direct Alien prequel, and instead to combine elements of the existing Alien universe and a standalone storyline.
Some fans of the classic films, however, proved less than impressed with Lindelof's handling of the franchise, though Prometheus performed well at the box office. The screenwriter is well aware of the mixed reception, though as he told us at the launch of the first film, he only felt he could be involved if he put his own spin on the movie:
"I look at the original movie, Alien, as this great album that Ridley Scott made, and there are songs on this album that I'll feel like they're "of the Alien", and the goal for Prometheus is to say "we have to play a couple of those hits, and where in the set are we going to play them?" Are they in the encore, do we mix them in? How many of the original songs do we play compared to new songs. But what was really important was that this new songs felt like they were new but they were in harmonic convergence with the tracks from the original. So you don't want to stray too far afield from it, but at the same time it has to justify its own existence" Damon Lindelof
Exactly who will take the writing job for Prometheus 2 is unclear, though Michael Fassbender and Noomi Rapace are tipped to have signed on to resume their roles as David and Elizabeth.