Prisma for Android released today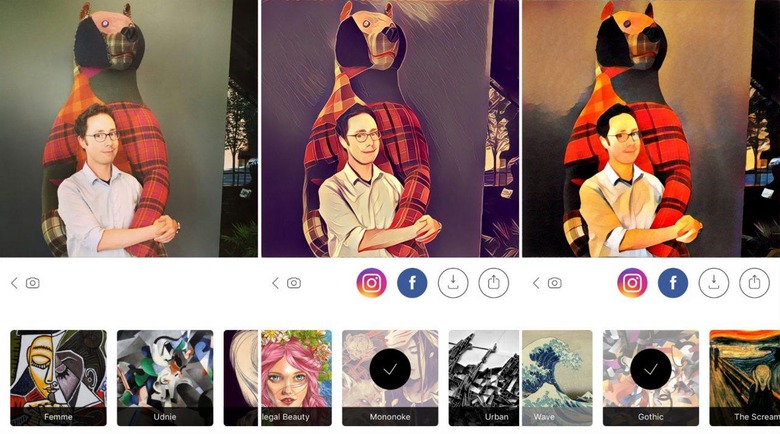 Hit iPhone art app Prisma has made its highly-anticipated debut on Android, offering dramatic recreations of photos using AI processing. Offering a step up from the typical filters offered in Instagram and other apps, Prisma promises a fine-art style makeover for photos with styles ranging from the classics through to Pop Art and comic books.
It's been wildly successful, too. Prisma is currently within the top twenty free apps on iOS, where it launched several weeks ago, and is number four in the free Photo & Video app category.
Those using Android devices, however, had been left out in the cold to watch their iPhone-using peers enviously. The Prisma team gave a few users a taste of the filter action last week, briefly releasing a beta of Prisma for Android, but its functionality was cut off shortly after.
Since Prisma relies on server-side processing to first analyze images and then apply the various art filters, even those on Android with the app installed couldn't use it until the developers decided the servers were ready.
That time is today, with Prisma showing up in the Google Play store as a free download.
In the pipeline, meanwhile, is video support, with the Prisma team teasing that the functionality would be added in the near future.
More urgent, mind, is fixing the bugs in the Android app that a few of the earliest adoptees have noticed already today. Some have reported images being partially cropped out on select devices, having to re-process previously selected filters each time – unlike on the iOS version, which saves an already-enabled filter if you're still working with the same image – and the settings menu refusing to open.
The settings section, meanwhile, is also where you'll find the toggle to turn off the Prisma watermark; otherwise, the app's logo is always superimposed in the bottom right corner of the saved image.
If you're having issues actually saving the processed image to your device, rather than sharing it via social media, the workaround right now is to email it to yourself.
Prisma says it's working on fixing all the problems – a bumpy launch is partly, the team says, a fact of life when you're supporting multiple different Android devices – and will have updates available soon.
MORE Prisma