Prisma for Android release this month plus video support "soon"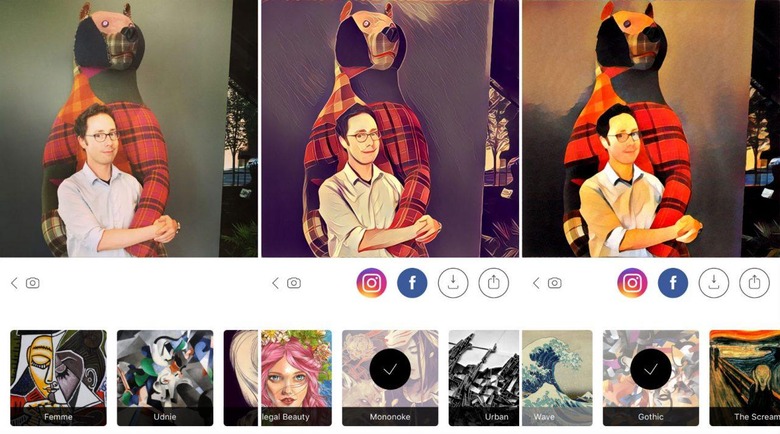 Hit photo editing app Prisma will launch on Android later this month, with the developers of the iPhone art filter software confirming that video support is coming soon, too. Launched in the iOS App Store a month ago, Prisma built on an advanced artificial intelligence algorithm that could take a photo and then calculate a fine-art version of it, in a variety of styles.
Though the AI algorithm was open-source, it was also highly processor-intensive. The Prisma team cooked up a version suitable to run on smartphone chips, and the result is a variety of filters from Pop Art through classic watercolor, comic-style sketching, and more.
At time of publication, it currently holds the number eight spot on Apple's chart of most-downloaded free apps, and is the third most-popular free download in the Photo & Video category, beaten only by Snapchat and Instagram.
What's been missing – and causing no small degree of platform envy – is an Android version. A beta version, released as a side-loaded APK, was briefly available and spotted by TechCrunch, but the Prisma team confirmed it's now closed up again.
"A big thanks goes to everyone who has managed to try our beta for Android," the programmers wrote on their Facebook page. "We have collected enough feedback and had to close it. We'll come back to you guys with an official launch on Google Play later this month."
While a wait isn't much fun, Prisma has at least teased another reason why it'll all be worth it. Currently, the app only works with still photos, but an update to support video is in the pipeline too.
The team shared a clip of Prisma's "Transverse Line" filter having been applied to a short music video, saying that general availability of what's presumably beta functionality being tested by a handful of users will be arriving soon.
Until then, since Prisma requires server-side support to do the complex processing each filter demands, even if you find a copy of the Android app APK you won't be able to use it: tapping on a filter will get you nothing more interesting than a black box.
MORE Prisma