Porsche Taycan interior is a 911-inspired tech haven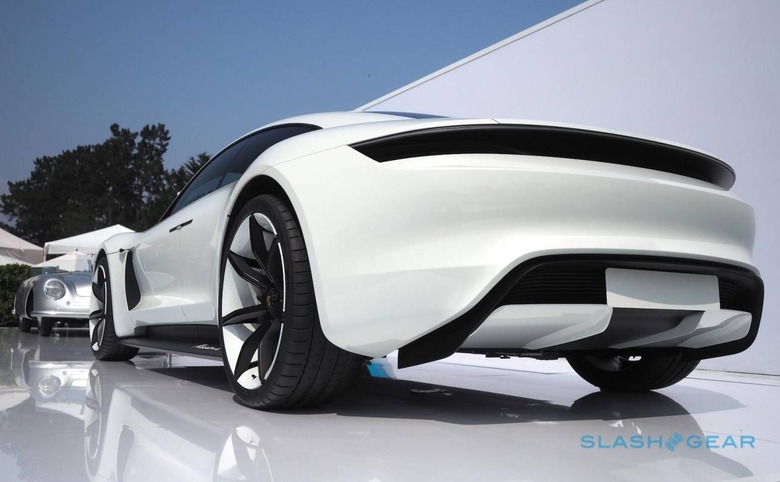 Porsche DNA runs deep, and little illustrates that quite as well as the dashboard of the new Porsche Taycan, the automaker's first all-electric car. While the new EV sedan – and Tesla Model S rival – won't be fully revealed in production form until September, Porsche couldn't resist showing us what drivers will see from behind the wheel.
If you thought Porsche might "do a Tesla" and reinvent what we've come to think of as the typical car cabin, you may be thinking of a different automaker. The marque behind more than 50 years of the 911 isn't about to let electrification distract its Human Machine Interface policies.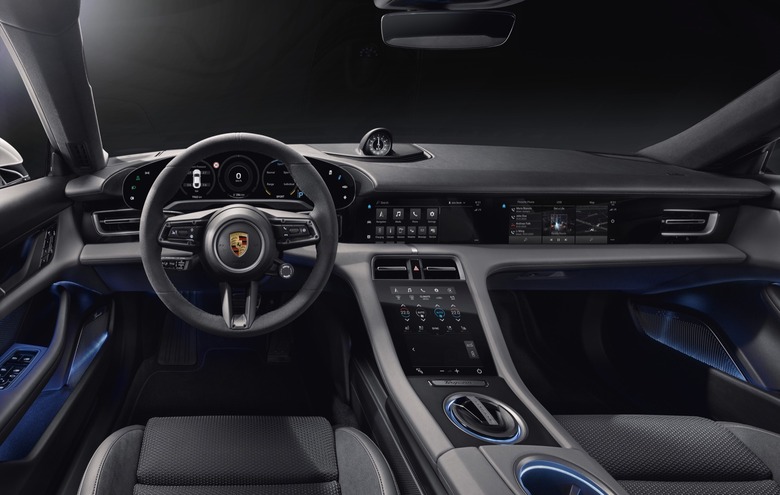 Indeed it's the 1963 Porsche 911's dashboard which has apparently inspired the Taycan's cockpit, the automaker claims, albeit brought up to date to go with the modern drivetrain. Pride of place is a curved 16.8-inch screen for the driver, which unlike the dashboard of the Panamera or other recent Porsche models does away with the cowl. Instead it's free-standing and a little more minimalistic.
It's glass-topped, and uses a vapor-deposited, polarizing filter that should cut down on any reflections a cowl would typically help avoid. Because it's digital, Porsche can offer four different interfaces, depending on the driver's preference. A Classic mode, for example, has the traditional circular gages of a regular Porsche, though with a power meter rather than a rev counter.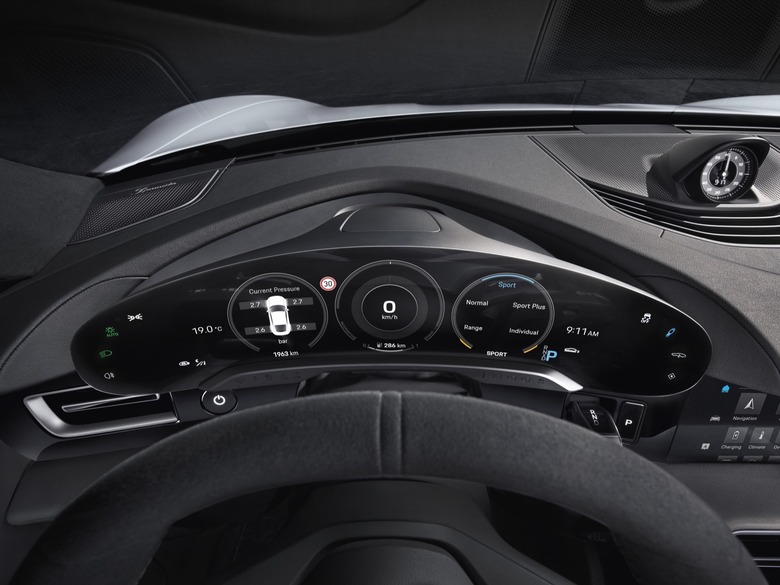 Map mode, meanwhile, swaps the power meter for a map, while Full Map mode does away with all the circular gages and replaces them with a full navigation interface. At the other extreme, Pure mode pares everything back to speed, traffic signs, and navigation.
Touch-control panels at the edges of the screen are used to control things like chassis settings and the Taycan's lights. A second, 10.9-inch touchscreen sits in the center console, handling infotainment, and can be combined with a second, passenger display. Physical buttons and switches have been reduced – though not, it's clear to see, done away with altogether – and Porsche is pushing touchscreen or voice controls, the latter using a "Hey Porsche" spoken trigger.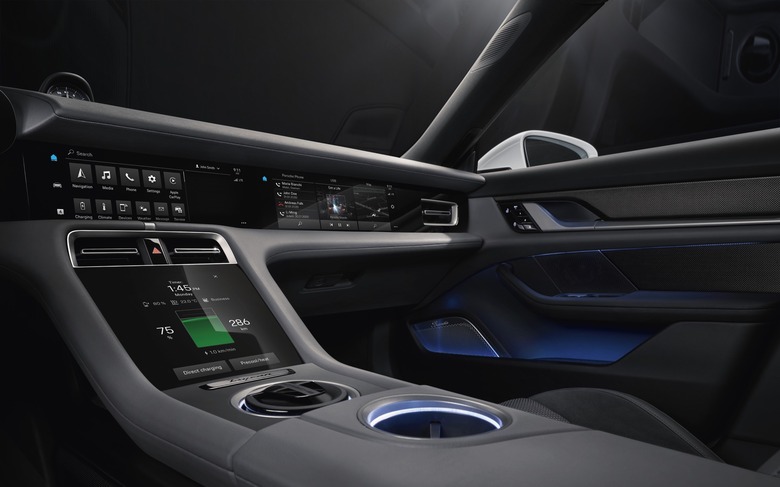 Below the central touchscreen is an 8.4-inch touch panel with haptic feedback, which Porsche is using to control both the HVAC system and – via handwriting recognition – address inputs for the navigation. The steering wheel will come in a choice of two styles. The basic wheel will have optional colored inserts, while the GT sports wheel will have visible screw heads and a dedicated drive mode dial.
Porsche hasn't been able to resist some gadgetry along the way. The air vents, for example, eschew anything as mundane as manual control, and instead shift the flow of ventilation automatically. There are Focused and Diffused settings, with the Taycan automatically adjusting the direction of the HVAC accordingly. A four-zone climate control system is optional, which adds a 5.9-inch touchscreen for the rear passengers. That makes for five separate touchscreens, if you're keeping count.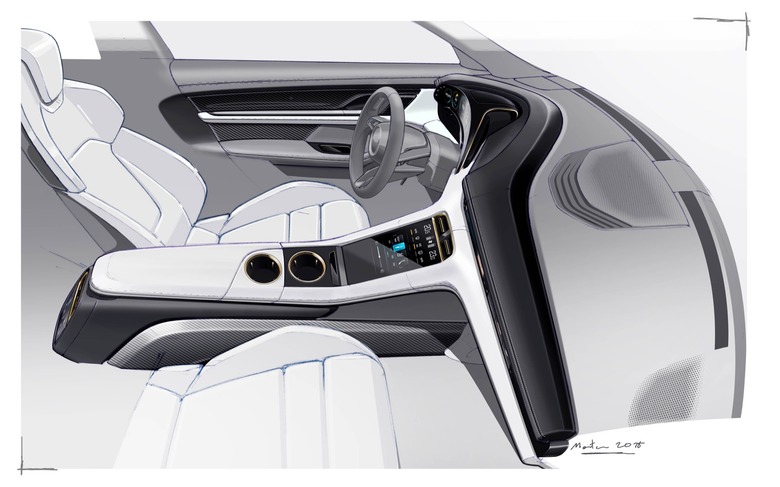 As for the materials, there's more of the traditional and new to choose between. Classic leather, along with a Club Leather "OLEA" are available, the latter using olive leaves during its tanning. However there's also a leather-free interior option, using Race-Tex microfiber that's partially made from recycled polyester. It also boasts 80-percent less CO2 involved in its production, versus more typical materials. Econyl recycled fiber is used for the flooring.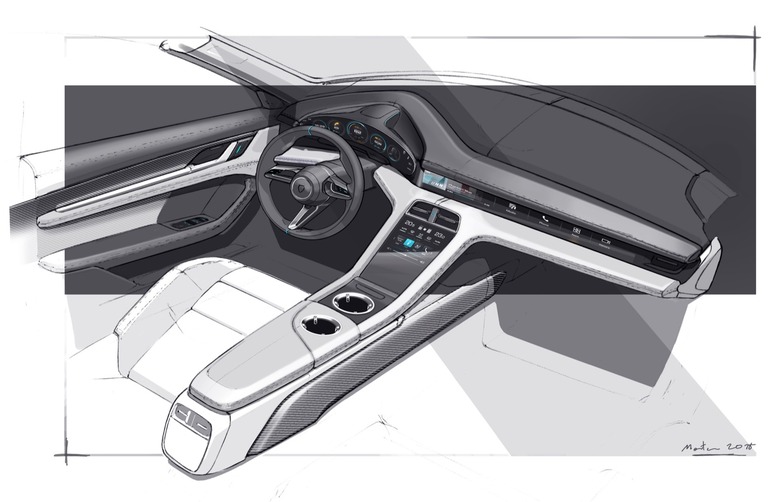 For trim, Porsche will offer four Taycan-exclusive options: Black-Lime Beige, Blackberry, Atacama Beige, and Meranti Brown. There'll also be an optional interior accent package, with black matt, dark silver, or neodyme schemes. A choker of wood, matte carbon, embossed aluminum, or fabric can be selected for the doors and center consoles.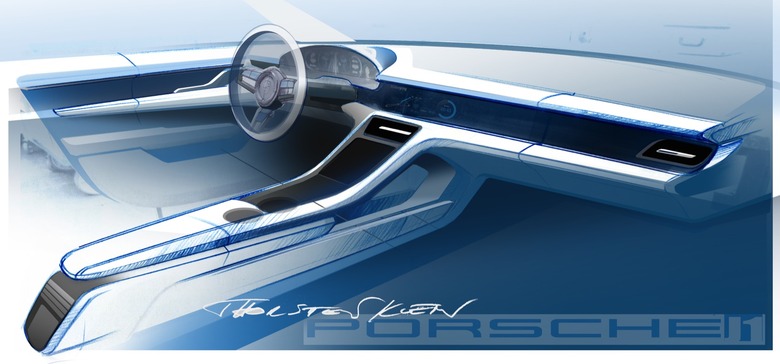 It's certainly not minimalistic, but it's very Porsche, and that's arguably just what the Taycan needs. There are, after all, already electric cars on the market, but this is the first all-electric Porsche, and catering to the urges and demands of Porsche drivers is what the German company does best. The powertrain may be all-new, but the Taycan isn't straying too far from what has proved to be a lucrative recipe for Porsche – and if reservations are anything to go by, that recipe is proving to be tasty to fans. We'll see more – as well as find out all the details – come the EV's full reveal next month.