So you'd like to keep an eye on your local police department's doings, yes? Lucky you, there's a new Police Alerts segment being added to Google Now as we speak. This isn't brand new, on the other hand – it's all part of Google's team-up with Nixle earlier this year. If you don't see anything on your Google Now app now, you might also just be lucky – this isn't just a way to see what your local cops are up to, but a way for your local cops to inform you of emergencies.
The Police Activity card was spotted by Reddit user dude111 this week. It does not appear that the card has been widespread, but another Redditor ronakg received notice with a similar card. Again, this is all part of Google's team-up with Nixle for local emergency alerts – not something brand new.
This one event – this unique event – was apparently an armed robbery that took place at a Craigslist meeting. Inside Lafayette, California, the local police department spoke with the Contra Costa Times about the incident.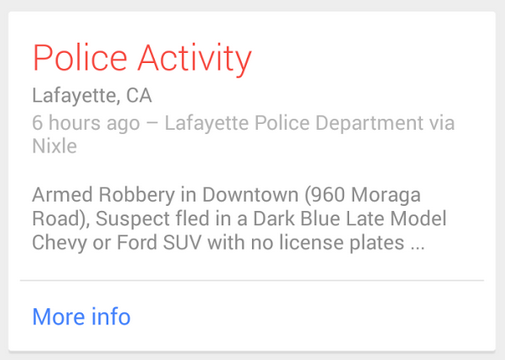 "With Craigslist, you never know who you are dealing with," Chief Eric Christensen said. "At the same time, how many transactions are done every day and how many of them go badly?" The incident was set for one man to sell another a phone. The second man arrived with a gun and attempted to hold up the first man for cash and said phone. Police are currently seeking the suspect.
On a separate note, there's also a Solar Eclipse card appearing in Google Now for most users across the United States. We're also hearing reports that the Solar Eclipse card is being rolled out across the UK – and likely the rest of the world as well.
Inside this Solar Eclipse card you'll find news bits and pieces from your favorite sources, likely harvested from Google News. This card should supply you with the knowledge you need to get through the eclipse fully equipped and ready.