Google Now update brings emergency alerts to Android 4.1 Jelly Bean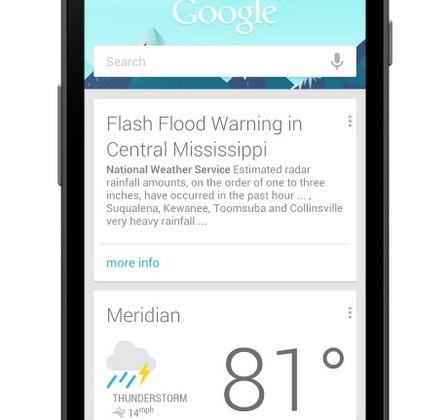 Google has rolled out a new Search update for Android, and it includes a handful of new features for Google Now. This means that if you're not running Android 4.1 Jelly Bean, you're going to have to sit this one out, sadly. Those who are running Android 4.1 will probably want to give this update a look, as it adds a few interesting features.
There are three new features to note in this Google Now update: for starters, users can now find showtime information for movies playing near them through Now. Support for emergency messages has been added in this update as well, giving you severe weather warnings and other emergency alerts right on your Now page. This will undoubtedly come in handy for the more turbulent areas of the world, and it could potentially save a few lives, so it's good to have it along.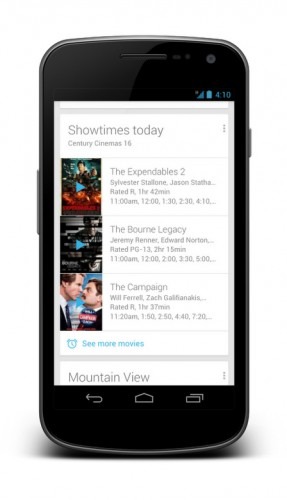 The third feature Google has added gives users the ability to "follow" their favorite sports teams. In all, users can choose from "140 soccer, football, hockey and baseball teams to follow in real time," unfortunately Google's lineup only features professional teams for now – college fans will have to wait. Still, with the kickoff to the NFL season just around the corner and the NHL and NBA seasons not far behind, this feature is definitely one that will garner some excitement.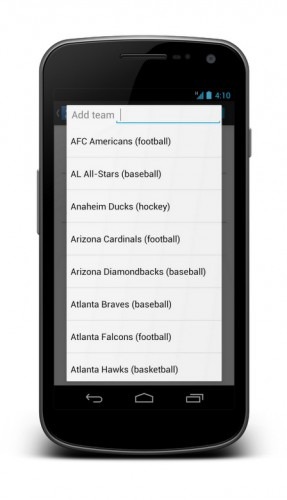 As an added bonus, Google has also included support for users in Korea with this latest update, and you can snag it now from the Google Play Store. So there you have it – one of Android 4.1's more compelling aspects just got a little better. Sure, there aren't a ton of new features to be found in this new update, but the ones it does add are important and/or awesome. Be sure to have a look at our story timeline below to find out more about Google Search and Google Now!
[via Google]