Polestar 1 preorders open as EV GT begins its Tesla offensive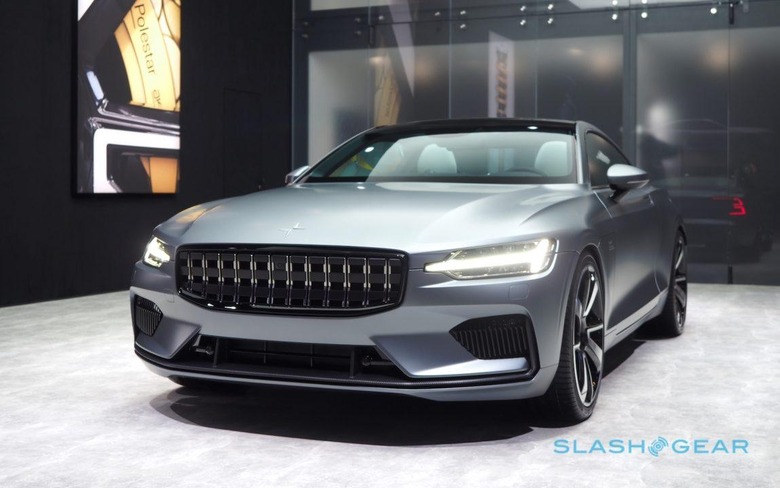 Polestar 1, the hybrid sports car from Volvo's electric performance brand, is up for preorder. The first of what Polestar envisions as a series of environmentally conscious vehicles, Polestar 1 promises 600 horsepower from its combination of gas and electric drive, as well as a heady 738 lb-ft of torque.
They're legitimate supercar numbers, and we can't argue with the car's style either. Originally intended as a Volvo concept, the striking GT was then earmarked as the perfect vehicle to launch Polestar. Backed with cash from corporate parent Geely, the brand is already working on a dedicated manufacturing facility, which is expected to begin production next year.
Still, supplies will be slim all the same. Indeed, Polestar says it envisages producing only 500 cars per year, at least initially, as it refines its processes. According to the automaker today, more than 7,000 people have registered their interest to get behind the wheel of the Polestar 1, though the big question was how much of that interest would convert to actual sales.
Now it's time for them to put their money where their mouths are. A $2,500 deposit stakes a place in line for the production Polestar 1 – or 2,500 EUR / 20,000 RMB – with preorders available in 18 countries. In addition to the US and China, that includes Sweden, Germany, Norway, the Netherlands, Denmark, Finland, the UK, Spain, France, Portugal, Poland, Italy, Austria, Switzerland, Belgium, and Canada. The deposit is fully refundable, if you change your mind between now and the balance being due.
Since that's not going to be for a while yet, Polestar is also readying an online configurator for the car. Prospective buyers will be able to choose between the various paint finishes, interior trims, and other customizations in advance of placing their final order. It's a preview of what Polestar has in mind for the broader market, when its next cars begin to filter through.
The Polestar 2, which we're expecting to see next year, will be an electric sedan, while the Polestar 3 will be an electric SUV and is earmarked for around 2022. Unlike the Polestar 1, which will be the automaker's only hybrid, both subsequent vehicles will be entirely electric. Polestar envisages many buyers ordering their cars online and having – if they prefer it that way – minimal interactions with a traditional dealership, with an online concierge instead handling the details.
Indeed, as Polestar envisions it, traditional sales and leases will be less important for the brand altogether. While those will still be available, it's counting on a subscription-based model similar to Care by Volvo, in which drivers pay a single fee each month that includes not only the car but insurance, its servicing, and other incidentals. The motivation, Polestar CEO Thomas Ingenlath told us at the Geneva Motor Show 2018 last week, is to assuage the fear many would-be EV drivers have about the longevity and value of the batteries used in such vehicles.