Pogoplug Video and Buffalo CloudStor ship with cloud-access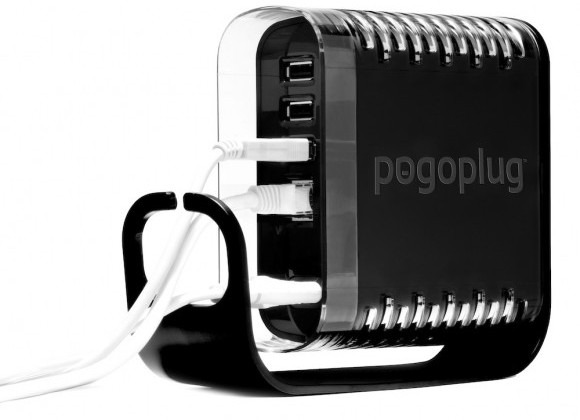 Two pieces of Pogoplug news this week, with the news that not one but two gadgets using the company's remote-access technology are shipping. First up is Pogoplug's own Pogoplug Video, which is now shipping for $199, while Buffalo's CloudStor NAS – which combines both internal storage and Pogoplug-based access – is also shipping now, from $149.99.
The Pogoplug Video automatically transcodes video streaming on-the-fly so that no matter what device you're using to remotely access the content, you should be able to play it. It'll also support the usual multiple USB hard-drives – in Pogoplug's unusually-shaped, but this time black chassis – for file and multimedia access.
As for the Buffalo CloudStor, that will be available as the 1TB CloudStor (CS-WX1.0TL) for $149.99, the 2TB CloudStor (CS-WX2.0TL) for $209.99 and the 2TB CloudStor Pro (CS-WV2.0TL) for $249.99. It pairs internal storage, a gigabit ethernet port, a USB port (for adding external storage) and a spare internal drive bay (for adding internal storage and optionally setting up a RAID array) with the same cloud-access as on the Pogoplug Video.
More details on Pogoplug in our review.
Press Release:
BUFFALO SHIPS THE REVOLUTIONARY CLOUDSTOR

Seamlessly Access and Share Content with Anyone, Anywhere with No Fees

AUSTIN, TX – April 4, 2011 – Buffalo Technology, a global leader in the design, development and manufacturing of wired and wireless networking and network and direct attached storage solutions, today announced the highly anticipated, revolutionary Buffalo CloudStor™ personal storage solution is now shipping. First revealed at the 2011 Consumer Electronics Show in Las Vegas, CloudStor goes beyond simple storage, creating a portal to freely access and share photos, videos, music and much more with anyone, anywhere through the cloud. Unlike online storage services, CloudStor has no capacity or service fees. Just plug it in, turn it on and create your free account at mycloudstor.com. CloudStor comes with everything you need to get started. You just have to be free to share.

"Digital content consumption has moved beyond traditional channels along with how it is stored and accessed," said Ralph Spagnola, vice president of sales at Buffalo Technology. "Bringing CloudStor to market delivers on Buffalo's promise of simplifying data mobility, allowing you to access and share your content freely, with anyone, anywhere."

At the center of every CloudStor is the Pogoplug® cloud service. The popular service connects users to their storage and allows them to freely access and share their storage anywhere in the world. CloudStor is the first and only Pogoplug device with integrated storage. Files are securely shared between people and there is no need for user setup; just email a link to your family and friends. Consumers' digital content always resides on CloudStor and the online service is only used to connect users and guests to specified files on the device.

In addition, CloudStor offers many traditional consumer network attached storage features including private share support for LAN based network sharing and pairing with the popular µTorrent™ client, allowing users to offload the task of downloading torrent files from computers to CloudStor. Buffalo CloudStor can also stream to popular media devices, including Sony PlayStation® 3 and Xbox 360®. Plus, CloudStor has an integrated Time Machine® backup system that allows Mac® users to use Time Machine to backup their systems to CloudStor when at home.

Pricing and Availability

The Buffalo CloudStor is backed by a limited one-year warranty that includes toll-free 24/7 US based technical support. CloudStor is now available at an estimated street price of $149.99 for the 1 TB CloudStor (CS-WX1.0TL), $209.99 for the 2 TB CloudStor (CS-WX2.0TL) and $249.99 for the 2 TB CloudStor Pro (CS-WV2.0TL). Buffalo products can be purchased through distribution, online resellers and Buffalo's ecommerce website. For more information about Buffalo Technology and its products, please visit the company's web site at www.buffalotech.com