PMA 2009 - Olympus E-620 hands-on : video intro and high ISO images from Raw files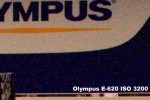 What was the highlight of PMA 2009? The introduction of a new breed Samsung's NX hybrid camera, or its counterpart Micro 4/3 standard from the Panasonic GH1 and Olympus E-620? The former gets Full HD recording at 24hz capability, while the latter boosts World's most compact anti-blurred DSLR. We covered the Samsung and Panasonic briefly in previous posts, and now is Olympus's turn.
The E-620 got official a week ago, which turned out to be the only announcement of a new DSLR for the show. At the Olympus booth, we got video covered the overall feature of the new Evolt from basic controls, Picture Effects, Live View to a trio of In-Body Image Stabilization Modes. If you are new to DSLR, or the Evolt, this video is probably a good start to learn about what the camera can do.
[vms 5eb7a6ec44c54d29ed40]
Additionally, we managed to try out the new body on the Zuiko 14-54mm F2.8-3.5 ED lens for a few shoots in different ISO setting. The images below were captured in Raw, and later converted to JPEG, 8 bits, sRGB color sapce from the latest Adobe Camera Raw 5.3. All sharpening and noise reduction values were shifted to "zero".
Due to software incompatibility, the Raw files were edited in EXIFToolGui to change camera model from E-620 to E-30 (thanks to a suggestion from a DPR member); otherwise, we wouldn't be able to view, not to mention converting the Raw images to readable format. Essentially, the E-620 is closely resembled to its biggest sibling, E-30, but at nearly half the price; it's comes equipped with the same 12 megapixel sensor and has the Truepix III+ image engine under the hood. Drop us a line if you are interested in the high iso Raw files.
Also, Olympus Japan has dished out number of samples taken with the new camera here.