Panasonic Micro 4/3 DMC-GH1 hands-on, gets video intro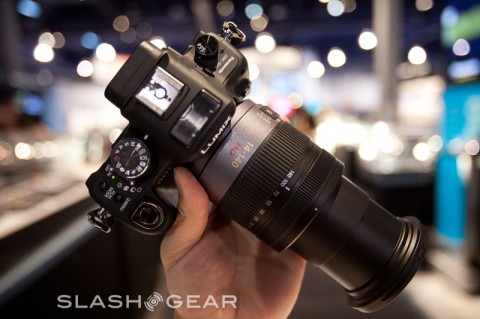 Another star from PMA 2009 is unquestionably the Panasonic DMC-GH1 Micro 4/3 digital camera launched at the very first day of the show. The second-gen Lumix features the same 12.1MP Live MOS sensor from the 5–month old G1, adds Full HD 1080p movie recording with ability to continue auto-focusing, and has a built-in stereo mic for much superior audio recording. If you're new to the Micro 4/3 concept, check out the video (after the cut) from Panasonic's training field manager, Matt Fraser, who talked with SlashGear about the new GH1 and compared it to previous models.
We also had the opportunity to play a little on the new camera and test out the video feature; footage is stored in 1080/24P AVCHD format, or at reduced size in 720 30fps. The stereo microphone is located on the very top of the body, seated next to the flash shoe. For advanced audio, Panasonic also makes an external hot-shoe Dolby-compatible stereo mic; it's being displayed at the booth, inside a mirrored box. Video mode selection is now added to the main control dial for quicker access.
Product availability is around June, and price will be announced at the same time. If you're interested in the video footage taken with the newly announced, Lumix G Vario HD 14-140mm lens, please check us out later; we'll get the full HD 1080p sample out soon. (update : video shows AF speed and tests here)
[vms 70fd093ee8a9bf8ae7d0]