Panasonic unveiled Lumix G1-World's First Micro Four Thirds Digital Camera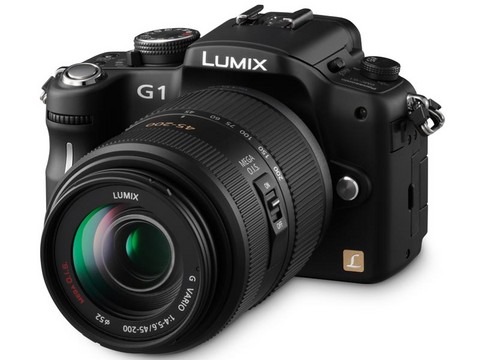 Like it or not, the first Micro Four Thirds's digital interchangeable lens camera is here. Sooner, you wouldn't be able to tell a photographer is chimping or talking a picture. Panasonic has announced Lumix G1, the smallest and lightest digital interchangeable lens camera with full time live view to break new ground. 12 megapixel Four Thirds Live-MOS sensor, automatic eye sensor, 3-inch HVGA swivel LCD and dust removal system are among many advanced features come with the 0.85 pound Lumix.
The Micro Four Thirds System is a joint venture between Panasonic and Olympus. The most significant feature of the new standard is eliminating traditional mirror box with a high resolution electronic viewfinder, thus reducing the size and weight of conventional Digital SLR.
The Panasonic Lumix DMC-G1 will be available as kit bundle with a new Lumix G Vario 14-45mm/F3.5-5.6 ASPH O.I.S around mid-November. Another Micro Four Thirds lens announced is the LUMIX G VARIO 45-200mm/F4.0-5.6 O.I.S. lens which will be sold separately. Pricing information will be revealed early next month.
[update prices from Japan:]
Bare body, 80,00 yen or $756,00
Bundled with 14-45mm, 90,000 yen or $840
Bundled with 45-200mm, 125,000 yen or $1,166
The Panasonic LUMIX DMC-G1, a 12.1 Megapixel camera, also includes the following features.
Live MOS Sensor – Provides the best of both worlds with high image quality from a CCD sensor, and the lower-power consumption of a CMOS sensor. New technology makes it possible to read four channels of data simultaneously and deliver 60 frames-per-second full-time Live View images.
Venus Engine HD – New imaging processor enhances noise reduction and provides independent gradation control for each of the R, G and B colors.
Supersonic Wave Filter Dust Reduction System – Designed to prevent dust from adhering to the image sensor by vibrating 50,000 times per second, the filter repels dust and other particles.
HDMI Output – With an optional HDMI cable, the G1 can connect to an HDMI-capable High Definition television, such as a Panasonic VIERA Plasma or LCD. When connected to a VIERA, using VIERA Link capability, the TV's remote control can direct the slideshow on the G1.
My Menu – This new tab automatically stores the five most recently used menu selections for quick, convenient retrieval. The custom-setting can also be used to program a frequently-used function, which can be activated by pressing the down arrow on the cursor key. The color of the menu viewed on LCD can also be changed to three different colors: black, red, blue.
Three Color choices – Black, Blue and Red
Eye-Sensor – auto detect when the user is nearing the view finder and automatically switches off the LCD
Auto-Focus System- new Contrast AF system, multiple-area AF with up to 23 focus areas, 1-area AF with a selectable focus area, Face Detection, and AF Tracking.
Intelligent Exposure – Helps prevents photos from being under- or over-exposed by analyzing the framed image and adjusting the brightness in areas that are too dark because of dim lighting, backlighting or the use of the flash.
MEGA O.I.S. – Gyrosensors detect hand-shake and the lens system shifts to compensate, helping to prevent hand movement from creating a blurry image.
Intelligent ISO – Determines if the photo subject is moving and changes the ISO setting and shutter speed accordingly, thus giving a blur-free photo.
Intelligent Scene Selector – Senses the ambient conditions and will automatically select the appropriate mode from Scenery, Portrait, Close-up, Night Portrait or Night Scenery
Face Detection – Detects faces in the frame (up to 15 faces), even if they are moving, and selects optimal focus and exposure settings so portraits come out clear. Also features Digital Red-Eye correction.