PlayStation Store accidentally reveals Uncharted: The Nathan Drake Collection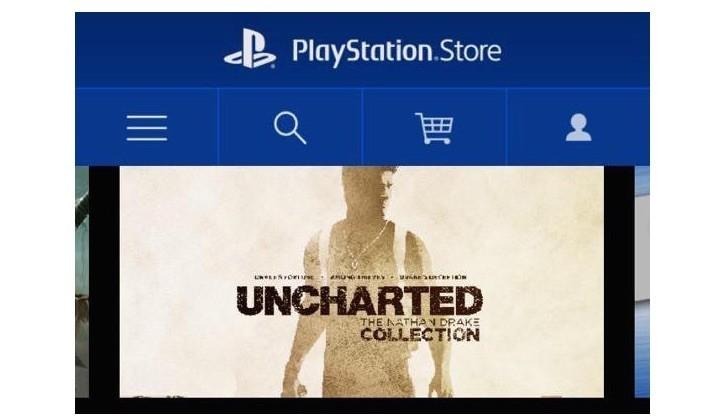 Ah yes, in this age of the internet, the accident of posting things early is nearly an everyday occurrence. From tech giants like Apple and Samsung putting product shots on their website early, to game makers like Bethesda, who only a day ago briefly opened the official site for Fallout 4 before the scheduled unveiling. Well, today was the PlayStation Store's turn, as a banner ad for Uncharted: The Nathan Drake Collection on PlayStation 4 was spotted on the mobile version of the North American Website. Oops.
There's almost no doubt that this will be a collection of the first three Uncharted games that came out on the PlayStation 3. 2007's Uncharted: Drake's Fortune, 2009's Uncharted 2: Among Thieves, and 2011's Uncharted 3: Drake's Deception, all remastered for the PS4. The collection has been rumored for some time now, and while a release date isn't announced yet, sometime this fall seems like a sure bet.
The Nathan Drake Collection is probably both a way for Sony to draw in gamers new to the franchise before 2016's release of Uncharted 4, as well as appease existing fans for having to delay the new sequel from its originally announced 2015 release.
This will be the latest in a string of hit PS3 titles getting remastered for the PS4, including Grand Theft Auto V, Sony's own God of War III, and The Last of Us, also from Uncharted developer Naughty Dog.
Well... that hit a few hours too early. See you in the AM. G'night y'all.

— Neil Druckmann (@Neil_Druckmann) June 4, 2015
Sony hasn't addressed the early appearance of the banner ad, but Naughty Dog's Neil Druckmann, creative director and writer on Uncharted 4, did post a tweet that suggests a formal announcement of The Nathan Drake Collection is coming later today.
SOURCE Greg Miller/Twitter