Plastic Logic quits ereaders and turns to tech licensing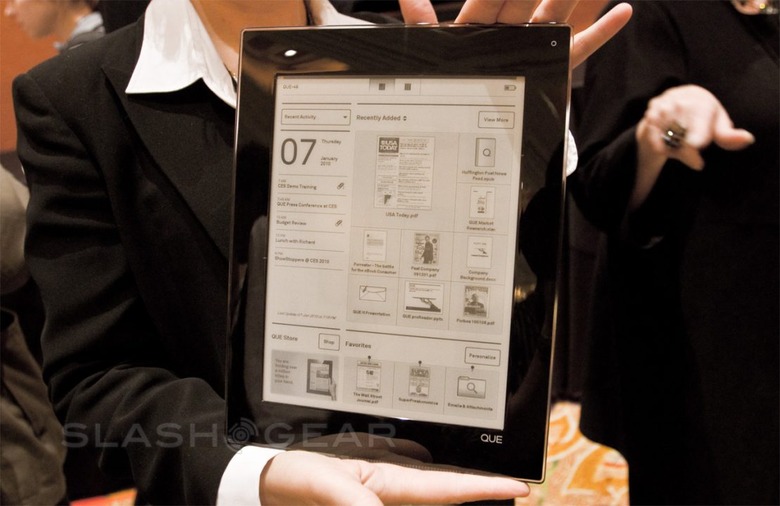 Plastic Logic may have demonstrated a flexible color epaper display earlier this week, but don't expect to see it show up in an own-brand ereader; the company has confirmed it is quitting the market. "Plastic Logic will cease its e-reader product development activities and focus on other applications for its flexible plastic displays" the company said today, instead going on to "actively develop licensing and technology partnerships to exploit its e-reader related capabilities in terms of rugged, plastic displays as well as driver and viewing optimisation software."
The news also means that Plastic Logic will shutter its development facility in the US, though a new "center of excellence for plastic electronics R&D" is expected to open in Russia. Possible applications of the plastic transistors the company has specialized in include "paper replacement, rugged displays, and an extensive range of other uses that incorporate flexible plastic electronics technology for both large and small display and non-display solutions."
Plastic Logic says it has been approached by "several" device manufacturers and others regarding using the display technology it came up with, and there's the potential for licensing on the table. No news on exactly who that might include, however, though it doesn't necessarily mean a Plastic Logic display fronting a third-party device.
Plastic Logic volume production:
The technology could just as easily be implemented inside a product, with the plastic construction making for gadgets that can be bent, are more drop-resilient and can resist being stomped on, or that are more weatherproof than traditional electronic components.
Plastic Logic originally intended to put its flexible panel into a large, 10.7-inch ereader focused on business users, the Que, but the ereader market proved hotly competitive and the project was shelved after potential buyers reacted negatively to the expected retail price. Last year, the company made a second attempt with an education-targeted erader.