Plastic Logic 100 shatterproof ereader targets classrooms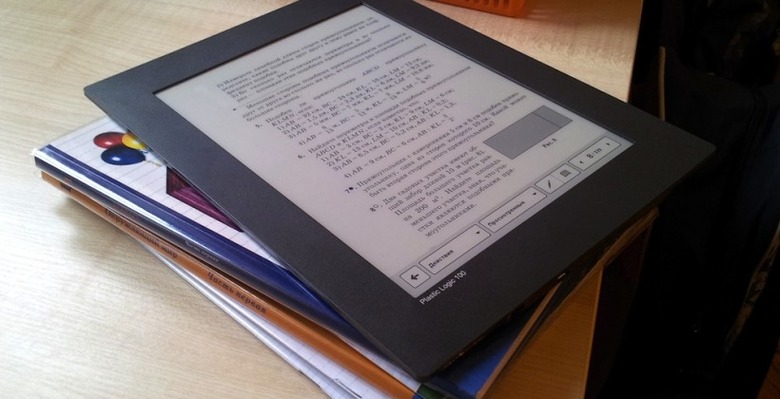 Plastic Logic has announced its new ereader, the Plastic Logic 100, a 10.7-inch electronic textbook targeted at education applications. Using the same plastic-based epaper technology as originally intended for the cancelled QUE ereader, the Plastic Logic 100 measures a mere 7.65mm thick and weighs 475g, and has a capacitive touch-controlled 1280 x 960 display and a battery life of a week.Eldar Murtazin was on hand at the launch and shot the live image above, reporting back positively about the new school slate. Plastic Logic's flexible display tech certainly lends itself to classrooms: it's shatterproof, anti-glare and anti-fingerprint, while the casing is finished in soft-touch plastic. Inside is an 800MHz processor running Windows CE, along with 4GB of storage, though the UI is a custom, swipe-controlled GUI. Connectivity doesn't include wireless, but does get microUSB.
Underlining and annotation – using an on-screen keyboard – is supported, together with bookmarks and search, and Plastic Logic will be preloading it with 40 textbooks suited to Russian school grades 6 and 7. The Plastic Logic 100 will begin arriving in classrooms later this month, priced at 12,000 Russian Rubles ($396).