Plastic Logic color flexible e-paper revealed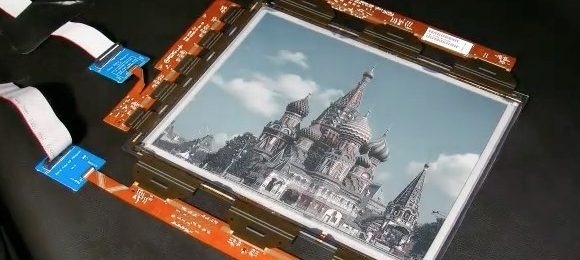 Plastic Logic has been running in quiet mode since their new funding and push for the education ereader market in 2011, but the company has a new color flexible e-paper panel with which to tease us this week. Using the same 10.7-inch plastic transistor technology as the company's previous monochrome panels, the new screen Plastic Logic has revealed can display 4,096 colors and runs at a comparatively low 75ppi.
The color itself has been achieved by stacking a filter on top of the regular grayscale panel, with some of that screen's pixel density sacrificed for red, green and blue color information. The resulting quality isn't going to shame any LCD or OLED, but it does have Plastic Logic's clever flexibility trick in its favor.
That, in case you've forgotten, allows the roughly 10-inch color screen to not only bend considerably, but survive being stomped on or otherwise mistreated. Obviously some special sauce has gone into keeping the new color filter layer precisely lined up with the underlying monochrome panel, too.
Plastic Logic isn't saying when the color display might show up in commercial products, and beyond the company's shatterproof education ereader of last year, broader availability of anything from the company outside of Russia still is a mystery. That could well change in the next couple of years, however, with a second-gen factory expected to become operational in 2014. Plastic Logic had previously said the color epaper would be in mass production by this year.
[via The Digital Reader]